Cormier, Boyden Selected in 2023 NLL Draft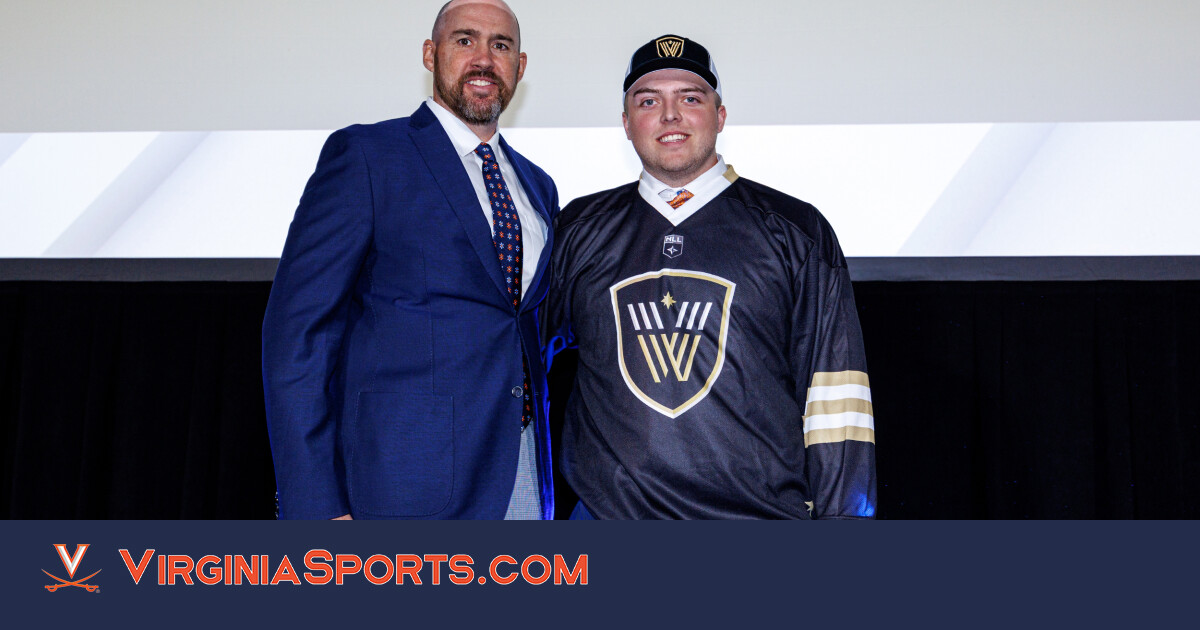 OAKVILLE, Ontario – Virginia attackmen Payton Cormier and Jack Boyden were selected in the 2023 National Lacrosse League (NLL) Entry Draft Saturday afternoon (Sept. 16). Cormier was the fourth overall pick claimed by the Vancouver Warriors, while Boyden was drafted 47th overall in the third round by the Rochester Knighthawks.
4th-overall feels good. #NLLDraft pic.twitter.com/IMWRPAqOIX

— Vancouver Warriors (@nllwarriors) September 16, 2023
Additionally, former Cavalier attackman Xander Dickson, who just completed his rookie season in the Premier Lacrosse League (PLL) with the Atlas, was selected 62nd overall in the fourth round by the San Diego Seals.
Saturday's draft marked the second consecutive year in which at least three current or former UVA players were selected in the box league draft. Last year, midfielder Thomas McConvey was picked No. 1 overall by the Rochester Knighthawks. Petey LaSalla (Panther City/Rd. 3, Pk. 4), Jeff Conner (Georgia/Rd. 6, Pk. 7) and Evan Zinn (Colorado/Rd. 6, Pk. 15) were also selected in 2022.
Cormier, who was in attendance for Saturday's draft in his hometown of Oakville, Ontario, recorded his second straight 50-goal season at UVA after registering 52 goals in 15 appearances in 2023. Cormier's 3.47 goals-per-game average last year was good for sixth in the nation and second in the ACC. For his career, Cormier has notched 159 career goals, just six shy of tying UVA's all-time record.
"Who was it that introduced you to lacrosse, maybe helped you fall in love with the game?"

"That would have to be my grandma." 🥹#NLLDraft pic.twitter.com/Sps5rLWLmr

— Vancouver Warriors (@nllwarriors) September 16, 2023
A native of Toronto, Ontario, Boyden transferred to Virginia this fall from Tufts University, where he was the Division-III national attackman of the year and a USILA First Team All-American. Last season, Boyden set the Jumbos' single-season points (157) and assists (88) records. He concluded his Tufts career as the program's No. 4 points leader (167-143-310).
With the 47th overall pick in the 2023 NLL Entry Draft, the @RocKnighthawks selected two-time All-American and 2023 Division III Player of the Year Jack Boyden. pic.twitter.com/XUMVTqPqAM

— Knighthawks PR (@KnighthawksPR) September 16, 2023
Dickson, who was selected 11th overall by the Atlas in the 2023 PLL Draft, appeared in 10 professional games this summer in which he tallied 20 points with 14 goals and six assists. He concluded his senior year at Virginia as program's only 60-goal scorer in a single season after finishing with 61 scores in 2023. For his efforts, Dickson was named a USILA Second Team All-American and an All-ACC selection this past season.
Welcome home @XanderDickson 🦭🫡 pic.twitter.com/RGgOeMpv72

— San Diego Seals (@SealsLax) September 16, 2023
ABOUT THE NLL
The National Lacrosse League plays indoor lacrosse. The game is a hybrid, combining parts of box lacrosse (played inside the confines of an ice hockey rink on a turf surface or concrete surface, more prevalent in Canada) with field lacrosse (played on an outdoor field, either on grass or turf, more prevalent in the United States). Indoor lacrosse was designed to combine the most exciting elements of box and field lacrosse. The game is played inside the confines of an ice hockey rink, with glass and rink boards intact. The playing surface is artificial turf, which is placed directly over the arena's ice surface. Each team plays with five runners and a goaltender. The combination of the confined playing area and the physical play leads many fans to describe indoor lacrosse as "like hockey, on foot, with more scoring.