Whalen Sees His Perseverance Rewarded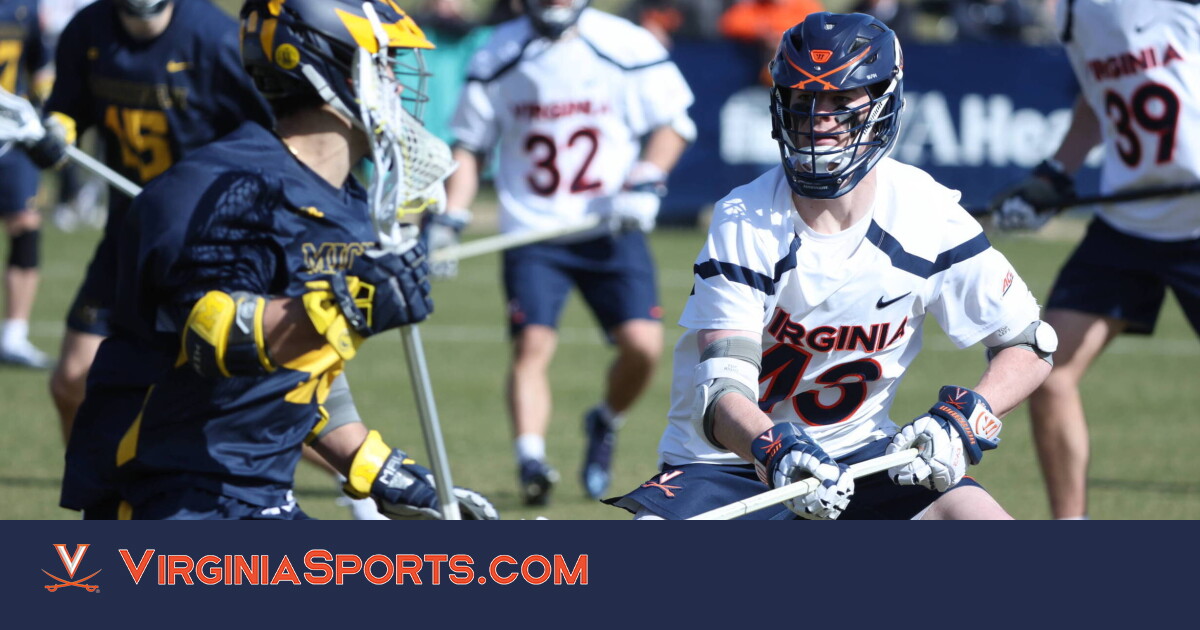 Not until June did Whalen commit to returning to UVA for a fifth year. He graduated in May from the McIntire School of Commerce, where his concentrations were finance and information technology, and had a job lined up in investment banking.
"He was going," Tiffany said. "He just one day hit the brakes completely and turned around, and so here we are today thrilled that Whalen literally stopped his plans."
Whalen, who's pursuing a master's degree in systems engineering, said he was excited to work with the people at the investment-banking firm, "but I wasn't necessarily ecstatic about the job, which is one of the reasons it made it easy to come back here."
The Cavaliers selected captains for this academic year not long after they ended their 2023 season with an overtime loss to Notre Dame in the NCAA semifinals. "At that point I was considering coming back, but that kind of sealed the deal," Whalen said. "I was like, 'This is a pretty cool opportunity.' "
Losing to Notre Dame, which went on to defeat Duke for the NCAA title, was "absolutely frustrating" for the Hoos, Whalen said. "We know we had the potential to do what our main goal was, which was to win it all. So there's definitely a hunger and desire to kind of run that back and go for it all this time."
That was not, however, the main reason he decided to return for a fifth year, said Whalen, who's on scholarship for the first time this academic year. The opportunity to be with his teammates again for one last season was too good to pass up, he said, and he also wanted to uphold the standards set by previous captains at UVA.
"That was kind of the driving force," Whalen said.
Whalen said he didn't expect to be chosen a captain. Tiffany didn't see that coming either. But once he started counting the ballots, Tiffany said, he was surprised to see Whalen was "getting a bunch of votes."
Slow, steady progress has been the hallmark of Whalen's lacrosse career.  "My first year in high school, I wasn't an all-star, either," he said. "I was on JV my freshman year, and JV at a program that wasn't that good. But it all honesty, it was the best thing for me. One, I switched to [a long stick], so I got a lot of reps, and instead of sitting the bench on varsity, I was actually getting to play and got better."
Buford is about 40 miles northeast of Atlanta. Lacrosse's popularity in Georgia is growing, Whalen said, but the caliber of play "wasn't anything like what you'd see up in Baltimore or Long Island or anything like that."
As a freshman in 2020, a season cut short by the COVID-19 pandemic, Whalen appeared in only two of Virginia's six games. "I was behind Jared Conners, Will Rock, a bunch of really good players, and I was like, 'I don't deserve to be out there.' It wasn't hard for me to see that. But I was like, 'I've been here before, and I'll just keep working.' "
His role grew up in 2021, when he played in eight games for a team that won the NCAA title, and again in 2022, when he played in all of UVA's 16 games. Against Layafette that season, he scored his first goal as a Cavalier.
"Some things opened up that junior year," Whalen said, "and I just kind of kept working from there."
He took another step forward during the 2023 season, and his lacrosse skills continue to catch up with his athleticism. "He is an impactful LSM in the middle of the field, flying in from the faceoff wings in the hunt for loose balls," Tiffany said. "He is also an active on-ball disrupter, using his speed to stay step-for-step with the dodger and throwing effective checks without slowing down."