Tiffany Announces Men's Lacrosse Captains For 2024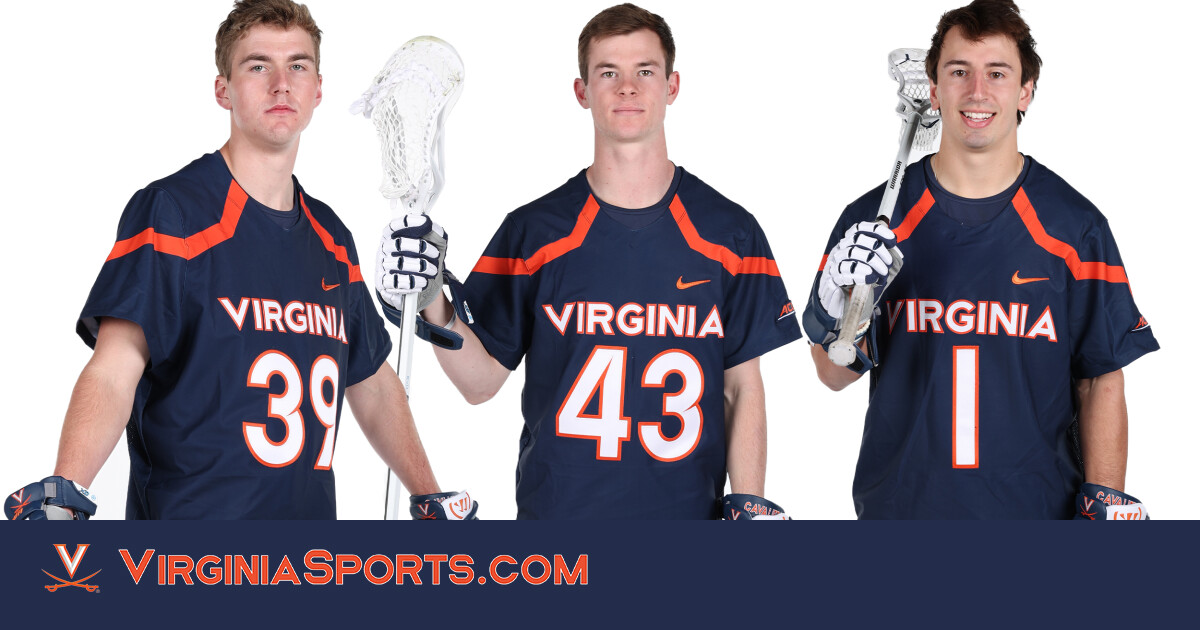 CHARLOTTESVILLE, Va. – Virginia men's lacrosse head coach Lars Tiffany announced that senior defenseman Cole Kastner (Palo Alto, Calif.), senior attackman Connor Shellenberger (Charlottesville, Va. ) and graduate long-stick midfielder Mitchell Whalen (Buford, Ga.) have been selected team captains for the 2024 season.
"Through our summer discussions, this trio of captains has proven to me they are determined to both preserve the legacy of our program's core values while also promoting the next generation of progress that will define this team in 2024," said Tiffany.
"Two of them, Cole and Connor, carry veteran wisdom as they repeat as captains. Mitch, though new to this role, is already sharing a voice and strength that demonstrates an eagerness to hold his teammates to a higher standard while also straight-forwardly representing the needs of the team with me."
Kastner was a USILA All-America honorable mention and All-ACC selection in 2023 after finishing second on the team in caused turnovers (21). In 2022, Kastner became the Cavaliers' first defensive player to garner ACC player-of-the-year honors since 2002, and was a USILA second team All-American. Last year, Kastner was named the recipient of the T. Rodney Crowley Scholarship, which is awarded to an accomplished UVA student who demonstrates leadership, sportsmanship, character and integrity. He also earned All-ACC Academic Team and ACC Honor Roll accolades.
Shellenberger became the program's second-ever three-time USILA first team All-American and was named to the NCAA's all-tournament team after guiding the Hoos to their 25th Championship Weekend appearance. He led the nation in assists (3.38/gm) and finished second in points per game (5.25/gm). In addition to landing his second career All-ACC honor, Shellenberger was selected as the league's men's lacrosse Scholar-Athlete of the Year. Both his six goals and 10 points against Georgetown in the 2023 NCAA Tournament quarterfinals tied for first in UVA history in a single NCAA Tournament game.
Whalen has been one of the Cavaliers' primary long-stick midfielders the past two seasons, a span in which he has made 31 appearances. In 2023, Whalen recorded his second straight season with at least 20 ground balls. He also tallied a career-best 10 caused turnovers. Like Kastner and Shellenberger, Whalen was named an All-ACC Academic Team and ACC Honor Roll recipient.