Tiffany Announces Addition of Five Transfers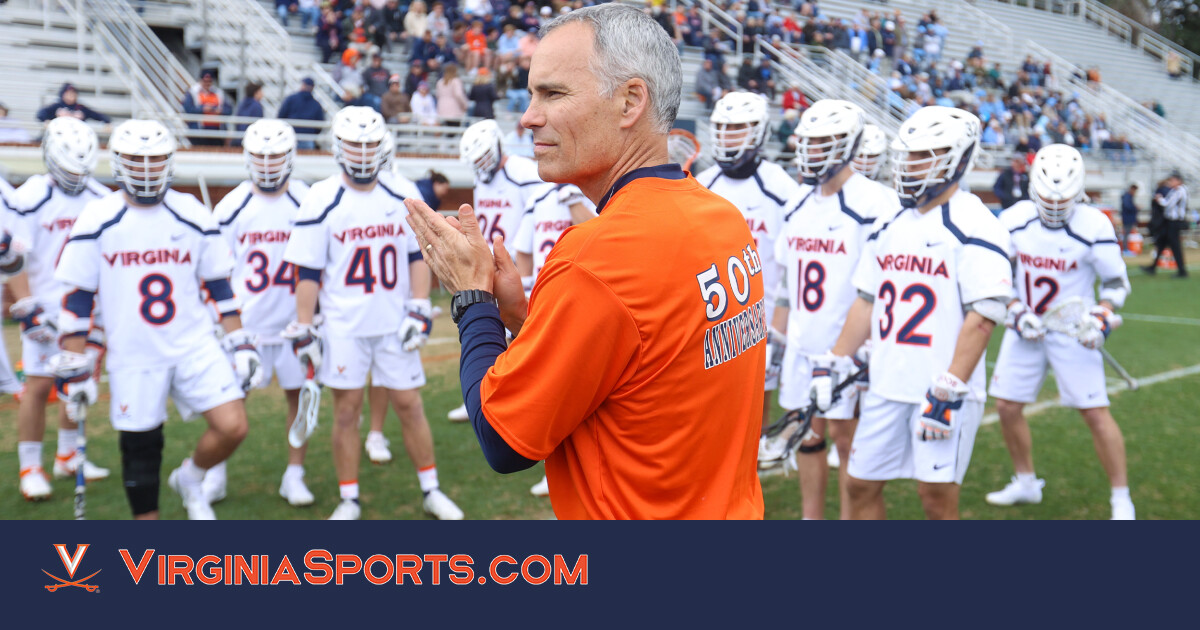 CHARLOTTESVILLE, Va. – Virginia men's lacrosse head coach Lars Tiffany announced the addition of five transfer student-athletes on Friday (Aug. 25).
Joining the Cavaliers immediately are Jack Boyden (Tufts), Thomas Colucci (Colgate), Matthew DeSouza (Binghamton), Anthony Ghobriel (Navy) and Chase Yager (Harvard).
Jack Boyden • A/M • Gr. • 5-11 • 175 • Toronto, Ontario • Upper Canada College/Tufts
AT TUFTS (2020-23)
2023
Lt. Col. J.I. Turnbull Outstanding Attackman of the Year
Iroquois National Outstanding Player of the Year
USILA First Team All-American
IMLCA Offensive Player of the Year
NEILA Division III All-New England First Team
NESCAC Player of the Year
Recorded a Tufts single-season record 157 points with 69 goals and 88 assists
His 88 assists are also a program record
Finished his career with 310 points (167-143), good for No. 4 in school history
2022
USILA All-American Honorable Mention
NEILA Division III All-New England First Team
NESCAC Player of the Week (March 14)
NESCAC First Team All-Conference
Led the Jumbos with 86 goals on the season
Finished second on the team in assists (47) and points (133)
Twice recorded a season-high ten points against Bates (April 13) and Connecticut College (April 30)
Scored a season-high seven goals twice against Connecticut College (April 3) and Weslyean (May 7)
Registered seven points in the Jumbos' 17-10 victory over Salisbury to help send Tufts to the NCAA D-III semifinals
2021
Finished the season with 11 goals and three assists
Recorded three points in a game twice, once against Connecticut College (April 17) and RIT (May 23)
2020
Team's top freshman scorer with six points
His five assists were fourth overall for the Jumbos
Played in all four games during season shortened by COVID-19
Dished out two assists in collegiate debut against Colby
Netted first college goal against Springfield during man-down situation
Had two assists against Springfield
HIGH SCHOOL
Played lacrosse, hockey and squash at Upper Canada College and Hill Academy
PERSONAL
Son of Beth and Jamie
Has three siblings, Charlotte, Stuart and Luke
Thomas Colucci • M • Gr. • 6-0 • 175 • Westfield, N.J. • Seton Hall Prep/Colgate
AT COLGATE (2020-23)
2023
Appeared in 11 games and led the team with 51 ground balls
Went 84-of-172 (.488) at the faceoff X and recorded six goals and one assist
Finished sixth in the Patriot League in ground balls per game (4.64) and ninth in faceoff percentage
Went 13-for-19 at the faceoff X and had one goal and one assist against Lafayette (March 18)
Scored a pair of goals against No. 7 Army (April 8)
2022
Recorded a .571 faceoff win percentage (144-for-252) and tallied 90 ground balls in 12 appearances
Scored one goal and dished out five assists on the season
Finished third in the Patriot League in ground balls per game (7.50) and face off percentage (.571)
Led the team in ground balls in all 12 appearances
Patriot League Faceoff Specialist of the Week (March 21)
Went 18-fof-21 at the faceoff X and scooped a career-high 12 ground balls against Lafayette (March 19)
Later tied his career high of 12 ground balls mark later in the season against Loyola (April 23), while also notching a goal and an assist
2021
Achieved a .538 faceoff win percentage (100-of-186) and tallied 50 ground balls in eight appearances
Finished the season with two goals and one assist for three points
Finished third in the Patriot League in ground balls per game (6.25)
Won 16 his 22 faceoff attempts against Boston U (May 4) in the Patriot League tournament quarterfinals
Scored his second goal in Patriot League semifinals at Lehigh (May 7)
Went 19-of-23 at the faceoff X against Holy Cross (March 6)
Posted a 15-of-23 effort with eight ground balls in 10-9 road victory over Bucknell (April 3)
2020
Went 3-of-9 at the faceoff X in three appearance
Season was ultimately canceled due to the onset of COVID-19
Patriot League Academic Honor Roll
HIGH SCHOOL
Attended Seton Hall Preparatory School in West Orange, N.J.
Team captain his senior season
Won 250 of 340 faceoffs as senior
Won 641 of 873 in his high school career
S. Lacrosse All-American
First Team All-State selection
First Team All-Fitch Pitt Conference
Daly Award as Seton Hall Prep's Most Outstanding Athlete
Helped Pirates to back-to-back Non-Public A runner-up finishes.
PERSONAL
Parents are Mike and Anne Colucci
Has one brother
Played club lacrosse for Steps Lacrosse
Captain of ice hockey team
Seton Hall Prep Ambassadors Program
Wounded Warrior Project
Matthew DeSouza • M • Gr. • 5-8 • 165 • Oakton, Va. • Oakton HS/Binghamton
AT BINGHAMTON (2020-23)
2023
America East Second Team All-Conference
Went 138-for-222 at the faceoff X and tallied a team-high 80 ground balls in 14 appearances
Finished seventh in the nation in faceoff win percentage (.622)
Set Binghamton's single-season faceoff win percentage record
Set the Bearcats' program record for career faceoff win percentage (.578)
Finished his tenure No. 3 in school in career faceoff wins (332)
Scored three goals and added one assist
America East All-Academic Team
2022
Went 98-for-176 (.557) at the faceoff X in 11 appearances
Finished the season 17th nationally in faceoff win percentage
Led the team with 48 groundballs
America East Spring 2022 Commissioner's Honor Roll
Fall 2021 and Spring 2022 Binghamton AD Honor Roll
America East All-Academic Team
2021
Won 94 of his 164 (.573) faceoff attempts in nine appearances
Finished the season 23rd in the nation in faceoff win percentage
Led the Bearcats with 55 ground balls
Inducted into the 2021 National College Athlete Honor Society
2020
Won two faceoffs and collected one ground balls in two appearances
HIGH SCHOOL
Recipient of the 2019 Virginia Northern Region Bob Scott Award
Earned first-team All District honors his senior year
Earned three varsity letters
PERSONAL
Son of Linh and Bolling DeSouza
Has two brothers, Christopher and Thomas
Anthony Ghobriel • M • Jr. • 6-2 • 210 • Highland Park HS/Navy
AT NAVY (2022-23)
2023
Won 185 of his 306 attempts at the faceoff X in all 16 possible games
Finished 12th in the nation and third in the Patriot League in faceoff win percentage (.605)
Set the Navy single-season faceoff wins record (185)
His 83 ground balls were good sixth on Navy's single-season list
Set career his in faceoffs won (19) and ground balls (12) in the Midshipmen's win over Bucknell
Earned Patriot League Faceoff Specialist of the Week honors twice
Went 14-for-16 to recorded a career-high faceoff win percentage (.875) against Lafayette
Won 18 of the 28 draws (.643) at Colgate, the second-most wins and the most attempts of his career
2022
Appeared in three Patriot League contests
Missed the first two months of the season recovering from shoulder surgery
HIGH SCHOOL
Named a 2021 US Lacrosse All-American
2021 Adrenaline All-American
Two-time (2019, 2021) Texas High School Lacrosse League All-State selection
Four-star prospect according to Inside Lacrosse as a sophomore and was ranked among the top-10 faceoff specialists in the nation
Named the Offensive MVP of the 2018 Div. II State Championship Game
Led Highland Park HS to the 2018 THSLL Div. II State Championship crown, while finishing as the Div. I runner-up in 2019 and 2021
Highland Park's leading rusher and tops in touchdowns (16) as a senior
All-District recognition in 2020 for football
Member of the Highland Park football team that was ranked #2 in the state of Texas in 2020 and was a Class 5A quarterfinalist
PERSONAL
Earned Commandant's (Spring 2023) and Dean's List (Fall 2022) accolade
Chase Yager • M • Gr. • 5-10 • 175 • Virginia Beach, Va. • Norfolk Academy/Harvard
AT HARVARD (2022-23)
2023
All-Ivy Honorable Mention
Totaled 27 ground balls in all 12 possible games as a senior
Helped the Crimson clear the ball at an Ivy League second-best .891 percent clip
Finished second on the team with 14 caused turnovers, recording at least one in 10 games
Chipped in three goals and two assists on offense
Key contributor to the Crimson ride which finished third nationally after holding opponents to a .789 clearing percentage
Contributed to a defensive unit that caused the fourth-most turnovers in the nation at a 10.5-per-game clip
Recorded three ground balls and two caused turnovers in the season opener at No. 1 Virginia (Feb. 18)
Sealed the win for the Crimson in its upset over No. 4 Cornell, scoring a late goal to round out a 10-8 victory
Added two caused turnovers and three ground balls in the effort
Academic All-Ivy
2022
All-Ivy Honorable Mention
Appeared in all possible 13 games
Finished the season with 23 ground balls, 13 caused turnovers and two assists
His 13 caused turnovers was good for third on the team, while his 23 ground balls were good for fourth
Collected a career-high six ground balls and one caused turnover at Rutgers in the first round of the NCAA Tournament (May 15)
AT AMHERST (2019-20)
Named to the 2020 NESCAC All-Academic Team at Amherst College
National Runner-Up in the Division III Championship at Amherst College
Two-year letterwinner at Amherst College
HIGH SCHOOL
Four-year letterwinner and three-year starter at Norfolk Academy
Served as captain senior year at Norfolk Academy
Named a U.S. Lacrosse All-American senior year
Received All-State First Team honors senior year
Bob Scott Award recipient senior year
Named to the All-TCIS (Tidewater Conference of Independent Schools) First Team junior and senior year
Named to the All-Prep League Team junior and senior year
Received All-State Second Team honors junior year
Led Norfolk to four conference championship titles and two Virginia Prep League championships
Also a three-year letterwinner and two-time captain in soccer and two-year letterwinner and one-year captain in basketball at Norfolk Academy
PERSONAL
Played club lacrosse for Amped Lacrosse
Cum Laude society member at Norfolk Academy
Senior class president
International Relations Fellow
Recipient of English and Political Science awards at Norfolk Academy