Six Cavaliers Earn VaSID Academic All-State Honors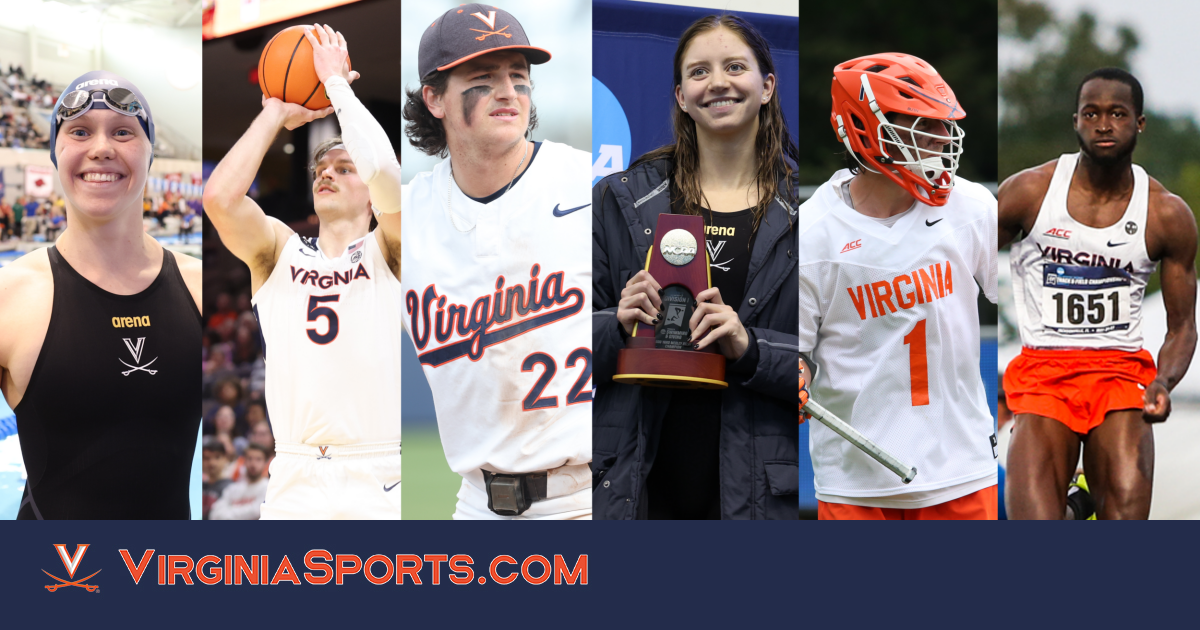 CHARLOTTESVILLE, Va. – Virginia had six student-athletes recognized on the 2022-23 Virginia Sports Information Directors (VaSID) Academic All-State Team, the organization announced Wednesday (July 5).
The list of Cavalier honorees includes Lexi Cuomo (Women's Swimming), Ben Vander Plas (Men's Basketball), Jake Gelof (Baseball), Kate Douglass (Women's Swimming), Connor Shellenberger (Men's Lacrosse) and Owayne Owens (Men's Track & Field).
Cuomo was named the CSC Academic All-America Team Member of the Year after posting a 3.98 GPA in chemical engineering for the fall semester at UVA. She has been a key contributor on Virginia's three-straight NCAA Championship teams. Cuomo has accumulated 19 All-America honors and has been part of four NCAA winning relay teams. She earned a top-eight finish at this year's championships in the 50-yard freestyle and was part of the American, NCAA & U.S. Open record 200 medley relay in 2023.
Vander Plas was named the CSC Academic All-America Team Member of the Year for men's basketball for the second consecutive season after posting a 4.0 GPA in the fall semester at UVA. Vander Plas averaged 7.4 points and 4.6 rebounds in 29 games as a Cavalier. He scored a season-high 20 points at Miami and collected a double-double with 10 points and 11 rebounds at Louisville. The graduate transfer from Ohio finished his five-year collegiate career with 1,787 points, 892 rebounds and 242 three-pointers.
Gelof, Virginia's third CSC Academic All-America Team Member of the Year selection in 2023, was a semifinalist for both the Golden Spikes award and the Dick Howser Trophy presented by the NCBWA. He becomes UVA's fourth, two-time NCBWA All-American after leading his team to a College World Series berth. Gelof led the team in 2023 with UVA single-season records in home runs (23) and RBI (90). He is UVA's career leader in both categories with 48 home runs and 185 RBI.
Douglass was the CSCAA and ACC Women's Swimmer of the Year as well as the ACC Scholar Athlete of the Year and a CSC Academic All-American. She led Virginia to its third-straight NCAA Championship winning three individual titles (200 IM, 100 butterfly, 200 breast) for the second-straight year while being a part of four relay wins to win Swimmer of the Meet. For her career, Douglass now boasts seven individual NCAA titles and eight NCAA relay championships for 15 total NCAA wins. In all three of her wins, she set American, NCAA and US Open records.
Shellenberger was named ACC Scholar Athlete of the Year for men's lacrosse in 2023. For the second season in a row, he was named one of five Tewaaraton Award finalists, the highest honor in college lacrosse. He became just the second three-time USILA first team All-American in UVA history. Shellenberger guided his team to its third Championship Weekend appearance in its last four attempts where he was named to the NCAA All-Tournament team. He led the NCAA in assists per game (3.38) and was second nationally in points per game (5.25).
Owens was named ACC Scholar Athlete of the Year for men's indoor track & field, and made his second, consecutive appearance on the CSC Academic All-America team. His performance on the track was highlighted by a third-place finish in the triple jump at the NCAA Indoor Championships where he jumped a personal best 16.69 meters (54'9.25") to record his highest-ever finish at an NCAA Championship meet. Outdoors, Owens won his second ACC triple jump crown and finished sixth at the NCAA Outdoor Championships, his highest-ever finish at the outdoor meet.
To be eligible, a student-athlete must have at least a 3.25 cumulative grade point average and be a sophomore or higher.
VaSID is comprised of sports information or athletics communications professionals from intercollegiate institutions throughout the Commonwealth of Virginia. Membership is open to any individual affiliated with one of the state's institutions at the NCAA Division I, Division II, Division III, NAIA, USCAA, NJCAA, community college and independent levels, provided that individual's area of responsibility lies within the realm of sports information.