Dominican Lacrosse is Going NCAA Division 2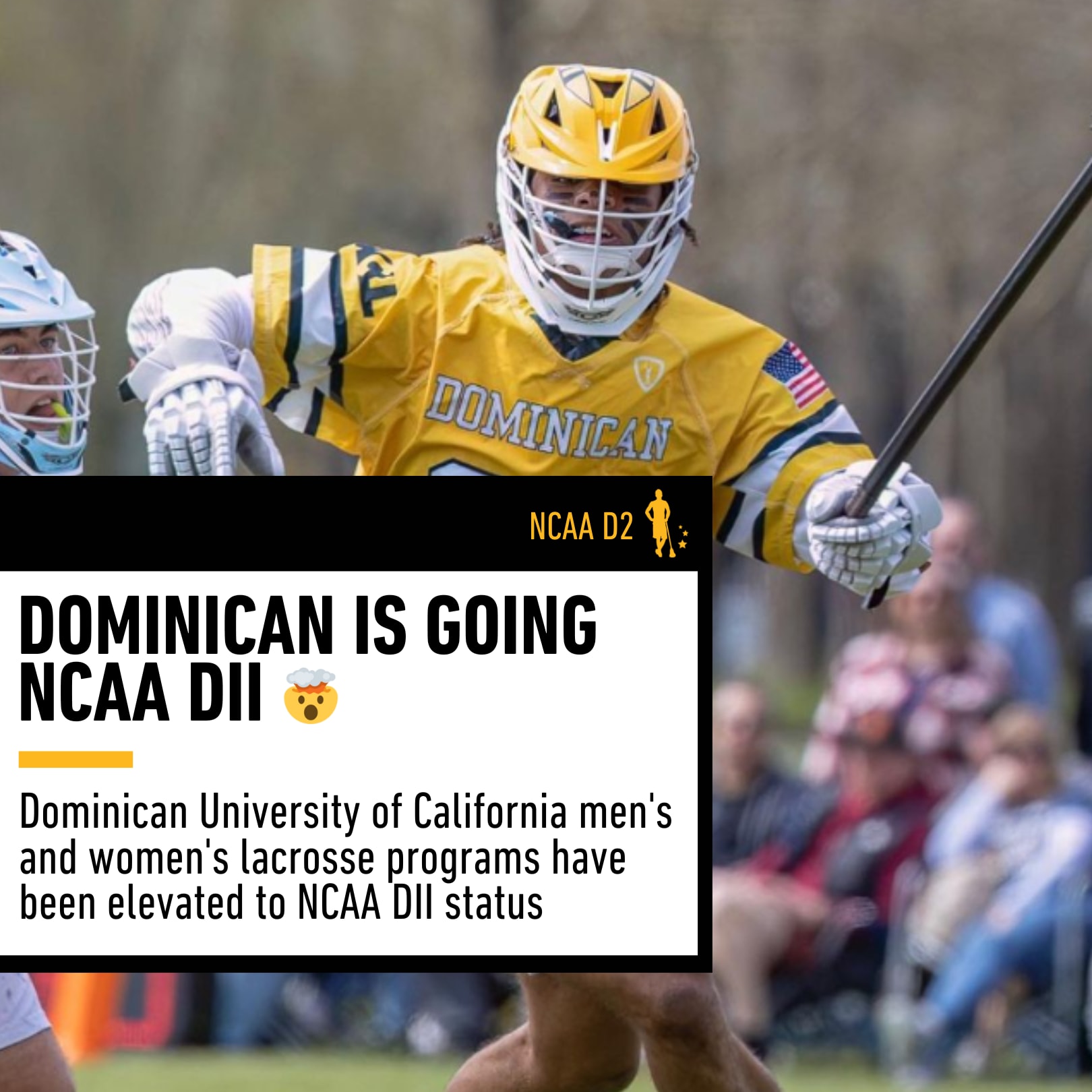 Dominican University of California will be adding NCAA Division II Lacrosse for both men's and women's for the 2023-24 school year as an independent, hoping to join the RMAC the following year. They will be the only school in California to have both their men's and women's teams at the NCAA level and the second to ever do so. Whittier had both up until this past season, but both programs were cut, unfortunately.
The men's team previously competed at the NCAA DII level from 2009 to 2014 before switching to the MCLA DI level to play in the WCLL Conference. Their move leaves the WCLL with seven teams. Concordia Irvine will also be joining NCAA DII from the MCLA, meaning there will be two men's NCAA teams in California for the first time since 2014, when Dominican and Notre Dame de Namur both had NCAA DII teams.
Men's Head Coach Sammy Vogel-Seidenberg had this to say about the move. "We are very excited to be going back to NCAA DII, the goal when we moved from NCAA DII to the MCLA was to always to get back to NCAA DII. I quickly realized that to make this happen we needed to add women's lacrosse, luckily with some hard work we were able to do that, and Coach Manna did an amazing job building a competitive team which made it clear we were ready to move back to NCAA DII. What I am most excited about is how we are growing the game on the west coast and the hope is that we can continue to bring NCAA lacrosse to the west coast. The players and team are excited to compete at a higher level and get a chance to put California lacrosse on the map."
The women's team will be making history as the first ever NCAA DII women's team in California. They are leaving the WWLL conference which competes at the WCLA DI level.
Joseph Manna, the Head Coach of the women's team, had this to say. "Excited would be an understatement, hats off to everyone who made this happen, particularly our players and administration at Dominican. As soon as I stepped foot on the campus, I knew Dominican was the perfect spot for Women's Lacrosse. To be the first ever NCAA DII Women's Lacrosse program in California is an incredible honor. Our players are pioneers and have already opened so many doors for future growth of the game. It's definitely a huge bonus we get to make the Jump with the Men's Lacrosse program. Dominican Will have around 80 NCAA DII Lacrosse athletes on campus next year, it's certainly becoming a place for lax!"