Why Did Atlas Release Cade van Raaphorst?
Why Did Atlas Release Cade van Raaphorst?
Yesterday's major news was Atlas releasing Cade van Raaphorst to the Player Pool. For those of you who don't know, the 26-year-old '19 Duke defenseman is arguably in the prime of his professional career. Raaphorst has been a member of the Atlas since the PLL's inaugural season and is coming off an All-Star appearance in 2022. Over the past four seasons, Raaphorst has played 38 games totaling 106 groundballs, 58 caused turnovers, and 15 points (all the major stat websites had different numbers, so I just used the PLL Career Stats category). Those are certainly impressive numbers, especially compared to other defensemen in the league. So that leaves the question, why would Atlas Head Coach Mike Pressler do this?
Pressler drafted two generational defensemen in the 2023 PLL College Draft, and the 19-man gameday roster limit meant someone had to go. It certainly wasn't going to be the two rookies, the team's young LSM core, or Durkin, who is close to retirement. So that left Pressler with the decision to drop Michael Rexrode of Cade van Raaphorst, and he chose the latter. Many PLL fans were shocked to see Atlas take two defensemen with the No.1 and No.3 overall picks in the draft, and we are now seeing the repercussions of that decision. Was it the wrong thing to do? I personally don't this so. The 2023 PLL College Draft was more defensemen-heavy than in years past, and the Atlas already has an incredible offensive core.
The Atlas released Cade van Raaphorst due to their decision to select two defensemen in the draft without truly understanding the consequences of their actions.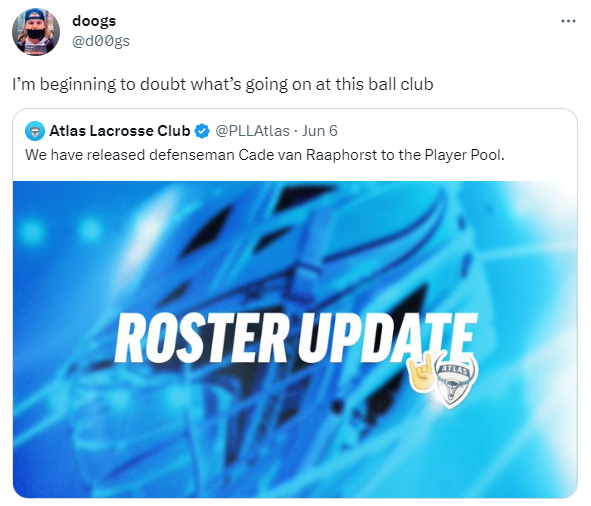 An immediate question that arose was, why didn't the Atlas trade Raaphorst away to maintain some value? Good question. I'm assuming the other seven PLL coaches knew that Atlas would inevitably drop a defenseman at some point due to the team having seven on the roster. So why would any coach trade for Raaphorst knowing he will inevitably be released to the Player Pool, where they could get him for free? You could argue that you could trade for him solely to ensure that another team doesn't get him. However, most teams in the league are content with their current rosters, so there is no need to take a risk like that. Another thing to consider is that this is Mike Pressler's first year in the PLL, with only one game under his belt. He may have made some calls or put out some feelers, but I doubt we will ever get an answer to that.
Even in year five, PLL coaches are still trying to figure out the dynamic of how they should go about roster decisions like this. With no real precedent being set due to the league's short history, it's like the Wild West. We are now seeing teams take different approaches to how they are building their rosters, which is exciting to watch. This is the first year that the PLL feels like a real sports league, primarily due to the introduction of player contracts in combination with the College Draft. This dynamic is crucial in all professional sports, even if the money situation is about dead-even for all the players involved. There must be a rotation of players coming in, players regressing, and players retiring for the league to be taken seriously, and we are starting to hit that point.
Was releasing Cade van Raaphorst the wrong decision? On a surface level, yes. Whatever team picks him up is getting a massive addition to their squad for virtually free. However, when you look at it more in-depth, what was Pressler supposed to do? He backed himself into a corner with his draft selections and someone had to pay the price because of it. Only time will tell if Pressler's decision was the right one, as the league is starting to face roster issues that it has not dealt with in years past (which is a good thing).
With all this information in mind, the question arises. Does the PLL need to expand? Is there too much talent in the league for eight teams? That, my friend, is an article for another day.
Lacrosse All Stars – Grow The Game® Powered by Fivestar
from Lacrosse All Stars https://ift.tt/wvZxRON
via IFTTT
Tags :
Lacrosse All Stars