Salisbury Coach Jim Berkman: Mount Rushmore of Coaches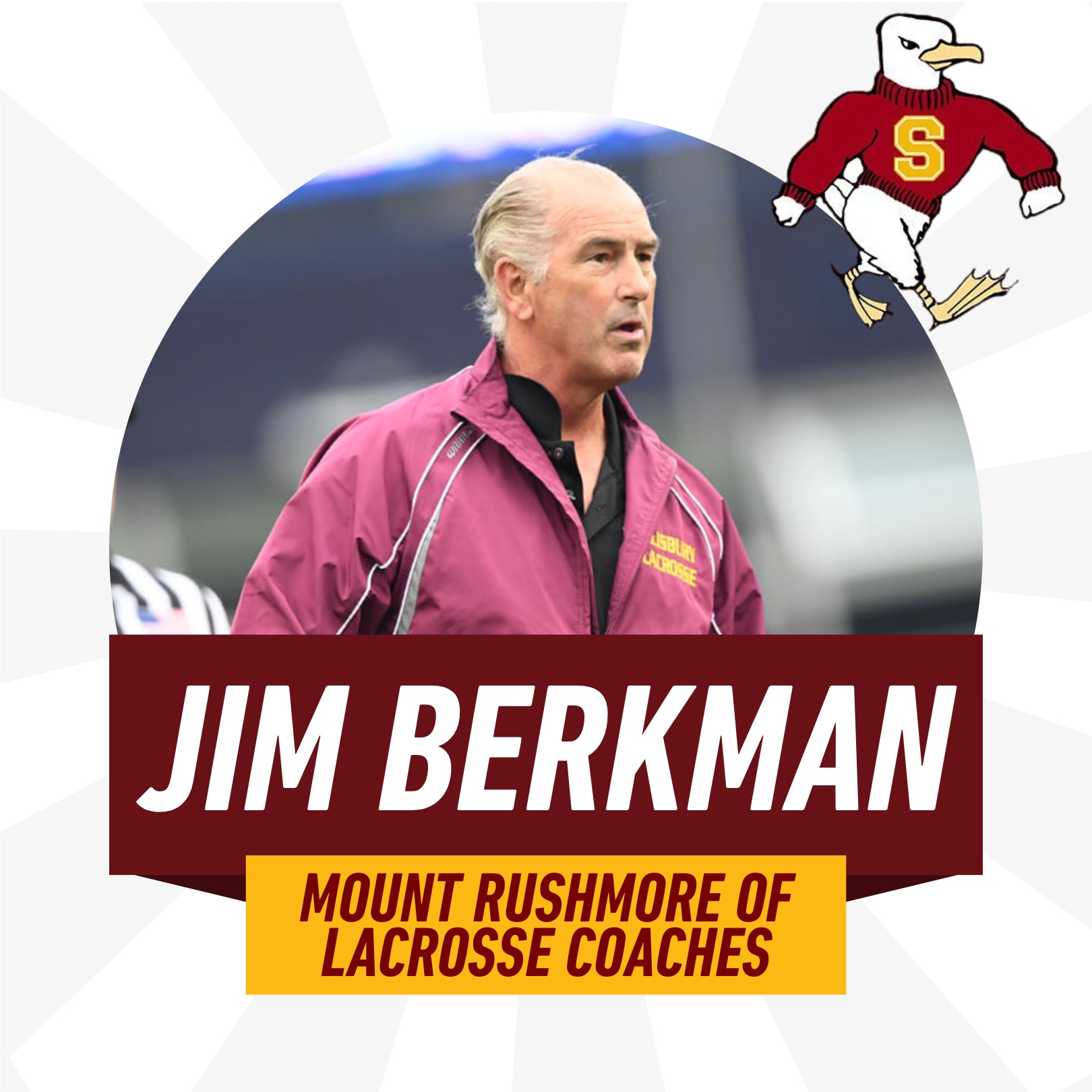 When people talk about the elite college lacrosse programs, they often mention Salisbury University and its dominance over Division III since the early 90s. Part of the reason for that was the arrival of Jim Berkman to Maryland's Eastern Shore. The man in charge quickly built the Sea Gulls into a national power, and Salisbury has never looked back. While many people often bring up the phenomenal coaches at the Division I level, it is impossible to overlook what Coach Berkman has done at Salisbury and how the program's accomplishments have cemented his place among the game's all-time great coaches. Thirty-five years after first arriving, Berkman has continued to show his ability to evolve with the game, and that was cemented this Memorial Day with his record-setting 13 national titles with the Sea Gulls. One of the game's most outstanding teachers, Jim Berkman has built Salisbury into the machine they are today, and here are a few reasons why.
1) Salisbury University Coaching Career
Berkman began his coaching tenure at Salisbury University in 1989 and has remained at the helm ever since. Under his leadership, the Salisbury Sea Gulls have become a perennial powerhouse in Division III lacrosse.
Berkman has led the Sea Gulls to an extraordinary 13 NCAA Division III National Championships, winning titles in 1994, 1995, 1999, 2003, 2004, 2005, 2007, 2008, 2011, 2012, 2016, 2017, and 2023. These championships showcase the sustained excellence of his coaching and the program he has built.
During the 2008 NCAA tournament, he surpassed Army Head Coach Jack Emmer's former record of 326 wins to become the all-time winningest NCAA lacrosse coach. By the end of the 2023 season, he had expanded it to 620 wins. Under Berkman, Salisbury has also secured numerous records for winning streaks. The Sea Gulls compiled an NCAA record 105-game conference winning streak from the start of the 1995 season through the 2009 NCAA Tournament. They also collected 69, 55, and 47-game consecutive winning streaks, an 87-game regular season winning streak, and an 80-game home winning streak.
Coach Berkman has the highest winning percentage for all NCAA coaches across Division I, II, and III at just over 90%.
2) Consistency and Longevity
Berkman's ability to consistently produce winning teams year after year is a testament to his coaching prowess. He has guided Salisbury to numerous conference championships and NCAA Tournament appearances throughout his career.
His long tenure at Salisbury reflects his dedication and commitment to the program. He has turned away offers from other programs across Division I, II, and III to remain at Salisbury because of the program he has built and the lifestyle coaching there affords him. Berkman's ability to maintain high success over such an extended period demonstrates his exceptional coaching skills and leadership.
3) Player Development and Success
Berkman has been instrumental in developing talented players who have achieved individual accolades and succeed professionally. Many of his former players have become All-Americans and played in the NLL, MLL, and PLL. He has coached multiple US National Team Players, including Ryan Martin and Kyle Hartzell.
His coaching methods emphasize skill development, tactical understanding, and team cohesion, enabling his players to reach their full potential on the field.
Search Salisbury Shooting Drills, and you will see why Salisbury has always been near the top in every offensive category.
4) Tactical Mastery
Berkman's tactical acumen and game-planning abilities have played a significant role in his team'steam's success. He is known for adapting to different opponents and adjusting strategies based on the strengths and weaknesses of the opposition. This was displayed this Memorial Day as the Sea Gulls game plan to shut down the electric Tufts offense worked almost to perfection.  
His teams have showcased disciplined and well-executed offensive and defensive systems, a testament to his ability to prepare his players and make effective in-game adjustments.
5) Coaching Philosophy and Leadership
Berkman's coaching philosophy emphasizes discipline, hard work, and strong team culture. He instills in his players the values of dedication, accountability, and a commitment to excellence on and off the field. Listen to anyone involved with the program talk about their famous Edge workouts, and you will see why.
He has created a winning culture at Salisbury, fostering a sense of camaraderie and a winning mindset within the program. Berkman's leadership and ability to motivate his players have been critical in sustaining the team'steam's success.
6) Impact on the Sport
Jim Berkman's influence extends beyond the success of his teams. He has made significant contributions to the growth and development of lacrosse as a sport.
Former players and assistants are sprinkled across the college and high school game, giving him an extensive coaching tree.
Through his coaching clinics, camps, and speaking engagements, Berkman has shared his knowledge and expertise with aspiring coaches and players, helping to elevate the sport's standards and expand its reach.
Jim Berkman's remarkable career and numerous achievements make him one of the greatest lacrosse coaches on numbers alone, but these numbers don't explain his total impact on the sport. Watch a Salisbury game to see why they have created sustained success. Their work rate and commitment year in and year out show how strong their culture is. They play hard for one another and for those who have come before them. His consistent success, player development, tactical mastery, leadership abilities, and impact on the sport have solidified his legacy as a coaching icon and helped make Salisbury one of the premier destinations for college lacrosse players. Many people say Syracuse invented swagger, but Salisbury may have perfected it.