Breaking Down the 2023 Men's and Women's Tewaaraton Finalists
The Tewaaraton Award is an annual award given to the most outstanding lacrosse player in college lacrosse, both on the men's and women's sides. It is considered the most prestigious individual award in the sport of lacrosse. The selection process involves a committee that evaluates the candidates' performance, statistics, impact on their team, and contributions to the sport. This year's Tewaaraton Award will be given out on Thursday, June 1st.
2023 Men's Tewaaraton Finalists
After a fantastic weekend of lacrosse, there's only one major event left for the college lacrosse world. That's to name the 2023 Tewaraaton Award winners. What seemed like more of a formality going into the weekend has some added juice to it after a heroic effort from Pat Kavanagh of Notre Dame. While his stats may not show it, his toughness was on full display after playing the whole weekend on one leg. Going into the weekend, it seemed as though Brennan O'Neill was a lock, but with Notre Dame winning their first title, this comes with some drama. After taking home the Enners Award for USILA Player of the Year, O'Neill is as good a bet as any to take home the award. In an all-attack group, there are some exceptional players to choose from. An insane fact about this group? Four out of five return in 2024. Here's a look at the finalists looking to take home the men's award.
Brennan O'Neill
Junior-Attack-Duke
The 2023 ACC Offensive Player of the Year and USILA Player of the Year, O'Neill paced the national runners-up on offense with 55 goals and 42 assists for a career-best 97 points. The odds on favorite to take home the award was one of the most dominant players in college lacrosse this year for one of the country's best teams. He is just the fifth player in Duke history to record at least 90 points in a season and currently ranks ninth on Duke's single-season chart.
A three-time All-ACC choice, he averaged five points per game against ACC foes this season and is the only player in the country to rank in the top twenty in goals and assists per game overall. In Duke's six ACC contests, the Bay Shore, N.Y., native recorded three hat-tricks and two games with at least three assists.
O'Neill had multiple points in 16 of the 17 games, leading Duke in scoring in 12 of the 17. He is riding a 28-game goal streak going into next season and has nine hat-tricks and 11 games with at least five points this season, including his six-goal and seven-point outing against Michigan in the NCAA Quarterfinal.
Pat Kavanagh
Senior-Attack-Notre Dame
While many view O'Neill as a shoo-in for the Tewaaraton Award, the people's champion may be Pat Kavanagh. His toughness was displayed on the game's biggest stage for the newly minted NCAA National Champions. He has added some drama to the award, as we have seen playoff performance plays a factor in winning the award. Kavanagh has been the preeminent playmaker in the country in 2023, leading the nation in assists per game with an average of 3.75. The senior broke his own Notre Dame program records for assists in a season for the second straight year and finished with 51 assists on the year. He also broke the program record for points in a season previously held by his older brother Matt. Kavanagh also tied his program record for points in a game with 10 in the win against Michigan, totaling four goals and six assists.
His 25 goals and 51 assists paced the Notre Dame offense, but his intangibles made him one of the most dominant players in all of college lacrosse this season. Another aspect of the senior's game that differentiates him from other top attackmen is his tenacity on the ride and his elite ability in the ground ball game. Kavanagh finished the season leading the ACC in groundballs per game for attackmen (2.83) and caused turnovers for attackmen (.67).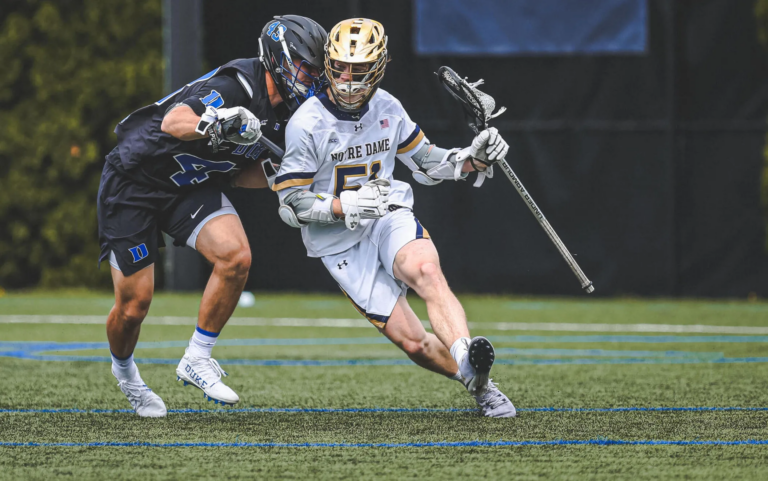 Connor Shellenberger
RS Junior-Attack-Virginia
The pre-season Tewaaraton favorite this year, Shellenberger was slowed by injuries for most of the season, but still had himself an impressive year as he paced the Cavalier offense. Throughout the NCAA Tournament, he showed that he could be the most dominant offensive player in college lacrosse when healthy. Had Virginia beaten Notre Dame and won the title, there might have been some more drama going into the award ceremony. Shellenberger had two goals and four assists in UVA's 17-8 win over Richmond in the NCAA Tournament's first round. Against No.7 seed Georgetown in the quarterfinals, Shellenberger recorded six goals and four assists in Virginia's 17-14 victory. His ten points tied the program record for an NCAA Tournament game. In the semifinals against Notre Dame, Shellenberger posted three goals and three assists to lead Virginia. His 22 points led all scorers in tournament play. For the season, he chipped in 30 goals and 54 assists to lead the Cavaliers in points once again.
Tucker Dordevic
RS Senior-Attack-Georgetown
Doredevic had moments of brilliance this season and showed why he is a finalist for the award. His ability to take over a game was somewhat like O'Neill, and his shooting put him in elite company. In one year with Georgetown, the Syracuse transfer put himself in elite company among Hoya greats. Dordevic became the 15th Hoya in program history to garner USILA First Team All-America recognition. Dordevic set career highs in points and goals. For the season, he posted 65 goals to go along with 13 assists for 78 points. His .349 shooting percentage was off the charts for the Hoyas and was one of the main reasons he was able to break the Georgetown record for goals in a season. He was also named the Big East Attack Player of the Year, All-Big East First Team, and the Big East Tournament Most Outstanding Player. This was Dordevic's third career USILA All-America nod after third-team selections in 2021 and 2022.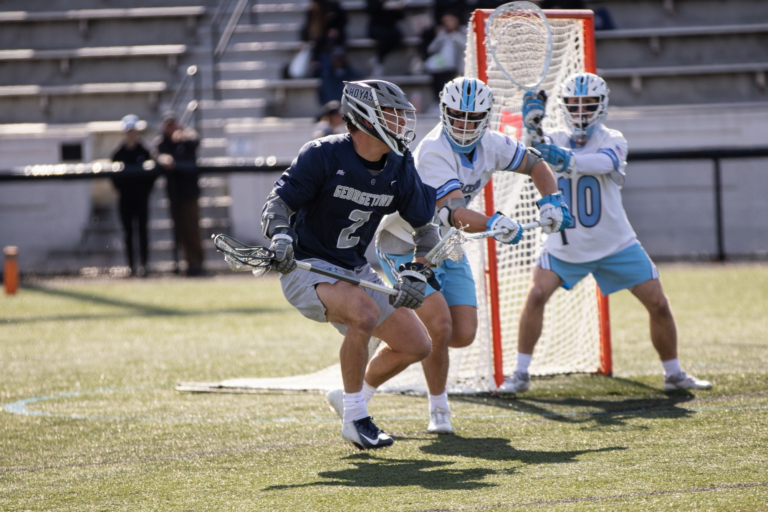 CJ Kirst
Junior-Attack-Cornell
An absolute stud shooter at the attack position, Kirst posted one of the greatest seasons in Cornell history while picking up Attackman of the Year honors from the USILA. The first Cornellian to be recognized as the nation's outstanding attackman since Rob Pannell won in back-to-back years, Kirst became the fifth Big Red to be recognized all-time, which puts him in elite company. He led the nation in goals per game with 4.33 and points per game with 5.60 after totaling 65 goals and 84 points across 15 games. The goal number matches Mike French in the Cornell record books for second all-time, while his point number is good for the 10th most in Cornell history. In just two seasons, Kirst is six points shy of joining the top ten in career points at Cornell. Kirst is the reigning Ivy League Player of the Year, following his Rookie of the Year campaign in 2022. After not having a 2021 freshman season due to Ivy League COVID restrictions, Kirst has clearly put himself among the game's elite and has shown he has the potential to bring this award home.
2023 Women's Tewaaraton Finalists
A special finish to the women's season that saw Northwestern return to the summit of the lacrosse world now concludes with the annual naming of the Women's Tewaaraton Award. An exceptional group of young women, headlined by two players that have looked to separate themselves from the pack. Izzy Scane from Northwestern and Meaghan Tyrrell of Syracuse look to be the two battling it out, but it's anyone's trophy. Like the men's side, this group of Tewaaraton finalists is attack heavy. With her performance in the playoffs, Izzy Scane is the favorite to take the hardware home. Her story mirrors Northwestern's this season as more of a comeback story since she missed the 2021 season to injury. Here's a look at the finalists looking to take home the Tewaaraton Award.
Izzy Scane
Graduate Student-Attack-Northwestern
Izzy Scane had a phenomenal season punctuated with a national championship and set the school's career and single-season goal record on the same goal during the Wildcat's championship win over Boston College. She finished with a tally of four goals and two assists against the Eagles. Prior to her title game performance, Scane dropped an eight-point effort (six goals, two assists) in Northwestern's semifinal defeat over the University of Denver. She earned Most Valuable Player in the tournament as the Wildcats earned their program's eighth national title and first since 2012. Scane has been named the IWLCA Player of the Week five times this season. She finished her fifth year with 99 goals and 35 assists for 134 points for the Wildcats and clearly seemed to separate herself with an epic playoff performance.
Meaghan Tyrrell
Graduate Student-Attack-Syracuse
A phenomenal year for the outstanding Syracuse attacker. While the Orange fell short of their ultimate goal of winning a national championship, Tyrrell was one of the major factors that kept Syracuse in the mix to win it all this year. Tyrrell ranks second in the nation in points per game with an insane 5.35. She earned ACC Attacker of the Year honors and was an All-ACC First Team and ACC All-Tournament Team selection. Tyrrell recorded six or more points in a game ten times in 2023, which included a career-high 11 points against national power Maryland. She became Syracuse's all-time points leader this season and ranks sixth on the Division I all-time points list with 415.
Erin Coykendall
Senior-Attack-Northwestern
The other half of Northwestern's dynamic duo, Coykendall had a phenomenal year in her own right and served as the leading distributor in Northwestern's electric offense. Coykendall notched her first First Team IWLCA All-America honor after pairing 58 goals and 50 assists for 108 points. Coykendall tallied at least three points in 20 of Northwestern's 22 contests, including 13 games with at least five points. What stands out about her game is her balance in scoring. While scoring 108 is an insane stat, to do it as a 50/50 player is extremely impressive. She was almost automatic with the ball in her stick as she shot an insane 53% this year.
Jenn Medjid
Graduate Student-Attack-Boston College
Medjid was the leader for the Eagles, who have become a championship weekend mainstay since she stepped foot on campus. From Apuzzo to North, and now to Medjid, the Eagles have churned out Tewaaraton finalists. Medjid had a tremendous season, scoring 107 points on 83 goals and 24 assists. She is first in the ACC and fourth in the country in goals on the season, while she is second in points and sixth in the nation. She has an ACC-leading 15 hat-tricks with seven games of five or more goals. Medjid was named All-ACC First Team and to the All-ACC Tournament Team and was a massive reason for the Eagles finishing as national runners-up. The graduate student is second all-time in goals with 252 and points with 332, which makes her fifth among active players in points and goals.
Isabella Peterson
Junior-Attack-James Madison
A redshirt junior, Peterson has led the JMU offense with 91 goals and added 23 assists for 114 points, reeling in hat-tricks in 19 of 22 games this season. She ranks third in the nation in total goals and tied for second in total points. Where Peterson has really cemented herself as an elite player is her ability to come away with draw controls, as she corralled 90 for the season. This season, her performances have earned her a trophy case of awards, including a First Team All-American honor by both the IWLCA and US Lacrosse Magazine. She was also unanimously named the American Athletic Conference Attack Player of the Year.