Hoos Back in Familiar Surroundings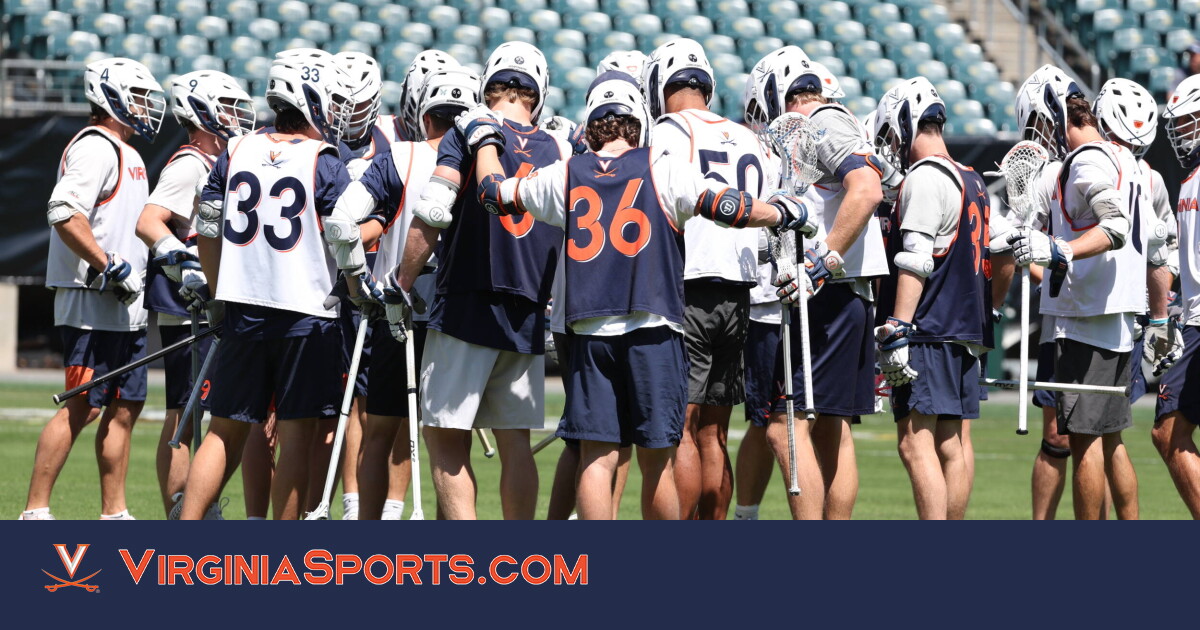 By Jeff White (jwhite@virginia.edu)
VirginiaSports.com
PHILADELPHIA — Nearly four years from the day that the University of Virginia men's lacrosse team won the program's sixth NCAA title, Lars Tiffany ran out of a tunnel at the Philadelphia Eagles' stadium and onto the pristine grass field Friday afternoon. The moment stuck with the Cavaliers' head coach.
"I was startled, and we've been here before," Tiffany told a handful of reporters after UVA's practice at Lincoln Financial Field. "We were here four years ago, and obviously we were at the Final Four two years ago in Hartford. It still takes your breath away, though, when you run onto an NFL stadium surface and see 70, 75,000 seats. Even though they're empty. It still took my breath away and, I can feel, the men's as well, even the fifth-years. It's still this really, really special gift that we're allowed to be here."
At 2:30 p.m. Saturday, second-seeded Virginia (13-3) takes on No. 3 seed Notre Dame (12-2) in the NCAA semifinals at Lincoln Financial Field. That's where UVA defeated Yale for the NCAA championship in 2019.
"It's really cool to be back," Virginia defenseman Cade Saustad said Friday.
"We don't hang banners for Final 4 appearances … we only hang banners for national championships."#GoHoos️ pic.twitter.com/NiuEaQwVLJ

— Virginia Men's Lacrosse (@UVAMensLax) May 24, 2023
The COVID-19 pandemic shut down college sports before the lacrosse postseason started in 2020, but the Wahoos repeated as NCAA champions in 2021, defeating Maryland for the title in East Hartford, Conn. And now the Hoos, who lost to eventual champion Maryland in last year's quarterfinals, are two wins from the program's eighth NCAA crown.
"This is kind of why I chose UVA last year: for moments like this, the big stage," said midfielder Thomas McConvey, who like Saustad was named a first-team All-American on Thursday.
For McConvey, a graduate transfer from Vermont, this is his fifth year of college, but his first at Virginia. So this is new to him, but several of his teammates were on the UVA team that won the NCAA title in 2019, including Saustad, faceoff specialist Petey LaSalla, midfielders Jeff Conner and Grayson Sallade, and attackmen Xander Dickson and Payton Cormier.
"It's incredibly fortunate to have all that experience, to have these fifth-year men who were here [at the end of] their first year," Tiffany said.
At the end of practice Thursday in Charlottesville, Tiffany asked those veterans to share some of their Final Four wisdom with the team's less experienced players.
Saustad said he and his classmates "just tried to lay out the foundation of what to expect and what to think about when you're getting those nerves and you're at the highest stage of college lacrosse."
The message from Saustad, Tiffany said Friday, "was, 'Hey, look, you're gonna be nervous, but we got each other. We're together. Guys have been here before. Lean on each other. Be a great team.' "