No. 2 Seed Virginia Set for NCAA Semifinals Clash with Notre Dame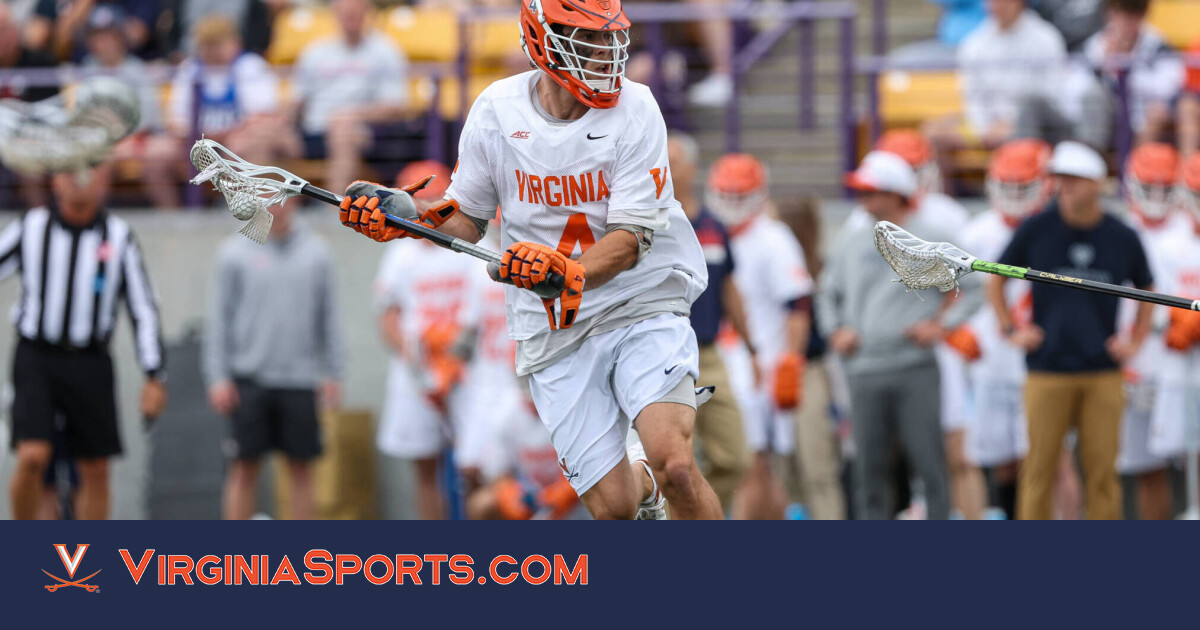 "We don't hang banners for Final 4 appearances … we only hang banners for national championships."#GoHoos️ pic.twitter.com/NiuEaQwVLJ

— Virginia Men's Lacrosse (@UVAMensLax) May 24, 2023
CHARLOTTESVILLE, Va. – No. 2 seed Virginia (13-3) and third-seeded ACC foe Notre Dame (12-2) battle head-to-head for the third time this season in the NCAA Tournament semifinals on Saturday (May 20) in Philadelphia, Pa. Opening faceoff from Lincoln Financial Field is set for 2:30 p.m. on ESPN2.
🥍 Back in the City of Brotherly Love 🥍

ESPN platforms present NCAA Men's Lacrosse Championship Weekend

@AnishESPN, @QKessenich, @paulcarcaterra
Studio | Chris Cotter, Matt Ward, @DUCoachTierney

More: https://t.co/Lks7t7RSG9 | #NCAAMLAX pic.twitter.com/wMFvlbdiRk

— ESPN PR (@ESPNPR) May 25, 2023
Additionally, Westwood One/NCAA Radio will provide coverage of Saturday's semifinals, which can be found on SiriusXM 84, The Varsity Network App and WestwoodOneSports.com/NCAAPlayer. WINA (1070 AM/98.9 FM) will also have the call.
Let's go…Championship weekend is here for @UVAMensLax. My final in-season chat with head coach Lars Tiffany. Listen: https://t.co/rKWrFGKwbv

— Luke Neer (@LukeNeer) May 26, 2023
The heavyweight bout between Virginia and the Fighting Irish features two Tewaaraton Award finalists in Connor Shellenberger and Notre Dame attackman Pat Kavanagh. The Irish's only two losses of the season were to the Cavaliers, both of which instances Notre Dame was ranked No. 1 in the USILA coaches poll.
NUMBERS TO KNOW
7 – Virginia's seven NCAA championships are third most by any program since the NCAA Tournament's inception in 1971.
25 – The Cavaliers are making their 25th NCAA semifinals appearance in school history, including third under head coach Lars Tiffany (2019-21-23).
175 – Virginia's 2023 roster combines for 175 NCAA Tournament games played. Four players in Jeff Conner, Xander Dickson, Cade Saustad and Petey LaSalla have appeared in 12 tournament games each.
It feels like Petey LaSalla has been at @UVAMensLax for "an eternity." That eternity will end this weekend, possibly with his third NCAA championship.https://t.co/owznK4mnKl

— USA Lacrosse Magazine (@USALacrosseMag) May 25, 2023
VIRGINIA IN THE NCAA TOURNAMENT
Virginia is competing in its 42nd NCAA Tournament appearance all-time, including 25th semifinals appearance, and 94th NCAA Tournament game.
Only Johns Hopkins (48) and Maryland (45) have been to the tournament more times than UVA.
The Cavaliers are 59-34 (.634) all-time in NCAA Tournament games and have won 11 of their last 12 tournament contests, dating back to 2019.
Only Johns Hopkins (72), Maryland (70) and Syracuse (65) have more NCAA Tournament wins than Virginia.
UVA is 11-13 all-time in NCAA semifinals contests having advanced to the championship game in 1972, 1980, 1986, 1994, 1996, 1999, 2003, 2006, 2011, 2019 and 2021.
SERIES HISTORY
Virginia leads the all-time series over Notre Dame, 11-8, and is currently riding a six-game win streak over the Fighting Irish, dating back to 2019.
UVA's six-game win streak is its longest since the series began in 1993.
This year, UVA went 2-0 against the Irish in the regular season, winning 15-10 at Arlotta Stadium on March 25 and 12-8 in the regular-season finale on April 30 at Klöckner Stadium.
Notre Dame's only two losses of the season are to the Hoos. The Irish were ranked No. 1 in the USILA coaches poll both times.
Since March 13, 2022 (441 days), Notre Dame's only three losses have been at the hands of the Cavaliers.
The two teams have squared off in the NCAA Tournament four times (93, 94, 06, 12) with the Cavaliers leading 3-1 in such contests.
In the most recent meeting less than one month ago, UVA goalie Matthew Nunes turned in a career-high 19 saves, including seven in the fourth quarter, to knock off then-No. 1 Notre Dame, 12-8 at Klöckner Stadium. The game also saw Xander Dickson tie Doug Knight's 1996 single season record of 56 goals.
At Arlotta Stadium earlier this year, Xander Dickson (6g, 1a), Connor Shellenberger (2g, 5a) and Payton Cormier (2g, 2a) combined for 18 points. Shellenberger's five assists were good for the most by a UND individual opponent in Arlotta Stadium history.
At Klöckner Stadium last year, the Cavaliers defeated Notre Dame, 12-8, on March 26. Both teams finished ACC play with a 5-1 record to earn a share of the 2022 ACC title, however UVA was the only ACC program to earn a berth in the NCAA Tournament.
Virginia defeated Notre Dame in the most recent ACC Tournament title game, 10-4, in 2019 at Klöckner Stadium after holding the Irish scoreless for 42:12 of game time.
The last time the two teams met in the NCAA Tournament was in 2012 quarterfinals at Lincoln Financial Field. Both teams were tied 6-6 heading into the fourth quarter before the Irish outscored UVA 6-4 in the final period. Notre Dame attackman and Charlottesville native Max Pfeifer (Western Albemarle HS) recorded his first hat trick of the season. The Irish were eliminated by eventual-champion Loyola in the semifinals.
HOOS AT THE LINC
Virginia is 4-1 all-time at Lincoln Financial Field, having played once in 2005, and twice in both 2006 and 2019.
All five games were NCAA Tournament contests.
UVA's first-ever appearance at Lincoln Financial Field was in 2005 and marks the Cavaliers' only loss at the venue as Johns Hopkins and Tewaaraton Award winner Kyle Harrison defeated UVA in overtime, 9-8. Matt Ward recorded four goals for the Hoos.
In 2006, UVA claimed its first win at The Linc as Ward, once again, scored four goals and Ben Rubeor added one goal and two assists in the Cavaliers' 17-10 win over Syracuse.
Virginia went on to win the program's fourth NCAA Championship that same year in a 15-7 victory over UMass. Shortly thereafter, Ward was named UVA's second recipient of the Tewaaraton Award.
The Hoos would return to Lincoln Financial Field in 2019 for a semifinals matchup against Duke, winning 13-12 in double overtime. Attackman Michael Kraus led the Hoos with five points, including four assists, and Ian Laviano scored four goals.
Virginia's most recent appearance, the 2019 title game, saw the Hoos take down Yale to capture the program's sixth NCAA title. Matt Moore led the Cavaliers with four goals and an assist, while goalkeeper Alex Rode recorded 13 saves.
LAST TIME OUT
Connor Shellenberger (6g, 4a) tied the Virginia NCAA Tournament single-game record with 10 points in the Cavaliers' 17-14 win over No. 7 seed Georgetown last Saturday (May 20) in Albany, N.Y. at Tom & Mary Casey Stadium.
Shellenberger's six goals also tied his own NCAA Tournament single-game record, which he also set in the quarterfinals against the Hoyas in 2021 in Hempstead, N.Y.
Defensively, Cole Kastner recorded a game-high four caused turnovers. Cade Saustad limited Tewaaraton Award Finalist Tucker Dordevic to just two goals on eight shots. Matthew Nunes (13-3) earned the win in goal for UVA after stopping 13 Hoya shots, including four in the fourth quarter.
With 11 total assists, the Cavaliers shattered the program's 2006 single-season assists record of 184. UVA is now up to 189 assists on the season.
CAVALIERS AMONG THE NATION'S STATISTICAL LEADERS
Virginia currently leads the nation in assists (11.81/gm), ground balls (40.14/gm), points (29.25/gm), scoring offense (17.56/gm) and shot percentage (.384). The Cavaliers are second in scoring margin (5.50/gm), fifth in man-up offense (.550) and eighth in clearing percentage (.904).
Connor Shellenberger is currently second in assists (3.40/gm) and fourth in points (5.20/gm). Xander Dickson is fourth in goals (3.75/gm), sixth in points (5.06/gm) and second in shot percentage (.556). Payton Cormier is sixth in goals (3.64/gm), 23rd in points (4.50/gm) and sixth in shot percentage (.490). Cade Saustad is seventh in caused turnovers (2.12/gm) and Petey LaSalla is 14th in ground balls (8.19/gm).
From testing the transfer waters to breaking the program record for goals in a season…@XanderDickson spoke to @Chris_Spatola about the approach to the portal by HC @lars_tiffany!
@UVAMensLax | @VirginiaSports
https://t.co/UHJjNomgO4 pic.twitter.com/p7rVnqw2Gu

— College Sports on SiriusXM (@SXMCollege) May 24, 2023
NINE CAVALIERS NAMED USILA ALL-AMERICANS
Connor Shellenberger (1st), Thomas McConvey (1st), Cade Saustad (1st), Xander Dickson (2nd), Petey LaSalla (3rd), Payton Cormier (HM), Grayson Sallade (HM), Evan Zinn (HM) and Cole Kastner (HM) all earned All-America honors from the USILA, the organization announced May 25.
Virginia's nine selections led all Division I programs nationally.
Shellenberger became the second player in UVA history to garner first-team honors in three different seasons, joining former UVA defenseman Ken Clausen (2008-09-10).
Thrilled to announce our nation-leading 9️⃣ @USILA_Lax All-Americans!

⭐️ Cade Saustad, First Team
⭐️ Thomas, McConvey, First Team
⭐️ Connor Shellenberger, First Team pic.twitter.com/oLB0ohpxA6

— Virginia Men's Lacrosse (@UVAMensLax) May 25, 2023
McCONVEY NAMED DONALD MacLAUGHLIN JR. AWARD FINALIST
After transferring to UVA from Vermont, Thomas McConvey became Virginia's seventh all-time recipient of the USILA's Lt. j.g. Donald MacLaughlin Jr. Outstanding Midfielder award, which recognizes the nation's top midfielder.
He currently leads all ACC midfielders in points (3.06/gm) and assists (1.38/gm).
McConvey has registered at least one point all 68 career games.
A HUGE congrats to our guy @tmcconvey88 on being named the recipient of this year's Lt. Donald MacLaughlin Jr. Award, which is bestowed to the nation's top midfielder‼️ pic.twitter.com/xNtfHAtWMp

— Virginia Men's Lacrosse (@UVAMensLax) May 25, 2023
MATTHEW NUNES ON THE CUSP OF UVA'S SINGLE-SEASON SAVES RECORD
With 196 saves in 2023, Matthew Nunes is approaching UVA's single-season saves record.
Only Alex Rode (212) in 2021 and Tillman Johnson (205) in 2003 have recorded more saves than Nunes in a single year.
Both Rode and Johnson went on to help UVA claim NCAA titles those years.
With 159 saves in 15 games played last season, Nunes set the program's freshman record.
Nunes is the second goalie in UVA history to be named ACC Freshman of the Year and first UVA netminder to win an NCAA tournament game – at No. 16 seed Brown last season – since 1999.
"He's just not letting shots go in that he's got a good chance at, and he's seeing the ball really well … The confidence grows in the people in front of him. Now we can press out a little bit more. Now we can give up a shot and not have to be perfect." https://t.co/80xAlex3kd

— Virginia Cavaliers (@VirginiaSports) May 25, 2023
ON THE HORIZON
The winner of Virginia and Notre Dame will face the winner of top-seeded Duke No. 5 seed Penn State in the championship game on Memorial Day (May 27)
Opening faceoff from Lincoln Financial Field is set for 1 p.m. on ESPN.