Duke Is Going Dancing: D1 Men's Lacrosse Semifinal Recap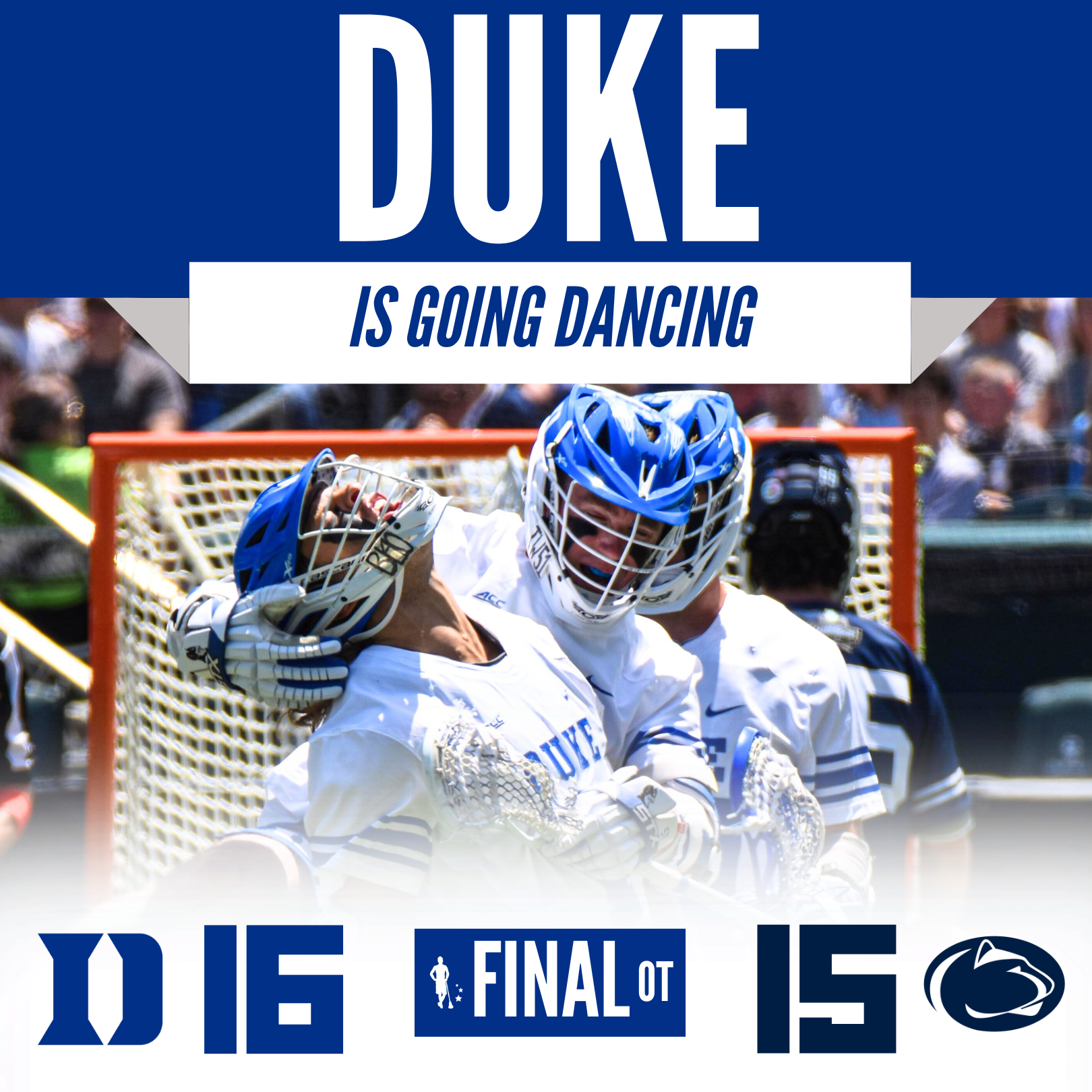 In a thrilling showdown with a trip to the national championship on the line, the Duke Blue Devils and the Penn State Nittany Lions engaged in a high-scoring battle that kept lacrosse fans on the edge of their seats. With explosive offenses and timely goals, both teams showcased their skills and determination throughout the game. Ultimately, it was Duke's resilience and a controversial clutch goal in overtime that propelled them to a 16-15 victory, securing their spot in the championship game. Let's dive into each quarter and relive the exhilarating moments that unfolded.
First Quarter (Duke 6 – Penn State 4)
The game began with Duke winning the opening faceoff, setting the tone for their strong start. Dyson Williams showcased his skill with a backhand goal assisted by Andrew McAdorey, giving Duke an early advantage. Both teams found their offensive rhythm, exchanging goals in quick succession. Penn State's Kevin Winkoff and TJ Malone connected effectively, leading to critical goals for the Nittany Lions. However, Duke's Charles Balsamo and Brennan O'Neill stepped up, delivering crucial goals to maintain their team's momentum. The first quarter ended with the score tied, promising an intense battle ahead.
Second Quarter (Duke 9 – Penn State 7)
Duke continued their dominance in the faceoff game, securing possession to begin the second quarter. Dyson Williams capitalized on a rebound from a shot by Brennan O'Neill, extending Duke's lead. Penn State responded with back-to-back goals from Jack Traynor and Matt Traynor, displaying their offensive prowess. As Penn State implemented a zone defense, Duke's Garrett Leadmon stepped up and scored an unassisted goal, reestablishing the Blue Devils' lead. Both teams traded blows, with Brennan O'Neill and TJ Malone leading the scoring charge for their respective squads. The second quarter concluded with Duke holding a slim two-goal advantage in a competitive lacrosse game.
Third Quarter (Duke 13 – Penn State 12)
The third quarter saw the offensive fireworks continue as Charles Balsamo and Tommy Schelling added to Duke's tally. Penn State's TJ Malone and Luke Mercer answered promptly, preventing Duke from pulling away. Aidan Danenza's unassisted goal showcased Duke's depth and ability to respond to Penn State's challenges. However, Matt Traynor and TJ Malone displayed their offensive prowess once again, highlighting the tight contest between the two teams. The third quarter concluded with Duke clinging to a one-goal lead.
Fourth Quarter (Duke 15 – Penn State 15)
As the final quarter began, Duke won the crucial faceoff, providing an opportunity to seize control of the game. Both defenses tightened their grip, resulting in a low-scoring start to the fourth quarter. However, Jake Morin's goal assisted by TJ Malone ignited Penn State's momentum, leveling the score at 15-15 with just under ten minutes remaining. Duke swiftly responded through Jadon Kerry, showing their resilience. Penn State's Kevin Winkoff then took charge with an impressive unassisted goal, tying the game once again. Jake Naso's goal, assisted by Dyson Williams, kept Duke in the hunt. The offenses continued to shine, and both teams showcased their tenacity. With 15.4 seconds left, Duke called a timeout to strategize. However, Penn State's defense came up big, denying Brennan O'Neill in a crucial moment, forcing the game into overtime.
Overtime (Duke 16 – Penn State 15)
The tension reached its peak in overtime as both teams fought valiantly to secure the victory. Garrett Leadmon emerged as the hero for Duke, scoring an unassisted goal that propelled his team to a dramatic 16-15 win. This game will certainly go down in history as one of the most controversial endings of all time. The Duke Men's Lacrosse program is back playing on Memorial Day. Duke lacrosse is officially back.
Key players 
Duke
Garrett Leadmon – 3G 
Brennan O'Neill – 3G, 1A
Dyson Williams- 2G, 1A
Wilson Stephenson- 3CT
Penn State
TJ Malone- 6G, 2A
Kevin Winkoff- 1G, 5A 
Jake Morin- 1G, 3A
Matt Traynor – 2G