Nunes Shining as Last Line of Cavalier Defense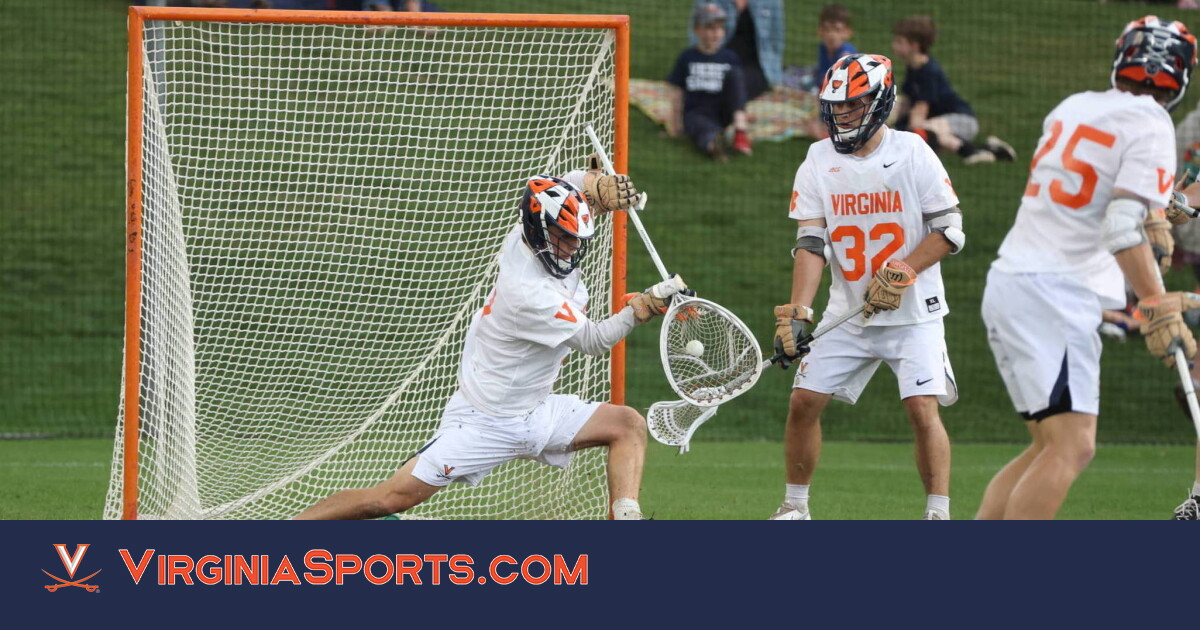 By Jeff White (jwhite@virginia.edu)
VirginiaSports.com
CHARLOTTESVILLE, Va. — Stellar goalkeeping has been a common denominator in the University of Virginia's seven NCAA titles in men's lacrosse, starting with Rodney Rullman in 1972 and continuing with Derek Kenney (1999), Tillman Johnson (2003), Kip Turner (2006), Adam Ghitelman (2011), and Alex Rode (2019 and 2021).
If the Cavaliers raise another NCAA trophy Monday afternoon in Philadelphia, Matthew Nunes almost certainly will have played a leading role on championship weekend. Nunes is in his second year as the Wahoos' starting goalie, and his play in the cage, especially over the second half of the season, has helped them reach the semifinals for the third time in the past four NCAA tournaments.
"It's just really, really critical to be to be playing well in the goal [in May]," Virginia head coach Lars Tiffany said.
Through 16 games, Nunes has recorded 196 saves this season. Only two goalies in program history have made more in a season: Rode in 2021 (212 saves in 16 games) and Johnson in 2003 (205 saves in 17 games).
"I'm a whole lot better as a coach and our defense is a whole lot better when you have somebody behind you who's making those saves," Tiffany said, "and what a joy it's been [to see Nunes shine]."
At 2:30 p.m. Saturday, second-seeded Virginia (13-3) meets No. 3 seed Notre Dame (12-2) in the second semifinal at Lincoln Financial Field, home of the NFL's Philadelphia Eagles. ESPN2 is airing the game, whose winner will play top-seeded Duke or fifth-seeded Penn State for the NCAA title on Monday.
A 6-foot-1 sophomore from the Houston suburb of The Woodlands, Texas, Nunes played in two NCAA games last season: a first-round win over Brown and a quarterfinal loss to eventual champion Maryland.
The Cavaliers cleared their quarterfinal hurdle this year, defeating Georgetown 17-14 last weekend in Albany, N.Y., and to still be playing on the season's final weekend is "just super exciting," Nunes said.
"I remember watching these games when I was younger, thinking that's the peak of our sport. Last year Matt Moore would always talk before the games about bringing out that little boy inside you, and that's all I've kind of thought about this week, just sometimes sitting down and realizing that, wow, I'm about to play in front 30,000 people in Philly in an NFL stadium and play against Notre Dame, which is a premier team in the country. So I'm just super excited for this opportunity."
Virginia is 2-0 against the Fighting Irish this season, and the teams' first meeting was a turning point in Nunes' second season. He made 14 saves on March 25 as Virginia handled then-No. 1 Notre Dame 15-10 in South Bend, Ind.
The Cavaliers' coaching staff went into that game "not feeling too comfortable with where Matt was at that point, and, boy, did he step up in that game," Tiffany said. "And then ever since the month of April and so far here in May, he's just not letting shots go in that he's got a good chance at, and he's seeing the ball really well. And so the confidence grows in the people in front of him. Now we can press out a little bit more. Now we can give up a shot and not have to be perfect."
Nunes said neither he nor Turner, now a UVA assistant coach, was pleased with his play early in the season. In South Bend, Nunes recalled, "I don't want to say all the technique stuff got thrown out of the window, but it was like, 'All right, just do it.' That was kind of the mentality. Stop overthinking.
"We talked about it almost like playing ugly goaltending. If it hits you in the body, it counts as a save, same as if you catch it in your stick. We talked about wearing the ball. Just go soak shots, and that kind of gets you into that rhythm of being super aggressive, just kind of turning your brain off and just going and doing it."
In the April 30 rematch at Klöckner Stadium, Nunes made a career-high 19 saves in Virginia's 12-8 win over the top-ranked Irish, who have three All-ACC players on offense: Eric Dobson and brothers Pat and Chris Kavanagh. That's the most saves a UVA goalie has made against Notre Dame in a series that dates back to 1993.
"All credit goes to our defense and Coach Tiffany first for the game plan," Nunes said, "just allowing me to see the shots that I really want to see."
Short-stick defensive midfielder Grayson Sallade, one of the Cavaliers' captains, praised Nunes' ability to stay even-keeled "whether he's playing his best lacrosse or he's having a tough day. He's been able to stay kind of neutral with how he goes about his business, which I think is tremendous. It's how you have to deal with things, and you can't take the highs too high and the lows too low. But I think he's also been able to grow, being able to lead the defense more and more with the clear and saving balls. It's been good to watch him develop over the last year and a half, two years."