Cavalier Lax Star is Man of Many Talents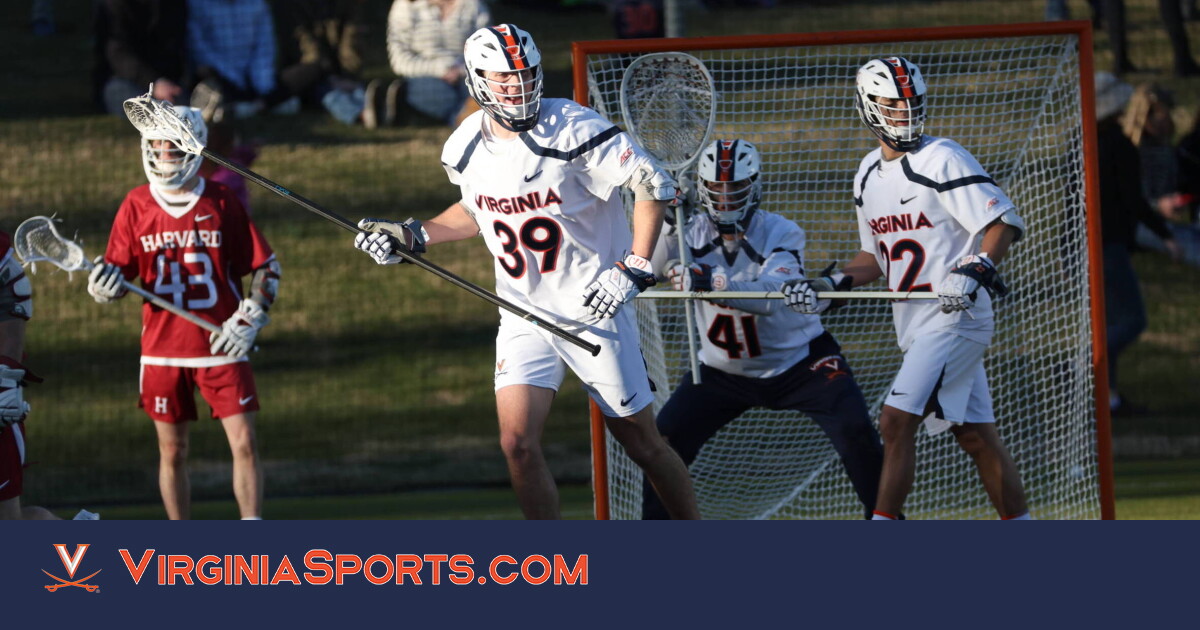 For much of his first year in the program, Kastner was known as "Project 39," a nod to his jersey number. Tiffany, who's also the Cavaliers' defensive coordinator, noted Kastner's mistakes in practice and saw them as reasons not to play him. Assistant coaches Kip Turner and Sean Kirwan thought differently.
Tiffanny remembers a conversation with his assistants about Kastner. "I said, 'Are you telling me we should just play him and grow with his mistakes?' And they're nodding their heads vigorously. They're like, 'Yes, yes, yes! Don't worry if he doesn't know everything.' "
Near the midway point of the 2021 regular season, Kastner's role on defense began to grow. Among those who took note was Tiffany's mentor, Dom Starsia, who won four NCAA titles as Virginia's head coach.
"After Cole started really exerting himself on the ride and making plays all over the field, I got a call from Dom: 'Lars, what the heck? You have so much talent that you can pull a guy off the bench the second half of the season who's like a second-team All-American defenseman?' " Tiffany recalled. "Because Dom, who was really good at evaluating talent, immediately said, 'Lars, he's an All-American.' "
UVA fans know the rest of the story. Kastner moved into the starting lineup for the Cavaliers' first game in the 2021 NCAA tournament, and he's stayed there. He was named a second-team All-American as a sophomore and has collected additional All-America honors this spring, with more likely to come later this month.
Kastner is about to play his eighth NCAA tournament game. The first four were in 2021, when the Hoos defeated Bryant, Georgetown, North Carolina and Maryland to secure the program's seventh NCAA title.
In 2022, Virginia routed Brown in the first round before losing to eventual NCAA champion Maryland in the quarterfinals. The Cavaliers are seeded No. 2 in this year's tournament, which they opened last weekend with a 17-8 win over Richmond at Klöckner Stadium.
Now comes another postseason clash with Georgetown. At noon Saturday, in an NCAA quarterfinal to air on ESPNU, the Hoos (12-3) meet the seventh-seeded Hoyas (13-3) in Albany, N.Y. Georgetown comes in on a 13-game winning streak and has a formidable attack led by Tucker Dordevic (63 goals, 13 assists), a transfer from Syracuse,
"It's exciting," Kastner said. "There's nothing better than matching up with another team that is gonna give you the best look that they can give, from our defensive perspective against their offense. So we're super pumped for that. They have so many great players over there, people we've played against over the last couple years, people that have been at Georgetown the whole time or people who have transferred in."
Georgetown is averaging 14.9 goals per game. The Cavaliers, meanwhile, lead the nation in that category (17.6 goals per game). Six UVA players have scored at least 21 goals each this season, led by fifth-year senior attackman Xander Dickson (school-record 58). Attackman Payton Cormier has scored 49 goals, midfielder Thomas McConvey 27, midfielder Griffin Schutz 21, and attackman Connor Shellenberger 21. Shellenberger leads UVA with 47 assists.
Practicing against that offense, Kastner said, is ideal preparation for the defensive challenges Virginia faces in the postseason.
Heading into the NCAA tournament, the Cavaliers scrimmaged regularly to stay sharp, Kastner said. In one such scrimmage Kastner found himself covering Dickson.
"I hadn't guarded him in a little while, and trying to guard him, I was lost," Kastner said, laughing. "He's unbelievable. It's remarkable. It's much fun going against all those guys: Shelly, Schutz, Truitt [Sunderland], Corms, Thomas McConvey, it doesn't matter who it is. They're all going to give you a different look, and you know it's the best look that you could get. So we're really fortunate to have guys like that to go against and continue making us all better."