Virginia Boasts Nine Inside Lacrosse All-Americans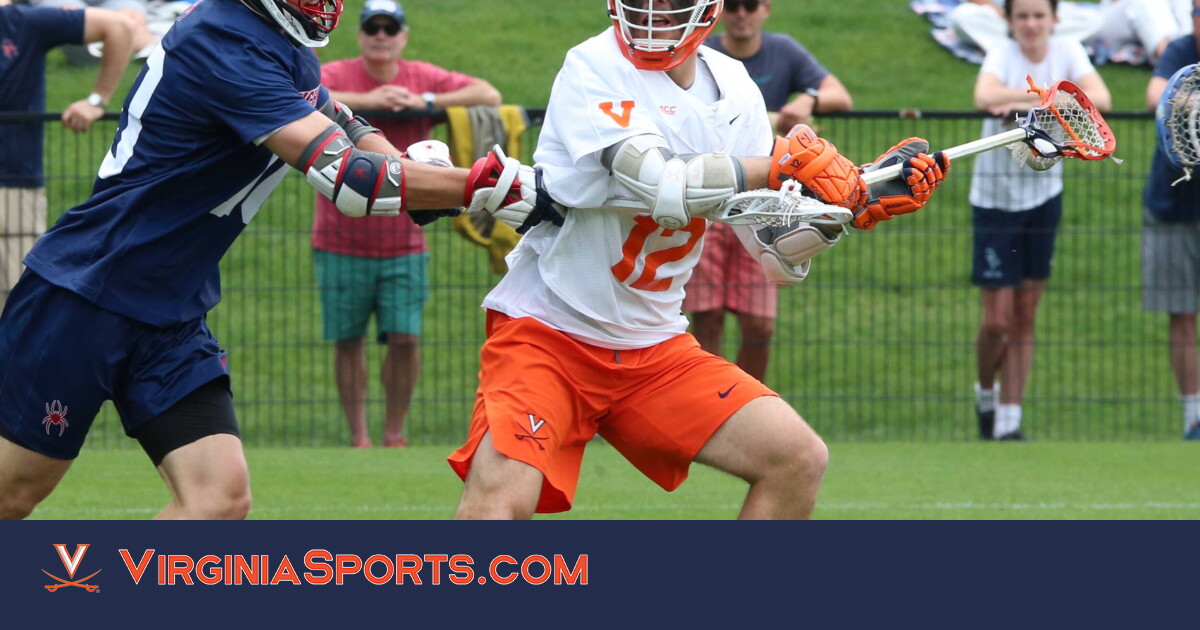 CHARLOTTESVILLE, Va. – Nine Virginia men's lacrosse players have been named All-Americans, Inside Lacrosse announced Wednesday (May 17). The Cavaliers' nine selections led all Division-I programs nationally.
Thomas McConvey was tabbed a first-team recipient, while Connor Shellenberger and Xander Dickson garnered second-team honors. Grayson Sallade and Cade Saustad were named third-team selections.
Payton Cormier, Petey LaSalla, Evan Zinn and Cole Kastner rounded out the list for the Cavaliers as honorable mentions.
Inside Lacrosse's Media All-America list was voted on by a dozen media members who vote in the weekly Media Poll. Each voter selected up to four teams of players featuring three attackmen, three midfielders, a face-off specialist, two short-stick defensive midfielders, a long-stick defensive midfielder, three defenders and a goalie. Votes were tabulated and sorted into three teams, with remaining players who received a significant share of votes added to the honorable mention list. Voting was completed after conference tournaments and before the NCAA First Round.
No. 2 seed Virginia (12-3) faces seventh-seeded Georgetown (13-3) in the NCAA Tournament Quarterfinals on Saturday (May 20). Opening faceoff from Tom & Mary Casey Stadium in Albany, New York is set for noon on ESPNU.
Inside Lacrosse Media All-Americans
First Team
A – Brennan O'Neill, Duke
A – CJ Kirst, Cornell
A – Pat Kavanagh, Notre Dame
A/M – Matt Campbell, Villanova
M – Sam Handley, Penn
M – Thomas McConvey, Virginia
FO – Jake Naso, Duke
SSDM – Payton Rezanka, Loyola
SSDM – Chet Comizio, Villanova
LSM – Roy Meyer, Boston U
D – Gavin Adler, Cornell
D – Brett Makar, Maryland
D – Owen Grant, Delaware
G – Liam Entenmann, Notre Dame
Second Team
A – Connor Shellenberger, Virginia
A – Xander Dickson, Virginia
A – Coulter Mackesy, Princeton
M – Eric Dobson, Notre Dame
M – Alexander Vardaro, Princeton
M – Brian Tevlin, Notre Dame
FO – Mike Sisselberger, Lehigh
SSDM – Connor Maher, North Carolina
SSDM – Beau Pederson, Princeton
LSM – Ethan Rall, Rutgers
D – Will Bowen, Georgetown
D – Ajax Zappitello, Maryland
D – Kenny Brower, Duke
G – Jack Fracyon, Penn State
Third Team
A – Tucker Dordevic, Georgetown
A – Tye Kurtz, Delaware
A – Matt Brandau, Yale
M – Graham Bundy, Jr., Georgetown
M – Matt Traynor, Penn State
M – Shane Knobloch, Rutgers
FO – Luke Wierman, Maryland
SSDM – Piper Bond, Penn
SSDM – Grayson Sallade, Virginia
LSM – John Geppert, Maryland
D – Chris Fake, Notre Dame
D – Cade Saustad, Virginia
D – Alex Mazzone, Johns Hopkins
G – Will Mark, Syracuse
Honorable Mention
A – Payton Cormier, Virginia
A – Joey Spallina, Syracuse
A – Michael Boehm, Michigan
A – Chris Kavanagh, Notre Dame
A – Chris Lyons, Yale
A – Andrew McAdorey, Duke
A – TJ Malone, Penn State
A – Dyson Williams, Duke
A – Reese Burek, Army
A – Vince D'Alto, Boston U
A – Scott Cole, Lehigh
A – Kyle Playsted, Bellarmine
A/M – Evan James, Loyola
A/M – Brian Minicus, Georgetown
A/M – Thomas Greenblatt, Binghamton
M – Jake Stevens, Princeton
M – Evan Plunkett, Army
M – Garrett Leadmon, Duke
M – Adam Poitras, Loyola
M – Austin Fraser, Villanova
M – Jacob Morin, Army
FO – Will Coletti, Army
FO – Zach Cole, Saint Joseph's
FO – Justin Wietfeldt, Michigan
FO – Alec Stathakis, Denver
FO – Petey LaSalla, Virginia
FO – Tommy Burke, Vermont
SSDM – Dante Trader, Jr., Maryland
SSDM – Grant Haus, Penn State
SSDM – Brett Martin, Johns Hopkins
SSDM – Evan Zinn, Virginia
LSM – Jacob Piseno, UAlbany
LSM – Richard Checo, Lehigh
LSM – Saam Olexo, Syracuse
LSM – Tyler Carpenter, Duke
D – Cole Kastner, Virginia
D – Wilson Stephenson, Duke
D – AJ Pilate, Army
D – Jack Posey, Penn State
D – Mason Woodward, Marquette
D – Scott Smith, Johns Hopkins
D – Troy Hettinger, Jacksonville
D – Jackson Bonitz, Navy
D – Paul Barton, North Carolina
G – Mike Gianforcaro, Princeton
G – Matt Knote, UMass
G – Knox Dent, Army