2023 Cinderella Team: Michigan Lacrosse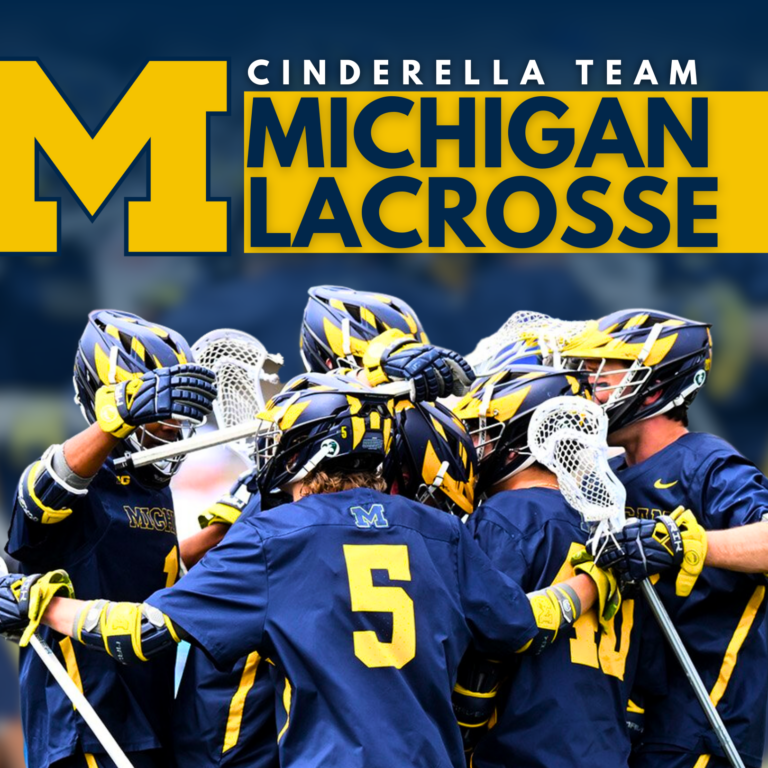 Flashback to 2010, the news was just announced that the University of Michigan would be transitioning its club lacrosse team to NCAA Division 1 status. A monumental day in outdoor collegiate lacrosse as it marked another prestigious university, adding the sport to the highest level. Many of the same questions arose such as how long would it take the Wolverines to be competitive? It did not come without growing pains, as the program won two total games in its first two seasons. They joined one of the premier lacrosse conferences in the country in the Big Ten in 2015, competing with perennial blue bloods Maryland, Penn State, Johns Hopkins, and Ohio State. As recently as 2021, they had a 3-9 record, followed by an 0-5 Big Ten record in 2022.
However, Michigan's program stayed true to itself, an excellent academic school in a great recruiting area, loaded with top-tier facilities. Paired with a history of athletic achievement, most knew that it was only a matter of time before they broke through. They already had alumni playing professionally and winning championships while doing it. Mikie Schlosser and Kyle Jackson indicated that the talent and optimism in the program already existed.
Moving forward to the present day in 2023, Michigan qualifies for its first Big Ten tournament as the No.4 seed. Pat on the back for the Wolverines, program history was made. However, the work wasn't done; this team was hungrier to prove more and show it wasn't a fluke. They rattled off three consecutive conference wins over Ohio State and Penn State, along with a 14-5 routing over the two-time reigning conference champs Maryland in the title game. It became apparent through the Big Ten Tournament that Michigan was no longer a fun name to float around as an up-and-coming program but a legitimate NCAA title contender no team wants to face in May.
The Wolverines drew a game against the 2022 NCAA runner-up and overall No.6 seed, Cornell. The Big Red were led by a Tewaarton finalist offensively and the Premier Lacrosse League's No.1 pick defensively. Additionally, the Wolverines were missing one of their best offensive players in Ryan Cohen. Despite all this, they were set to prove the doubters wrong again. In a back-and-forth instant classic, Michigan prevailed once again to down the Big Red in overtime with a 15-14 victory. Where two local Michigan lacrosse natives hooked up in overtime with Bryce Clay finding Peter Thompson. They travel this weekend to face No.1 seed Duke with a berth to the famed Championship Weekend on the line.
This Michigan Men's Lacrosse program plays fast, disciplined, and as a group, a recipe for success in May. It is not a matter of whether they can compete now but how far they can make it on the national stage. The roster is loaded with talent. Offensively they had three players eclipse 50 points in Zawada, Cohen, and Boehm. For specialists, they have the best face-off duo in the country in Rowlett and Wietfeldt, along with a rising star in the cage with freshman Hunter Taylor. The defense is led by the most underrated defenseman in college lacrosse, Andrew Darby, who has been locking up every team's No.1 offensive option down the stretch. The team is filled with athletes and blue-chip lacrosse talent; most notably the group believes in themselves. Do not sleep on the Wolverines this weekend against the No.1 seed; they've proved they can hang with anybody.