No. 2 Seed Virginia Knocks Off Richmond, 17-8, in NCAA First Round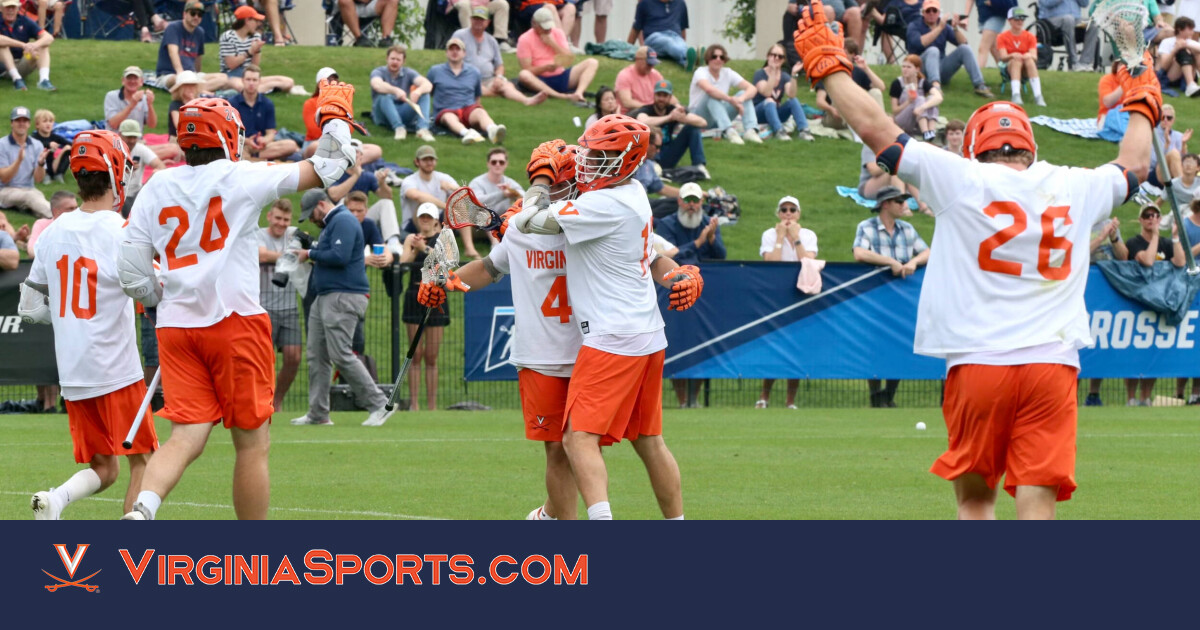 CHARLOTTESVILLE, Va. – After a lightning delay halted play in between the first and second quarters, No. 2 seed Virginia (12-3) pulled away with ease, defeating Richmond (11-5) 17-8 in the first round of the NCAA Tournament Saturday afternoon (May 13) at Klöckner Stadium.
️ Splashing our way up to Albany.#GoHoos️ pic.twitter.com/oUgbszmVK2

— Virginia Men's Lacrosse (@UVAMensLax) May 13, 2023
With the win, Virginia advances to next weekend's quarterfinals in Albany, N.Y., where the Cavaliers will face the winner of seventh-seeded Georgetown (12-3) and Yale (9-5). Next Saturday's (May 20) quarterfinals will commence at either noon or 2:30 p.m. on ESPNU. The Hoyas and Bulldogs' first round matchup is set for 5 p.m. on Saturday (May 13) in Washington, D.C.
The Cavaliers were led by Payton Cormier (6g), Connor Shellenberger (2g, 4a) and Petey LaSalla, who dominated the faceoff X by winning 18 of his 27 attempts. Cormier's six goals tied for the most in a single NCAA Tournament game in school history.
Xander Dickson's (2g, 1a) first score of the day saw him shatter Virginia's single-season goals record as the fifth-year attackman surpassed Doug Knight's 1996 record of 56 goals. With more lacrosse still to play, Dickson currently has 58 goals in 15 appearances this season.
𝙃𝙞𝙨𝙩𝙤𝙧𝙮. 𝙄𝙣. 𝙏𝙝𝙚. 𝙈𝙖𝙠𝙞𝙣𝙜.

️#GoHoos | @XanderDickson pic.twitter.com/Qga8FzgZ4Z

— Virginia Men's Lacrosse (@UVAMensLax) May 13, 2023
Defensively, Cade Saustad held Richmond attackman Dalton Young (2g, 2a), the Atlantic 10's Offensive Player of the Year, to just four points. Matthew Nunes (12-3) earned his second NCAA Tournament victory of his career in net after turning away nine Spider shots on goal.
HOW IT HAPPENED
Jeff Conner (1g, 2a) kicked off the scoring less than 90 seconds in on a dodge from behind the cage. Seventy seconds later, Dickson recorded his first of two goals to shatter UVA's single-season goals record. The two teams traded the next four points before Will Cory's first career NCAA Tournament goal with 1:04 remaining capped first period scoring as the Hoos clung to a 5-2 lead after 15 minutes of play.
️ Dread it, run from it, but the Slim Reaper always is due! Congratulations on No. 57, @XanderDickson!#GoHoos pic.twitter.com/QWEHLNg2mS

— Virginia Men's Lacrosse (@UVAMensLax) May 13, 2023
🤷‍️ Weather the storm… pic.twitter.com/2RYOxJUGSV

— Virginia Men's Lacrosse (@UVAMensLax) May 13, 2023
Just as the second quarter was set to begin, a lightning delay paused play for a little over 30 minutes. As the teams began a brief warmup before resuming the game, a torrential downpour of rain ensued. In slippery conditions, the first six goals of the second were all unassisted. The Cavaliers closed the first half by scoring four unanswered as UVA led 10-4 at the break.
Virginia tallied its fifth straight score to begin the third as Shellenberger found Thomas McConvey (1g, 1a) less than five minutes in. After the McConvey goal, Cormier registered UVA's next five points as the Hoos extended their lead to 16-7 midway through the fourth.
DEJA VU!? ‍‍@UVAMensLax scored back-to-back transition goals that were carbon copies of one another

(via ESPNU) pic.twitter.com/hZ1ERPGhRu

— TLN 🥍 (@LacrosseNetwork) May 13, 2023
Truitt Sunderland's ninth goal of the season gave the Cavaliers their largest lead of the contest [17-7] with 8:10 to play. Richmond's Derrek Madonna (3g) registered the final goal of Saturday's contest after UVA began mix in its reserves in the waning minutes of action.