Hoos Deliver Emphatic Opening Statement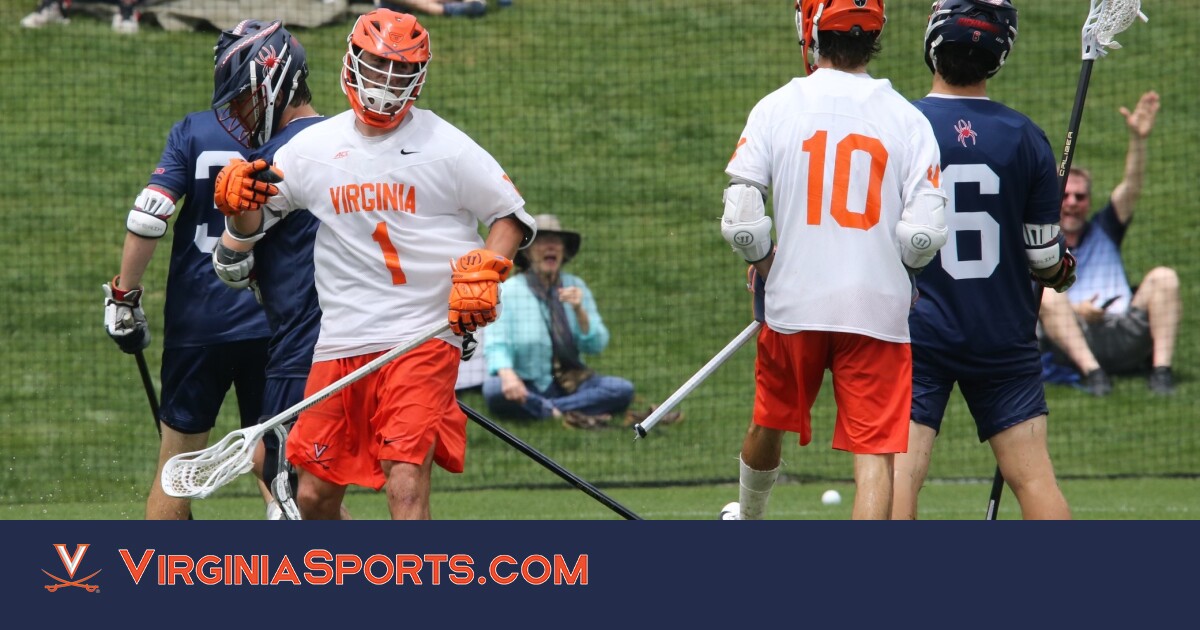 By Jeff White (jwhite@virginia.edu)
VirginiaSports.com
CHARLOTTESVILLE, Va. — On a fast break that started in Virginia's defensive end, Quentin Matsui scooped up a ground ball and fired a long pass that Noah Chizmar picked up on the bounce. Chizmar passed ahead to Xander Dickson, who fed Connor Shellenberger near the goal.
Shellenberger had an open shot, but he passed across the crease to Payton Cormier, whose one-timer beat Richmond goalkeeper Zach Vigue and stretched UVA's lead to 13-6 with 1:35 left in the third quarter.
A minute later, a similar sequence unfolded. Virginia goalie Matthew Nunes went low to block a UR shot. Cole Kastner scooped up the ground ball and sprinted up the field. After crossing into the box, Kastner passed to Shellenberger, who fed Dickson left of the cage. Dickson had an open shot, but he passed across the crease to Cormier, who jumped, caught the ball and beat Vigue with another one-timer to make it 14-6.
"It defines the unselfishness of this group and certainly the skill set of Connor, Xander and Payton," Virginia head coach Lars Tiffany said. "Aren't those fun?"
For the Wahoos? Yes. For their opponents? Not so much. The Hoos lead the nation in goals per game (17.6), and their offensive prowess was on full display Saturday afternoon at Klöckner Stadium.
In the NCAA tournament's first round, No. 2 seed Virginia overwhelmed Richmond 17-8 to advance to the quarterfinals. UVA (12-3) will meet No. 7 seed Georgetown (13-3) next Saturday afternoon in Albany, N.Y.
DEJA VU!? ‍‍@UVAMensLax scored back-to-back transition goals that were carbon copies of one another

(via ESPNU) pic.twitter.com/hZ1ERPGhRu

— TLN 🥍 (@LacrosseNetwork) May 13, 2023
Against Richmond (11-5), 10 players scored at least one goal apiece for the Hoos, who have won two NCAA titles (2019 and 2021) under Tifffany. Cormier led the way with six goals, which tied the program record for most goals in an NCAA Tournament game. Shellenberger had two goals and a game-high four assists, and the third member of UVA's starting attack, Dickson, contributed two goals and an assist.
"We talked about the three phases of their offense," UR defenseman Jake Saunders said of the Cavaliers. "They're very dynamic."
Dickson's first goal gave him 57 for the season, breaking the single-season program record he'd shared with Doug Knight (1996). Now a fifth-year senior, Dickson didn't become a full-time starter until last season, but he's established himself as one of the nation's premier players.
"I think everyone has become familiar with Xander's story, not having the biggest role and now this year he's setting some of the all-time marks, which is pretty cool," said Shellenberger, a redshirt junior who's a finalist for the Tewaaraton Award.
"I think it's just a testament to the type of person Xander is and how hard-working he is. He's had his head down this whole time here and he hasn't given up, he hasn't complained, and he just kept putting in the work, and for Payton and I to be a part of Xander's historic season has been pretty cool, and it's fun to watch him score a lot of goals."