2023 NCAA D3 Men's Lacrosse Tournament Details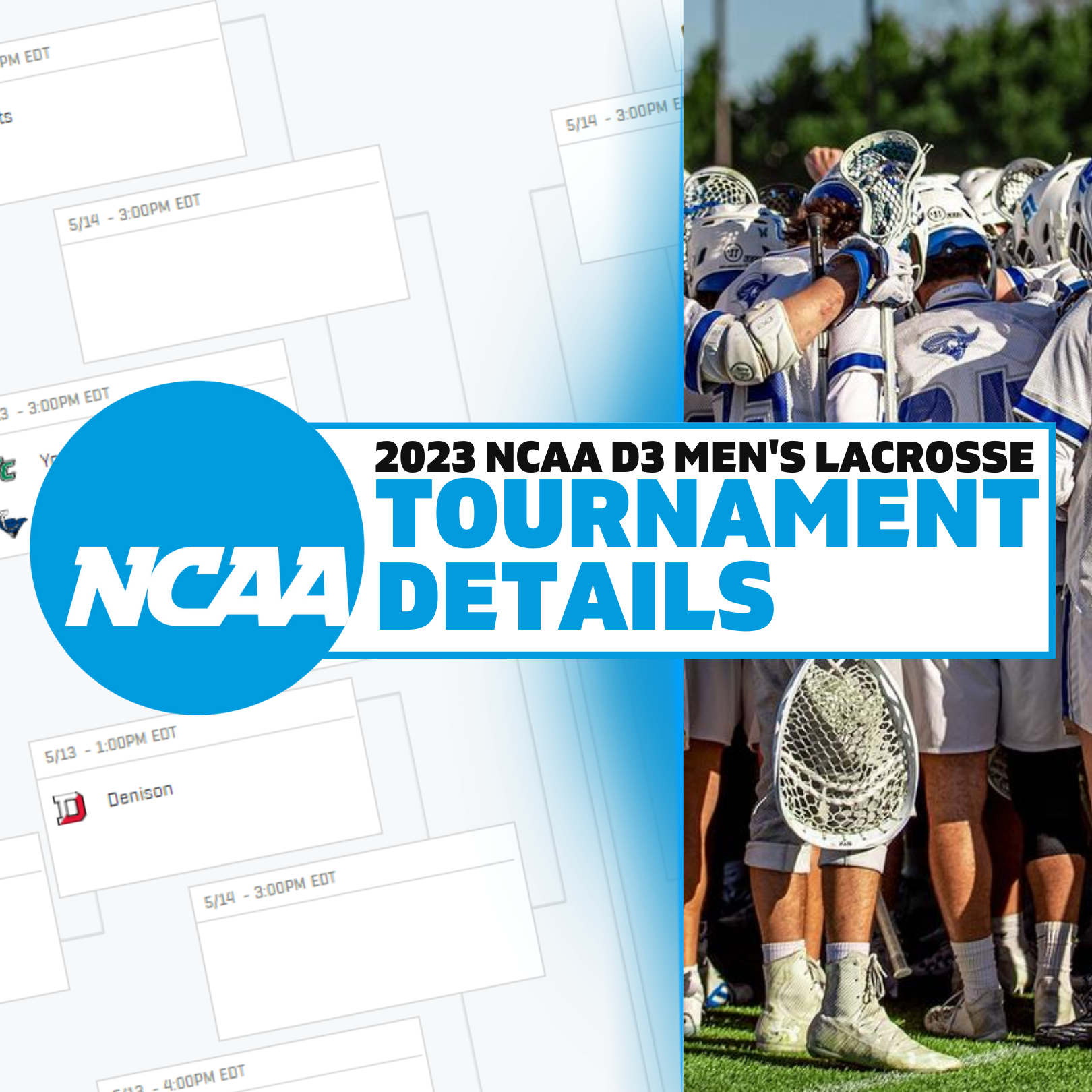 There were very few surprises in the 2023 NCAA D3 Men's Lacrosse Tournament bracket this year, while Tufts and Salisbury separated themselves as the No.1 seeds in their respective regions. Tufts finished the regular season without a blemish, becoming the first team in NESCAC history to run the table and finish the regular season undefeated. Salisbury, on the other hand, rebounded from an early season loss to Gettysburg to beat CNU twice to claim their conference title. Kenyon seemed to be the last team in after losing a close game to Denison in the NCAC Championship but owned a regular season win against them.
Unlike the other Divisions, D3 lacrosse has a grueling setup for getting to Championship Weekend. Most games are set up as back-to-backs, so roster management will be a huge thing to watch as the games progress.
There will be six first-round games today. The results of those games feed into the host sites, which will host the second and third rounds on Saturday, May 13, and Sunday, May 14, a grueling back-to-back. 
The eight host sites for the Second and Third Rounds of the NCAA Tournament are: Union, Salisbury, Christopher Newport, Tufts, Denison, RIT, Washington and Lee, and Dickinson.
The quarterfinals and semifinals are back-to-back, too, May 20 and 21. The championship will be in Philadelphia on May 28.
To see the full bracket, you can click on the link to the NCAA Site on the NCAA website here.
Pool A
Atlantic East: Cabrini
CCC: WNE
CCIW: IWU
Centennial: Dickinson
CSAC/NECC: New England College
Empire 8: St. John Fisher College
GNAC: Emmanuel
HCMLC: Colorado College
Landmark: Scranton
Liberty: RIT
Little East: Western Connecticut
MAC Commonwealth: York
MAC Freedom: Stevens
MIAA: Hope
MLC: Lake Forest
NCAC: Denison
NESCAC: Tufts
NEWMAC: Babson
North Atlantic: Maine Maritime
NACC: Aurora
OAC: John Carroll
ODAC: W&L
PAC: Grove City
SAA: Centre
Skyline: USMMA
SUNYAC: Geneseo
United East: St. Mary's
USA South: Pfeiffer
Pool C 
Amherst 
Christopher Newport
Gettysburg
Kenyon
Lynchburg
Middlebury
Salisbury
Swarthmore
Union
Williams
Matchups
Second Round (May 13 & 14)
*Hosts second and third round games
Tufts* vs. Maine Maritime/Emmanuel Winner
York vs. Cabrini
Denison* vs. Illinois Wesleyan/Aurora Winner
Lynchburg vs. St. John Fisher
RIT* vs. New England College/Western Connecticut Winner
Williams vs. Babson
Middlebury* vs. St. Mary's/Merchant Marine Winner
Union vs. Western New England
Salisbury* vs. Colorado College
Amherst vs. SUNY Geneseo
Washington and Lee* vs. Centre/Pfeiffer Winner
Swarthmore vs. Grove City
Christopher Newport* vs. Hope
Gettysburg vs. Scranton
Dickinson* vs. John Carroll/Lake Forest Winner
Kenyon vs. Stevens