2023 NCAA D2 Men's Lacrosse Tournament Details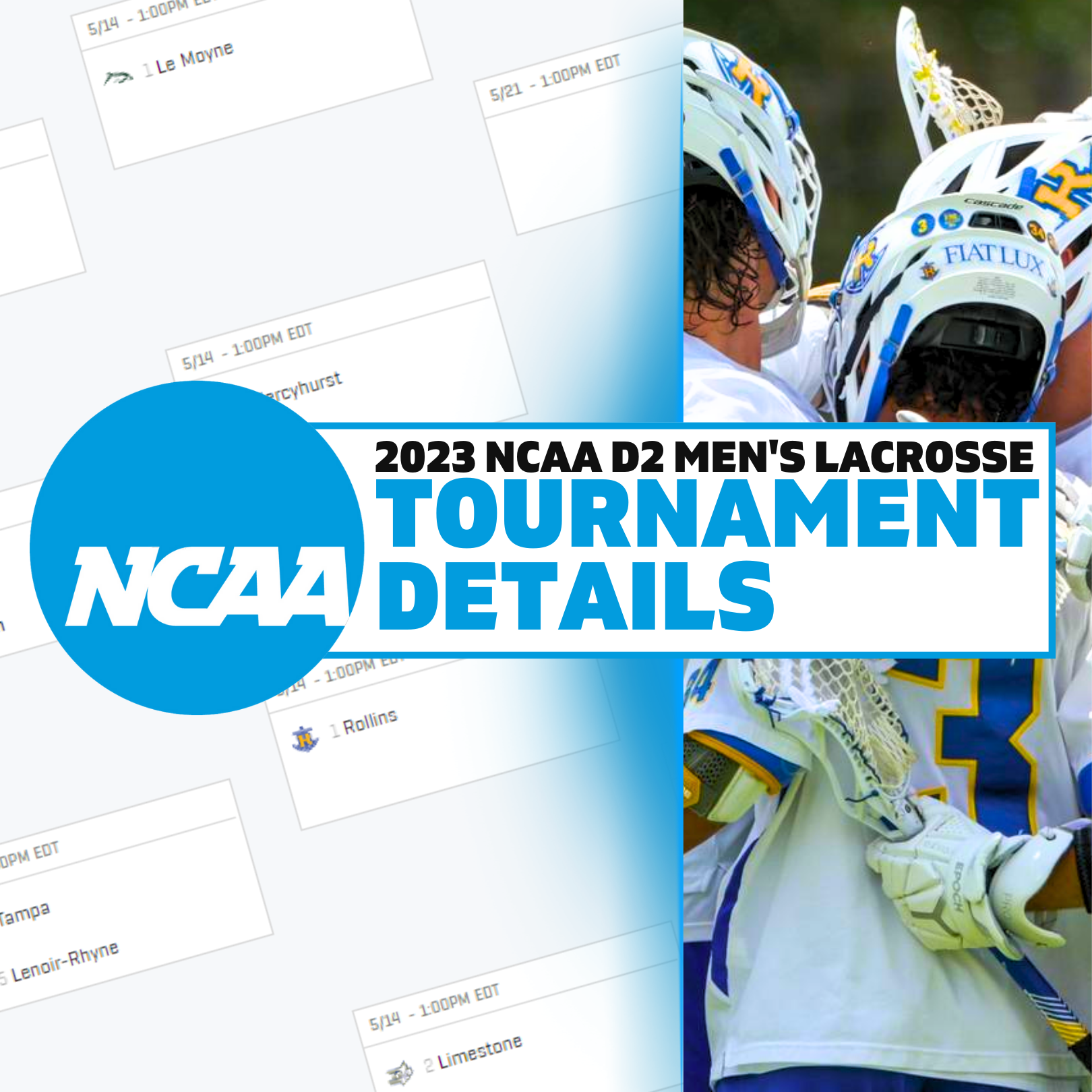 Le Moyne is the top seed in the North: same story, different Chapter. The Dolphins ran the table to win the NE-10 Regular Season and Tournament Championship while locking up the No.1 Seed in the north. Unlike the D3 bracket, D2 lacrosse is a little more forgiving in terms of a turnaround for games. The top two seeds in each region get a bye, while seeds 3-6 play each other this weekend.
Mercyhurst grabbed the No.2 seed and the bye based on their body of work, including them walking away with the conference after a great win over Seton Hill. Defending national runner-up Mercy took the No.3 seed and will play the No.6 seeded St. Anselm Hawks. Bentley took the No.4 seed and make their first NCAA Tournament, and are rewarded with a home game rematch against the Adelphi Panthers.
In the South, Rollins took the No.1 seed after they ran through the Sunshine State Conference, going 15-1, which included a win over defending national champion Tampa. Limestone is the No.2 seed and gets the other first-round bye after they ran through the SAC Tournament, beating both Wingate and Lenoir-Rhyne.
Wingate picks up the No.3 seed after winning the SAC Regular Season Championship and is followed by Tampa with the No.4 seed. Lenoir–Rhyne got the No.5 seed and must travel to Tampa. UIndy will be making the trip back to Wingate to take on the Bulldogs, a rematch of the April 22nd, 14-9 win for Wingate.
Unlike D1 and D3, no automatic-qualifiers in D2 can cause chaos around selection time. The other divisions try to limit rematches, whereas, in D2, it has become customary to see lacrosse conference rematches in the first round.
The first round is held Wednesday, May 10. The eight remaining teams will play in the quarterfinals on Sunday, May 14. The semifinals will take place on Sunday, May 21.
The NCAA Men's D2 Lacrosse Championship is at Lincoln Financial Field in Philadelphia. The game will be at 1:00 pm on Sunday, May 28.
NORTH
No.1 Le Moyne (Bye)
No.2 Mercyhurst (Bye)
No.3 Mercy vs. No.6 St. Anselm
No.4 Bentley vs. No.5 Adelphi 
SOUTH
No.1 Rollins (Bye)
No.2 Limestone (Bye)
No.3 Wingate vs. No.6 UIndy
No.4 Tampa vs. No.5 Lenoir-Rhyne