McConvey, Dickson & LaSalla Selected in 2023 PLL College Draft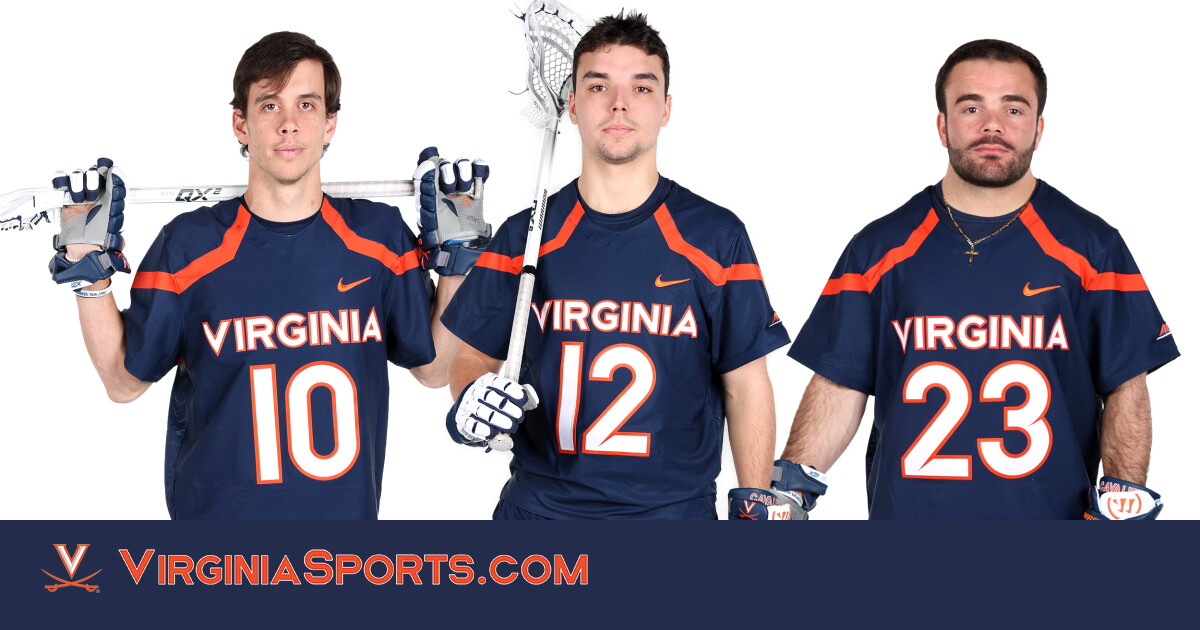 CHARLOTTESVILLE, Va. – Three Virginia men's lacrosse players were selected in the 2023 Premier Lacrosse League (PLL) College Draft Tuesday night (May 9). Separated by just six picks Thomas McConvey (Waterdogs/ RD 1, PK 8), Xander Dickson (Atlas/RD 2, PK 3) and Petey LaSalla (Whipsnakes/ RD 2, PK 6) were all selected in the first half of Tuesday's draft.
Virginia is the only school in the nation with at least one first round selection in each of the first five PLL Drafts. The Cavaliers also have the most first round picks among any collegiate program in PLL history with six since the league's inaugural draft in 2019.
McConvey, who was the No. 1 overall draft pick by the Rochester Knighthawks in the 2022 NLL Draft, joins former Cavalier Ryan Conrad with the 2022 PLL-champion Waterdogs. A transfer from Vermont, McConvey is currently fourth among all active Division I players in career goals (153) and fifth in points (220). Having registered at least one point in every game of his career, McConvey is currently riding a 66-game point streak, the longest active point streak by any player in the nation. With 26 goals and 20 assists in his first season at UVA, McConvey currently sits at No. 5 on UVA's single season points list by a midfielder. At Vermont he was the 2022 America East Offensive Player of the Year and a third team All-American, according to Inside Lacrosse.
With the 8th Pick in the 2023 PLL College Draft, @PLLWaterdogs select Thomas McConvey, midfield from Virginia. pic.twitter.com/7hHpXtnOFG

— Premier Lacrosse League (@PremierLacrosse) May 9, 2023
if you don't know anything about thomas this is all you need to know

️ @paulcarcaterra https://t.co/2z9LOxs771 pic.twitter.com/cyy9LBPGpL

— Waterdogs Lacrosse Club (@PLLWaterdogs) May 9, 2023
Dickson currently leads the ACC and is third in the nation in goals per game (4.00). With 56 goals in 14 regular season games played, Dickson is tied for first on UVA's single season goals list with Doug Knight, who set the program record in 1996. He is also second in the ACC and fourth nationally in points per game (5.29). This year, Dickson registered 10 hat tricks in the regular season and set a career high of nine points in the Cavaliers' win over Syracuse earlier this year. Dickson joins former teammate Dox Aitken, who was drafted by the Atlas in 2021.
With the 11th Pick in the 2023 PLL College Draft, @PLLAtlas select Xander Dickson, midfield from Virginia. pic.twitter.com/Rsy1dXOOeK

— Premier Lacrosse League (@PremierLacrosse) May 9, 2023
LaSalla, who was selected by Panther City Lacrosse Club in the 2022 NLL Draft and later traded to the New York Riptide, is the NCAA's all-time leader in career faceoffs (1,693). He is also UVA's career and single-season record holder in both faceoff wins and ground balls. In 2023, LaSalla has finished above .500 at the faceoff X in 12 of UVA's 14 games so far this season. For his career, LaSalla has 37 goals and 11 assists.
Got ourselves a true gamer

With the 14th pick, we have selected Petey LaSalla. pic.twitter.com/5xxPEiTiWp

— Whipsnakes Lacrosse Club (@PLLWhipsnakes) May 10, 2023
A complete lacrosse player.

Welcome to the squad, Petey! pic.twitter.com/YcTkbMPC3w

— Whipsnakes Lacrosse Club (@PLLWhipsnakes) May 10, 2023