Thank You Bill Tierney for Changing the Game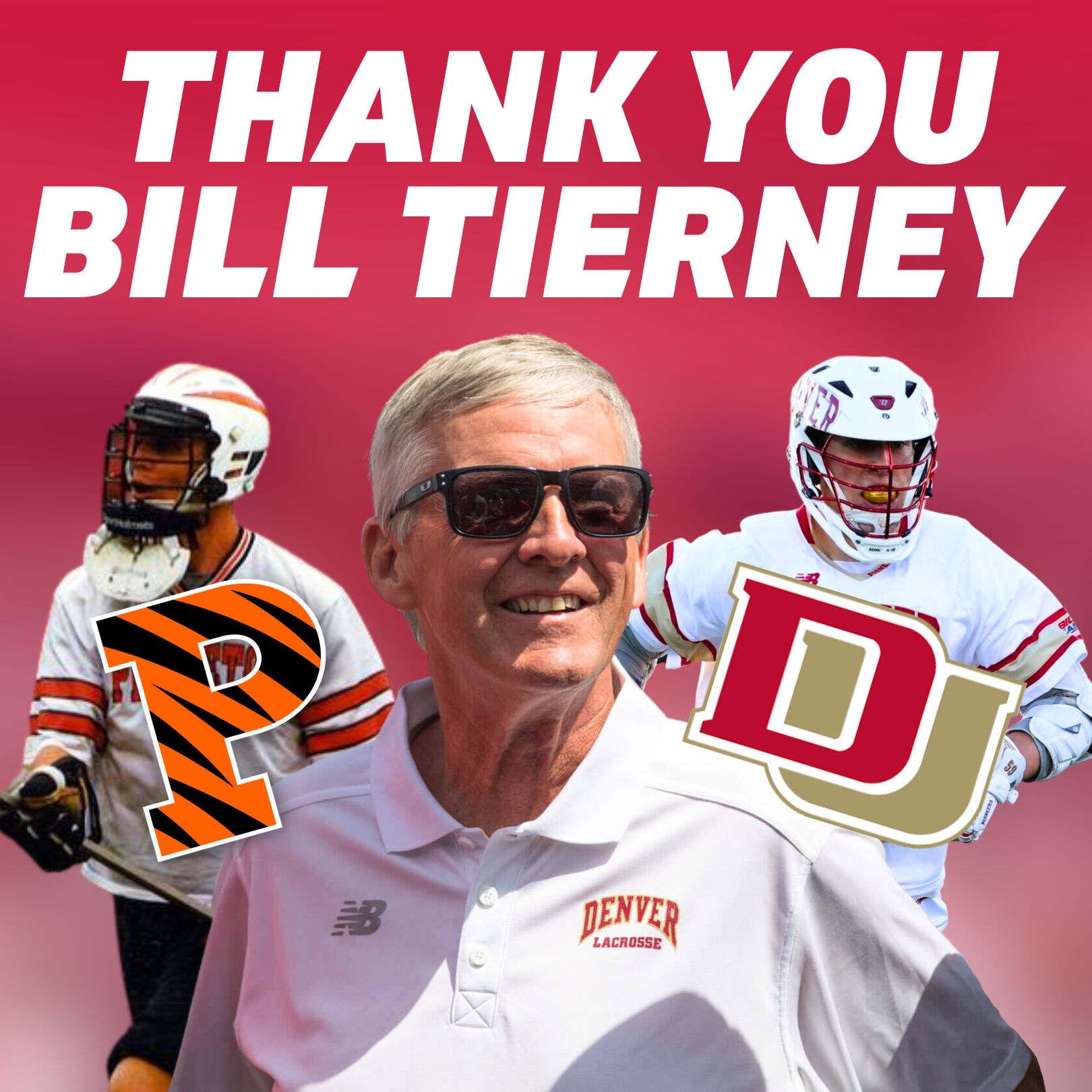 With the NCAA Tournament field being announced, the lacrosse world has come to realize that the Big East Championship was the last time they would see Coach Bill Tierney patrol the sidelines at the Division 1 level. With the Big Ten and Ivy League unfolding the way it did, it left Denver as one of the last teams out, putting a period at the end of a remarkable career.
On behalf of the game of lacrosse and coaches everywhere, thank you. Thank you for carving the path for the rest of us. Thank you for showing the rest of us that doing this as a career was possible.
Please make no mistake, what Coach Tierney has done on the field is unbelievable, but what he has done off the field for the game of lacrosse has given him mythical status among lacrosse's elite. While it is impossible to rattle off all of his accomplishments, there are a few that stand out.
He has won seven national championships during his career, including six at Princeton University and one at the University of Denver. He is known for his innovative coaching style and ability to build winning programs. Tierney's teams were known for their disciplined and physical style of play, and he became famous for his meticulous preparation and attention to detail.
Tierney attended Cortland State University, where he played both football and lacrosse. Before there was the Springfield Mafia, there was the Cradle of Lacrosse Coaches that came from Cortland State. If you played for a physical education teacher in the state of New York, chances are very high that they went through Cortland State. After graduating in 1973, he began his coaching career at the high school level, where he also taught. He then moved on to college coaching, first at Rochester Institute of Technology, where he built the program up. Tierney then moved on to Johns Hopkins, where he became an assistant coach. From there, he took his first NCAA Division 1 head coaching job at Princeton University.
Tierney built a powerhouse program at Princeton, winning six national championships and compiling a record of 238-86. He is known for his emphasis on defense and ability to develop players to their full potential. His ideas revolutionized how defense was played from the slide and recover defense to the people's defense. Teamed with Dave Metzbower, they coached many All-Americans at Princeton, including Jesse Hubbard, Ryan Boyle, and Jon Hess. While at Princeton, he also coached the 1998 US Men's National Team to a World Championship, which is arguably the greatest lacrosse game ever played in the final between USA and Canada.
In 2009, Tierney left Princeton to become the head coach at the University of Denver. Tierney shocked the lacrosse world by leaving Princeton to take over the program at Denver. Denver was a relative newcomer to the sport at the time, having only fielded a Division 1 lacrosse team since 1999. But Tierney saw potential in the program and quickly turned it from a fringe tournament team to a national title contender. In 2015, the Tierney-led Pioneers became the first team west of the Mississippi to win a Division 1 National Championship, cementing Denver as the lacrosse capital of the West.
Tierney is also known for his contributions to lacrosse off the field. He has served on numerous committees and boards, including the US Lacrosse Board of Directors and the NCAA Men's Lacrosse Rules Committee. He has also strongly advocated for growing the sport at the youth level and expanding its reach internationally.
Throughout his career, Tierney has been recognized for his coaching achievements. He has been named National Coach of the Year multiple times, been inducted into more Halls of Fame than most people can count, and even has the field at the US Lacrosse Headquarters named after him. Bill Tierney is front and center on the Mount Rushmore of College Lacrosse Coaches.
More than anything, you can see Coach T's impact on what his former players and assistants are doing in how they are giving back to the game. His influence and spirit will still be in the game long after we are all gone, and we are truly thankful that he started on his college coaching journey in the early 80s and never looked back.
While he will never be far away from the game, college lacrosse will look different next year without Coach Bill Tierney on the sidelines, and with that, a new chapter will begin for Denver and lacrosse as a whole.