Nunes' Career Day Lifts No. 3 Virginia Over Top-Ranked Notre Dame, 12-8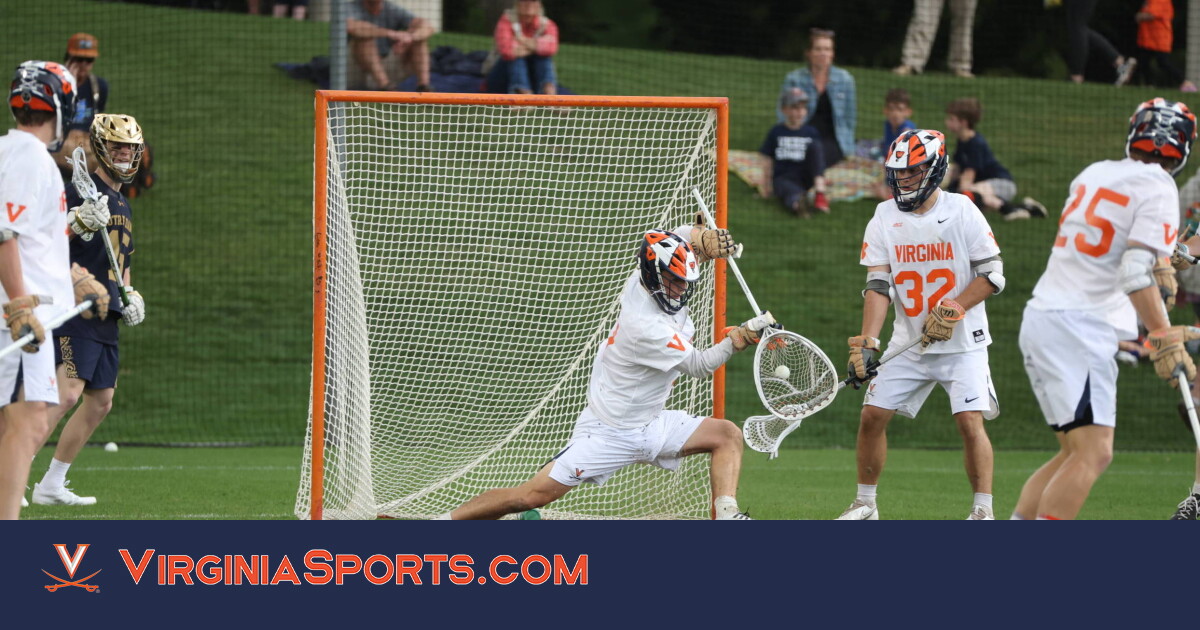 CHARLOTTESVILLE, Va. – Matthew Nunes (11-3) had career day in No. 3 Virginia's (11-3, 4-2 ACC) 12-8 victory over No. 1 Notre Dame (9-2, 3-2 ACC) at Klöckner Stadium Sunday afternoon (April 30). The true sophomore turned in a career-high 19 saves, including seven in the fourth period, as Nunes and the Cavalier defense held the Irish to their lowest goal total since UVA defeated Notre Dame by the same exact score at Klöckner Stadium on March 26, 2022.
The win marked UVA's 17th all-time over a No. 1 opponent.
Offensively, the Cavaliers were led by Xander Dickson (4g, 1a), Thomas McConvey (3g) and Connor Shellenberger (1g, 3a). With 56 goals on the season, Dickson matched Doug Knight's UVA single season record of 56 goals, which he set in 1996. In UVA's pair of wins over the top-ranked Irish this season, Shellenberger has combined for three goals and eight assists.
UVA short-stick defensive midfielders Grayson Sallade (1g, 4gb), Evan Zinn (1g, 3gb) and Noah Chizmar (1g, 4gb) combined for three goals, which matched that of Notre Dame's starting attack.
Virginia was sloppy in the clearing game, finishing with five failed attempts throughout, but converted all eight in the fourth quarter.
HOW IT HAPPENED
Both teams traded the game's first eight goals with Shellenberger striking first less than 30 seconds in. Notre Dame got on the board in the final minute of the first quarter as the two teams were tied one apiece at the end of 15:00 of play, despite five Cavaliers giveaways.
Connor Shellenberger with a to kick off scoring at Klöckner pic.twitter.com/yFzQCVViYz

— Virginia Men's Lacrosse (@UVAMensLax) April 30, 2023
Dickson and McConvey combined for three goals in the second period as both teams were tied 4-4 at the half. After the Cavaliers were whistled for slash in the final minute of the opening half, Notre Dame's Jake Taylor found the back of the net to tie the game, 14-14, with 13 seconds remaining. Of Notre Dame's 24 first-half shots, Nunes had turned away nine. Petey LaSalla (15-25 FO) won eight of the game's first 11 faceoffs in the first 30 minutes of play.
1 ️ 10
Xander's second of the game!!! pic.twitter.com/MVkkZdRkFv

— Virginia Men's Lacrosse (@UVAMensLax) April 30, 2023
The Irish grasped their first lead of the game after scoring a goal off a failed UVA clear with 12:46 in the third. Less than 30 seconds later, UVA's Griffin Schutz notched his only goal of the game on an assist by Jeff Conner (2a) to knot things once again, 5-5. A huge open field hit on Chizmar seemed to be the turning point in the game in which the Cavaliers seized momentum. After Notre Dame took the lead one last time [6-5], the Cavaliers fired off fourth straight goals, including Sallade's second of the year, to close out the third with a 9-6 lead.
GRAYSON SALLADE FROM OFF GROUNDS FOR THE LEAD‼️ pic.twitter.com/Nl5uWKxfBf

— Virginia Men's Lacrosse (@UVAMensLax) April 30, 2023
Notre Dame broke up the UVA run 15 seconds into the fourth, which the cut the Cavaliers' lead back to two, 9-7. Zinn, McConvey and Chizmar answered with three straight goals in the span of just over three minutes to slam the door for good. The Irish scored just once more in their second ACC loss of the season.
Cade Saustad ️ Noah Chizmar to deliver our largest lead of the game in the fourth! pic.twitter.com/kQvW0pquHo

— Virginia Men's Lacrosse (@UVAMensLax) April 30, 2023
FROM THE LOCKER ROOM
Lars Tiffany on his team's defensive effort standout performance …
"It was really impressive what [Matthew Nunes] is doing. His run has really started [since] the first time we played Notre Dame. Going into the Notre Dame game, we were a little unsure. Since then, he is seeing the ball really well. Kip Turner is doing a fantastic job with him. But to me, it's certainly the defense – what we did in front. We were physical. We were chippy. There weren't a lot of hands-free step-down shots. Every time 13 touched the ball – you know he doesn't need much time – but we were just getting to him. We were just checking 8 right before [he could shoot]. I was really happy with our short-stick[defensive-midfield] play. And certainly, Cade and Cole. What those two can do to the Kavanaugh brothers, nobody can do that."
WITH THE WIN…
Virginia tallied its sixth consecutive win over the Irish and extended its lead in the series to 11-8.
The last time Notre Dame defeated UVA on its home field was in the 2018 ACC Tournament.
The Cavaliers finished the 2023 regular season with an 11-3 overall record and went 4-2 in ACC play. UVA has finished with an overall winning record in all seven seasons under head coach Lars Tiffany.
UVA claimed its 17th all-time win over a No. 1 opponent. The Cavaliers are now 17-28 (.378) against No. 1 foes all-time.
In games versus No. 1 teams all-time, UVA opponents' average margin of victory is just 2.12 goals.
ADDITIONAL NOTES
Sunday's contest marked the 11th instance in which Virginia has a faced a No. 1 ranked team in the same season. UVA has now faced two top-ranked teams in the last three seasons.
Matthew Nunes posted a career-high 19 saves, shattering his previous best of 18, which he set at Duke (April 15) earlier this season.
The last time a UVA goalie recorded at least 19 saves in a single game was on March 10, 2019, when Alex Rode made 19 saves against Brown.
With four goals on the day, Xander Dickson (56g) is now tied for first with Doug Knight (1996) on UVA's single season goals list.
Dickson's five points also allowed him to crack the top 10 on UVA's single season points list. With 74 points on the year, he is tied for ninth with Michael Watson and Tim Whiteley, both of whom finished the 1996 season with 74 points each.
With three assists, Connor Shellenberger is now tied for sixth all-time on UVA's career assists list with 129. Shellenberger is tied with Jay Connor (1969-72).
With three goals, Thomas McConvey extended his point streak to 66 games. Having registered at least one point in all 66 career games, McConvey's streak is the longest among all active Division-I players. For his career, McConvey has amassed 153 goals and 67 assists.
McConvey, now with 26 goals and 20 assists on the year, is tied for fifth on UVA's single season points list by a midfielder. He needs just seven more points to break Dox Aitken's 2019 record of 52.
With one assist, Payton Cormier extended his point streak to 41 games. During his streak, Cormier has registered 124 goals and 25 assists.
Cormier saw his 17-game goal streak come to an end. His streak began April 16, 2022, a span in which he scored 59 goals.
UP NEXT
The Cavaliers will find out their postseason fate during the NCAA Men's Lacrosse Selection Show. The Selection Show is scheduled for Sunday, May 7 at 9:30 p.m. on ESPNU.