No. 3 Virginia Hosts Top-Ranked Notre Dame in Regular-Season Finale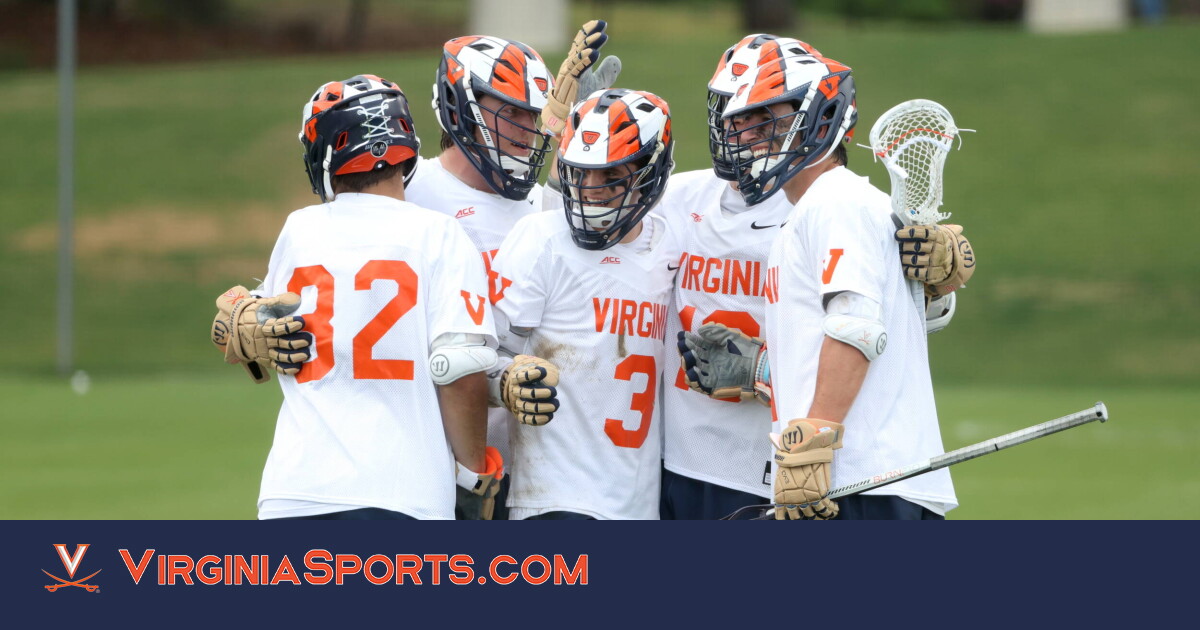 CHARLOTTESVILLE, Va. – No. 3 Virginia (10-3, 3-2 ACC) concludes its 2023 regular season on Sunday (April 30), when the Cavaliers host No. 1 Notre Dame (9-1, 3-1 ACC). Opening faceoff from Klöckner Stadium is set for 2 p.m. on ACC Network.
Virginia will honor 13 student-athletes prior to the start of Sunday's game for Senior Day.
The two teams squared off earlier this season at Notre Dame (March 25) with the Cavaliers prevailing, 15-10. Like Sunday's upcoming contest, Virginia was ranked No. 3, while the Irish claimed the top spot in the USILA coaches poll.
PARKING INFORMATION
Lacrosse fans may park in either the JPJ South or JPJ West lots. Overflow parking is also available in the UVA Emmet/Ivy Garage.
Note: Virginia's home baseball game at Disharoon Park against Duke on Sunday is currently slated for 1 p.m. Fans should plan to arrive early and expect heavy traffic in the area.
SENIOR DAY
Prior to the start of Sunday's game, Virginia will honor: Connor Shellenberger, Danny Parker, Will Cory, Drew Brennfleck, Quentin Matsui, Scott Bower, John Izlar, Peter Garno, Michael Bienkowski, Mitchell Whalen, Jake Giulieri, David Roselle and Thomas McConvey for Senior Day.
Sunday's game vs. No. 1 Notre Dame (2pm) is 𝗦𝗘𝗡𝗜𝗢𝗥 𝗗𝗔𝗬 ‍

Be sure to arrive early and help us honor our 13 student-athletes prior to opening faceoff! pic.twitter.com/nBvGDJ2IAM

— Virginia Men's Lacrosse (@UVAMensLax) April 28, 2023
HONORING THE 2003 NCAA CHAMPION CAVALIERS
At halftime of Sunday's contest, Virginia will celebrate its 2003 ACC and NCAA championship team on the field to commemorate the 20-year anniversary of the program's third NCAA title and fifth overall national championship.
Led by head coach Dom Starsia and captains Ned Bowen, Chris Rotelli, A.J. Shannon and Trey Whitty, the Cavaliers finished 15-2 overall to set the program's single-season wins record.
Rotelli was named UVA's first-ever Tewaaraton Award recipient, the most prestigious award in all of college lacrosse.
Goalie Tillman Johnson put on one of the most memorable performances in Championship Weekend history. He was named UVA's third NCAA Tournament Most Outstanding Player.
After falling to Johns Hopkins and Maryland in back-to-back regular-season games, the two-seeded Cavaliers earned their redemption in the NCAA Tournament at M&T Bank Stadium in Baltimore, Md. Behind Johnson's career high of 18 saves, UVA dominated the Terrapins, 14-4, in the semifinals before defeating No. 1 Hopkins, 9-7, in the championship game.
Tomorrow we welcome back one of the best teams to ever put on a Virginia uniform, the '03 national-champion Cavaliers

Join us at Klöckner Stadium for our regular-season finale 🆚 No. 1 Notre Dame (2pm) as we celebrate the 20-year anniversary of our program's third NCAA title! pic.twitter.com/PttIP5CEfw

— Virginia Men's Lacrosse (@UVAMensLax) April 29, 2023
LAST TIME OUT
The Cavaliers tallied their fifth win of the season away from Klöckner Stadium with their 20-11 victory at Lafayette Tuesday night (April 25).
UVA's 10th overall win of the season saw Petey LaSalla set the NCAA Division-I faceoff attempts record. LaSalla has now taken 1,669 career faceoffs in 73 career games played.
Eleven different Cavaliers registered a goal, including Xander Dickson, who scored a game-high four goals and tied for a game-high four assists. With three goals and two assists, Connor Shellenberger notched his 16th career hat trick.
In net, Matthew Nunes earned the win after posting 13 saves, including seven in the first period.
𝐍𝐂𝐀𝐀 𝐑𝐞𝐜𝐨𝐫𝐝

️#GoHoos | @lasalla22 pic.twitter.com/nn1JpfK879

— Virginia Men's Lacrosse (@UVAMensLax) April 26, 2023
SERIES HISTORY
Virginia leads the all-time series over Notre Dame, 10-8, and is currently riding a five-game win streak over the Fighting Irish, dating back to 2019.
UVA's five-game win streak is its longest since the series began in 1993.
Sunday's regular-season finale marks the second time this year in which the two teams will go head-to-head with the Cavaliers being ranked No. 3 and Notre Dame coveting the nation's top spot in the USILA coaches poll.
MORE ON THE NOTRE DAME SERIES
UVA knocked off No. 1 Notre Dame, 15-10, at Arlotta Stadium earlier this season (March 25).
Xander Dickson (6g, 1a), Connor Shellenberger (2g, 5a) and Payton Cormier (2g, 2a) combined for 18 points. Shellenberger's five assists were good for the most by a UND individual opponent in Arlotta Stadium history.
The win was also UVA's 16th all-time over a No. 1 foe and first since defeating Maryland, 17-16, in the 2021 national championship game.
At Klöckner Stadium last year, the Cavaliers defeated Notre Dame, 12-8, on March 26. Both teams finished ACC play with a 5-1 record to earn a share of the 2022 ACC title, however UVA was the only ACC program to earn a berth in the NCAA Tournament.
After falling to the Irish, 17-7, in the 2018 ACC championship final at Klöckner Stadium, UVA got its revenge, 10-4, in a rematch at the 2019 ACC title game, which was once again held at Klöckner Stadium.
The 2019 ACC title was UVA's 18th, which it achieved after holding Notre Dame scoreless for 42:12 of game time.
Former goalie Miles Thompson got the nod in net and earned his first career win after making 13 saves. Offensively, Payton Cormier scored five goals and former UVA player Regan Quinn ripped four goals.
CAVALIERS AMONG THE NATION'S STATISTICAL LEADERS
Virginia currently leads the nation in assists (12.08/gm), ground balls (40.92/gm), points (30.08/15), scoring offense (18.08/gm) and shot percentage (.385). The Cavaliers are third in scoring margin (5.54/gm), fourth in clearing percentage (.914), and fifth in man-up offense (.559).
Connor Shellenberger is currently second in assists (3.33/gm) and 15th in points (4.83/gm). Payton Cormier is fifth in goals (3.91/gm), 16th in points (4.82/gm) and fourth in shot percentage (.512). Xander Dickson is fourth in goals (4.00/gm) and points (5.31/gm), and second in shot percentage (.571). Petey LaSalla is 14th in ground balls (8.08/gm) and Cade Saustad is eighth in caused turnovers (2.15/gm).
VIRGINIA IN THE POLLS
At No. 3 in this week's USILA Coaches poll, Virginia has been ranked in the top 5 of the poll in 325 weeks all-time, including all 12 polls in 2023.
UVA has been ranked No. 1 in the nation in 70 all-time polls.
Virginia has been ranked in 516 polls all-time.
The USILA Poll began in 1973 and there have been 537 polls all-time.
From 1973-89, the USILA ranked the top-15 teams before expanding the poll to 20 teams for the 1990 season.
CORMIER, SHELLENBERGER NAMED TEWAARATON AWARD NOMINEES
UVA attackmen Payton Cormier and Connor Shellenberger were named two of 25 total Tewaaraton Award Nominees, the Tewaaraton Foundation announced April 20.
The list will be trimmed to five finalists on May 11. Virginia was one of seven programs nationally to have multiple nominees.
The ACC boasted eight nominees, which led all conferences nationally.
DICKSON ON PACE TO SET UVA'S SINGLE SEASON GOALS RECORD
Attackman Xander Dickson is currently on pace to shatter UVA's single season goals record set by Doug Knight (56) in 1996.
One of the nation's top goal scorers, Dickson currently leads UVA in both goals (52) and points (69) on the season.
Dickson has registered at least one goal in all 13 games this year and has scored at least six goals in four different games this season (7 vs. Syracuse, 6 at Notre Dame, 6 at Johns Hopkins and 6 vs. Richmond).
𝗛𝗢𝗡𝗢𝗥𝗦 𝗪𝗢𝗡. pic.twitter.com/KgPUhQur2d

— Virginia Men's Lacrosse (@UVAMensLax) April 25, 2023
GOING STREAKING
Thomas McConvey, a transfer in the midfield from the University of Vermont, is currently riding a 65-game point streak, which began on Feb. 1, 2019.
McConvey has registered at least one point in every game of his career.
His 65-game point streak leads the nation among all active players.
During his streak, McConvey has amassed 150 goals and 67 assists.
Also riding a substantial point streak is UVA attackman Payton Cormier, who has recorded at least one point in his last 40 games.
Cormier's 40-game point streak is currently the seventh longest in the nation. During his streak, which began on March 6, 2021, Cormier has registered 124 goals and 24 assists.
Cormier is also riding a 16-game goal streak, which began April 16, 2022 and is currently tied for the 13th-longest goal streak in the nation. During his streak, Cormier has score 59 goals.
ON THE HORIZON
The Cavaliers will find out their postseason fate during the NCAA Men's Lacrosse Selection Show.
The Selection Show is scheduled for Sunday, May 7 at 9:30 p.m. on ESPNU.
"For my money, you're the best that's ever played with a @UVAMensLax jersey on"

"I don't think I've played my best lacrosse yet"

Connor Shellenberger's episode of THROUGH X premieres May 2nd. Only on The Lacrosse Network's youtube channel ️ pic.twitter.com/LN6wXU8773

— TLN 🥍 (@LacrosseNetwork) April 28, 2023