No. 3 Virginia Concludes Non-Conference Action at Lafayette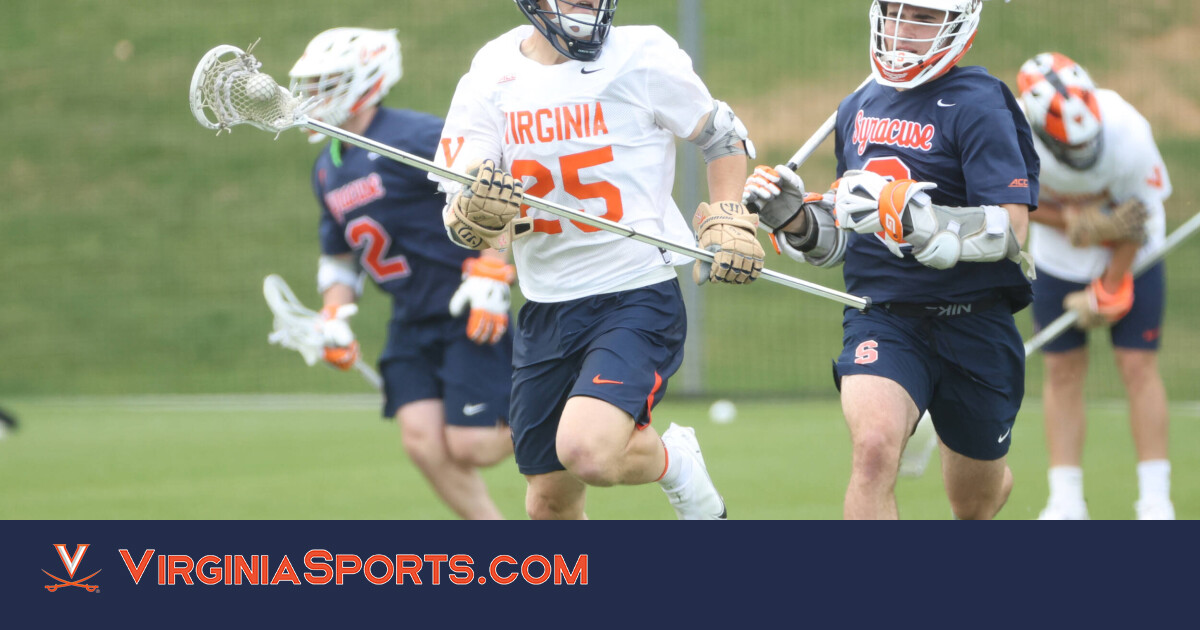 CHARLOTTESVILLE, Va. – No. 3 Virginia (9-3) rounds out its non-conference slate when the Cavaliers travel to Lafayette (6-8) on Tuesday (April 25). Opening faceoff from Fisher Stadium is set for 7:30 p.m. on ESPN+.
BY THE NUMBERS
3 – Virginia is the only program in the nation with three players in Payton Cormier (5.20), Xander Dickson (5.08) and Connor Shellenberger (4.82) averaging at least 4.82 points per game.
7 – Virginia's seven NCAA titles are third most by any program since the NCAA Tournament's inception in 1971.
11 – Petey LaSalla needs just 11 faceoff attempts to become the NCAA Division-I all-time leader in career faceoffs taken (1,658).
LAST TIME OUT
The Cavaliers took down 13th-ranked Syracuse, 19-12, at Klöckner Stadium last Saturday (April 22).
Virginia notched the first six goals of the game and held the Orange scoreless for nearly the first 12 minutes of play.
Xander Dickson tied his career highs in both goals (7) and points (9) in UVA's third ACC win of the year. His seven goals are also tied for No. 2 all-time in program single-game history. Payton Cormier added four goals.
Cade Saustad collected four ground balls and tied his career high of four caused turnovers.
SERIES HISTORY
Tuesday's matchup marks just the second-ever meeting between the two teams with the first coming at Klöckner Stadium in 2022, when the Cavaliers won, 20-10.
With two goals and six assists on Virginia's Senior Day, former UVA attackman and current PLL star Matt Moore moved to No. 1 on UVA's career points list. Moore shattered 2011 Tewaaraton Award winner Steele Stanwick's previous program record of 269 points.
Former goalie Miles Thompson got the nod in net and earned his first career win after making 13 saves. Offensively, Payton Cormier scored five goals while former UVA player Regan Quinn ripped four.
CAVALIERS AMONG THE NATION'S STATISTICAL LEADERS
Virginia currently leads the nation in assists (12.00/gm), ground balls (40.92/gm), points (29.92/gm), scoring offense (17.92/gm) and shot percentage (.377). The Cavaliers are third in scoring margin (5.25/gm), and fifth in clearing percentage (.912) and man-up offense (.545).
Connor Shellenberger is currently second in assists (3.45/gm) and 16th in points (4.82/gm). Payton Cormier is second in goals (4.20/gm), fifth in points (5.20/gm) and fourth in shot percentage (.512). Xander Dickson is fifth in goals (4.00/gm) and second in shot percentage (.558). Petey LaSalla is eighth in ground balls (8.67/gm) and Cade Saustad is seventh in caused turnovers (2.17/gm).
VIRGINIA IN THE POLLS
At No. 3 in this week's USILA Coaches poll, Virginia has been ranked in the top 5 of the poll in 325 weeks all-time, including all 12 polls in 2023.
UVA has been ranked No. 1 in the nation in 70 all-time polls.
Virginia has been ranked in 516 polls all-time.
The USILA Poll began in 1973 and there have been 537 polls all-time.
From 1973-89, the USILA ranked the top-15 teams before expanding the poll to 20 teams for the 1990 season.
CORMIER, SHELLENBERGER NAMED TEWAARATON AWARD NOMINEES
UVA attackmen Payton Cormier and Connor Shellenberger were named two of 25 total Tewaaraton Award Nominees, the Tewaaraton Foundation announced April 20.
The list will be trimmed to five finalists on May 11. Virginia was one of seven programs nationally to have multiple nominees.
The ACC boasted eight nominees, which led all conferences nationally.
DICKSON ON PACE TO SET UVA'S SINGLE SEASON GOALS RECORD
Attackman Xander Dickson is currently on pace to shatter UVA's single season goals record set by Doug Knight in 1996.
One of the nation's top goal scorers, Dickson currently leads UVA in both goals (48) and points (61) on the season.
Dickson has registered at least one goal in all 12 games this year and has scored at least six goals in four different games this season (7 vs. Syracuse, 6 at Notre Dame, 6 at Johns Hopkins and 6 vs. Richmond).
GOING STREAKING
Thomas McConvey, a transfer in the midfield from the University of Vermont, is currently riding a 64-game point streak, which began on Feb. 1, 2019.
McConvey has registered at least one point in every game of his career.
His 64-game point streak leads the nation among all active players.
During his streak, McConvey has amassed 149 goals and 66 assists.
Also riding a substantial point streak is UVA attackman Payton Cormier, who has recorded at least one point in his last 39 games.
Cormier's 39-game point streak is currently the seventh longest in the nation. During his streak, which began on March 6, 2021, Cormier has registered 123 goals and 24 assists.
ON THE HORIZON
The Cavaliers round out regular-season action on Sunday (April 30), when UVA hosts Notre Dame for Senior Day.
Opening faceoff from Klöckner Stadium is set for 2 p.m. on ACC Network.
Prior to the start of Sunday's game, Virginia will honor: Connor Shellenberger, Danny Parker, Will Cory, Drew Brennfleck, Quentin Matsui, Scott Bower, John Izlar, Peter Garno, Michael Bienkowski, Mitchell Whalen, Jake Giulieri, David Roselle and Thomas McConvey.