Quint Kessenich's Top 20: April 24, 2023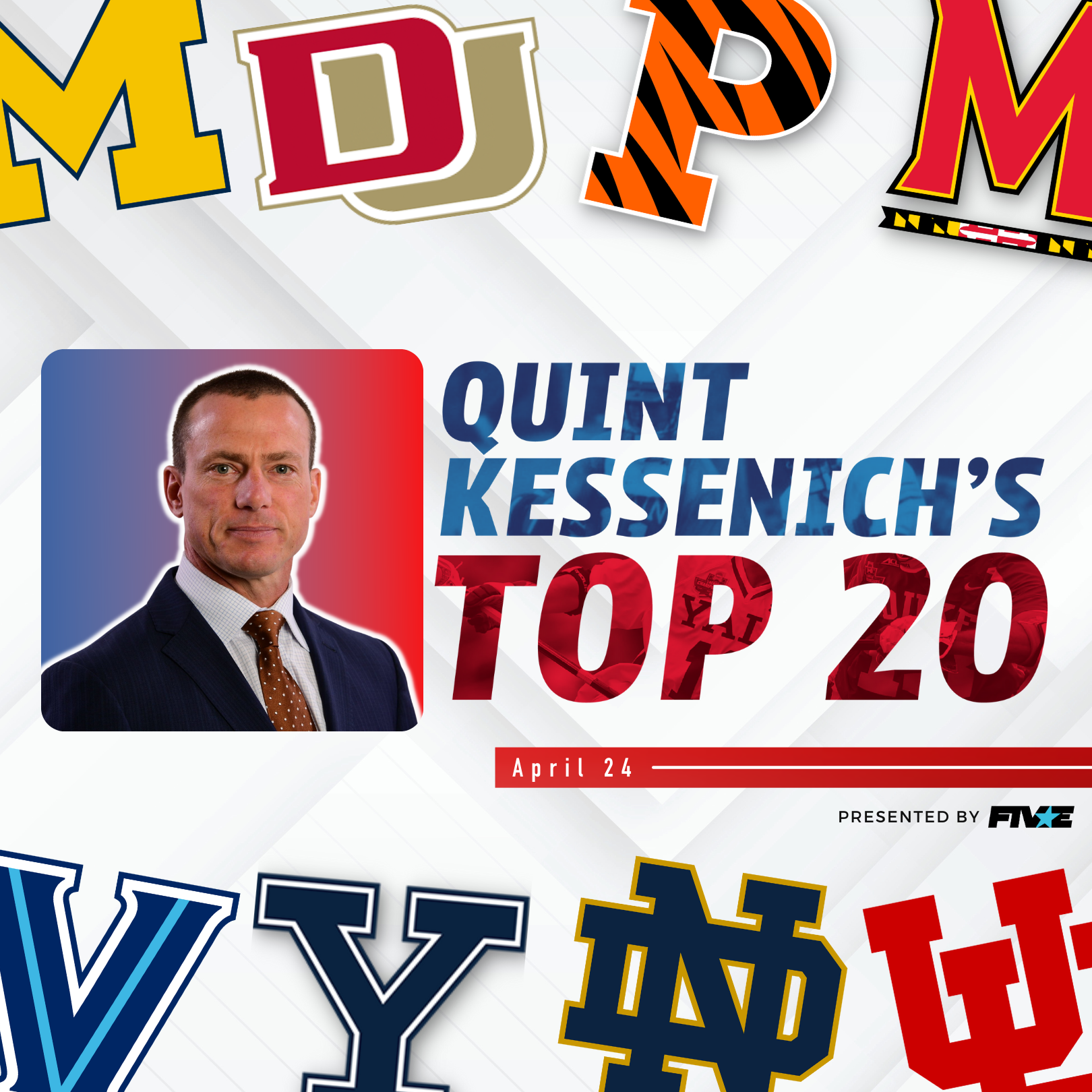 Hammer time. I'm astounded by Penn State, Army, and Johns Hopkins. Who could have predicted their rise? Growth and improvement are difficult to quantify. What's the deal with Ohio State, Rutgers, Syracuse. and North Carolina? Feels like the bubble is shrinking every week as teams fail to cash in.
Manhattan (10-4) clinched the top seed in the MAAC Tournament. The quarterfinals are on April 29th with Sacred Heart at Siena and Quinnipiac at Marist. The Jaspers and The Mount have byes. The final will be played on May 6th in NYC. 
Vermont will host the America East Tournament on May 4th and 6th.
The inaugural A-10 season is a compelling race between Saint Joseph's (9-4), Richmond, UMass, High Point and Hobart. 
It's the final week of the regular season. Championship Week is May 4th-7th in nine leagues across America. The NCAA Tournament Selection Show is on Sunday, May 7th at 9:30pm on ESPNU with Chris Cotter, Paul Carcaterra, and myself.
Twitter: @QKessenich
Instagram: @quintekessenich
Facebook: Quint Kessenich
LinkedIn: Quint Kessenich
Quint Kessenich's Top 20
20) Princeton
A 17-11 win over Harvard was highlighted by Michael Gianforcaro's 20 saves and ten points from Coulter Mackesy. The Tigers (6-5) will play in the Ivy League Semifinals on May 5th. Mackesy leads the Ivy League in points per game (5.9) and maybe the country if the NCAA stats site would ever decide to update in a timely fashion. He's got 45 goals and 20 assists. He's had a hat-trick in 10 of 11 games. Princeton faces Cornell this weekend, with the winner being the outright Ivy League champion. Don't stop believing. 
19) Delaware
The Blue Hens topped Drexel 18-13 and will host the CAA Tournament. Delaware is 6-0 in the CAA. Meanwhile, the Dragons have snatched up a tournament bid with the final two spots TBD with Stony Brook and Towson hovering.
18) Michigan
The Wolverines (6-6) toppled Ohio State 19-14 on Friday behind a monster night from Michael Boehm and their faceoff units. Boehm had a program-record eight goals, while the Wolverines won 29 of 37 draws (78%). They broke away from the Buckeyes with a 10-2 third quarter.
Teams must be .500 to be eligible for an at-large bid into the NCAA Tournament. Michigan hosts Ohio State (5-8), losers of four straight, again this week. This is an elimination game. Grab the Hefty bag and clean out your locker.
17) Utah
The Utes (9-4) defeated Cleveland State 19-12 to claim the regular season ASUN title. Air Force took down Jacksonville (11-2) in league action. Bellarmine (10-4) captured a spot in the bracket after a win over Detroit Mercy. The ASUN Tournament should be sponsored by an airline and hotel chain. 
Utah faces Queens in Charlotte, NC on Saturday.
16) North Carolina
UNC's (7-6) ride works against lower tier teams. Notre Dame ran through it like diarrhea on their way to a dominating yet ho-hum 16-9 victory. Dewey Egan and James Matan were bright spots. Midfielder Johnny Schwarz is coming along. 
The Tar Heels have a bye week April 29th and play Notre Dame again in Chapel Hill. Sunglasses, sun dresses, and a week off in Chapel Hill during late April. Good luck with that. UNC has lost three straight to UVA, SU, and ND giving up 50 goals in the process. Their highly rated defense is a paper tiger. 
15) Syracuse
"Head, heart and hustle" had clearing issues in the first half of last weeks UNC win and they resurfaced at Virginia. With Saam Alexo playing close defense, the Orange struggled to advance the ball in a 19-14 defeat. Faceoffs were not the issue. Defense was. Two of their close defenders will be doing time when the season ends, because they're repeat offenders. The defensive plan at UVA didn't work. 
Otto (8-6) is at Duke next (1:00pm Saturday). The season is on the brink, the last chance to grab a quality win. Duke is coming into this game off a bye week. 
14) Rutgers
The Scarlet Knights (8-5) are limping toward the finish line. Their RPI is #13 with wins over Utah, Michigan, and Princeton. They've lost four of five with their defense being exposed on a weekly basis. RU is a big underdog at Maryland on April 29th. Rutgers has a jaded history in all sports when it comes to NCAA Tournament selection. They've been screwed more than any school in the nation. So keep winning, and they can't kick you out of the club. 
13) Villanova
The Wildcats (10-3) had an overtime tangle with Marquette on Saturday in Philly before coming out on top, 16-15. Villanova treks to the Swamp to try to knock off Georgetown on Friday April 28th at 7:00pm. This is an important game because GT has #8 RPI and Nova is #12.
12) Denver
Matt Brown was introduced at a press conference Thursday afternoon in Denver. He will be the head lacrosse coach following Bill Tierney's retirement at the end of the 2023 season. This is exactly what needed to happen. I'm happy for all parties involved.
Denver (8-4) sent the seniors off with a 13-6 win against Providence on Friday as snow flurries gracefully dangled from the clouds. DU grabbed control during a 7-0 run to end the first half. The video of Coach Tierney walking off Barton Field for the last time saddened me. 
Denver plays Friday night at Marquette to close out the regular season. They'll be making back-to-back trips to the Brew City for the Big East Tournament.
11) Penn
The Quakers (6-5) are in the Ivy League bracket on May 5th, and likely play in the second semifinal at Columbia on Friday night. They steamrolled Dartmouth 17-6 on Senior Day. 
Penn visits Albany on Wednesday at 5:00pm. Penn holds victories over Georgetown and Yale.
10) Yale
That's four straight wins for Yale (7-4). This team is staying alive and trending in the right direction when so many others have bonked. 
The Dogs finish the regular season at Harvard on Saturday April 29th. The winner advances to the Ivy League Tournament as the four seed. The loser is toast. Yale has a strong RPI and SOS. 
9) Army
I've got enormous respect for the Cadets (10-2). They suffocated Navy 11-6 before 7,014 fans on enemy soil in Annapolis, earning their first victory in the series since 2019. Navy trailed 9-2 after 30 minutes. The Mids offense were not up to the standard of Army's defense. The Cadet offense dodges hard to the goal before the backup presents itself. They dodge well off of ball rotation.
Pump it up. BU is at Army on Friday night at 8:15pm. You got to pump it up.
The Army SOS is #48, the primary reason why their at-large resume is not worthy of discussion. The Patriot League is the fifth strongest league in Division 1. Army is appropriately ranked between #5-10. Army is always vulnerable the week after playing Navy.
8) Georgetown
The Ridley Athletic Center was a no hunting zone on Tuesday night as Georgetown torched Loyola 23-7. This game was never in doubt. Tied 2-2 with 8:50 to play in the first quarter, the Swamp Dogs went on an 8-0 run, a knockout punch, extending their lead to 10-2 with 12:32 to play in the second quarter. They led 16-3 early in the third quarter. James Reilly won 16 of 22 faceoffs. Nicky Solomon chipped in five points. Daniel Hincks started in net for the Hoyas. Loyola is a good team who's lost confidence, compounded by faceoff issues. 
Georgetown (9-3) held serve at St. John's 18-12 for their ninth consecutive win. The Swamp Dogs play Villanova on Friday, April 28th in the regular season finale. 
I think the NCAA bubble includes Georgetown, Penn, Yale, Denver, Villanova, Rutgers, Syracuse and UNC. 
7) Maryland
The Terps (8-4) have some key players who are wearing down from over use. They would have benefitted greatly from a week off. No such luxury exists after a home loss to Hopkins in the 125th edition of the rivalry. The wooden crab trophy makes it way back to Charm City, where it'll be lucky not to be stolen, pawned, or covered with graffiti. 6,594 fans and 47,406 empty seats enjoyed the contest that was tied at every number 1-10. Maryland made too many mistakes on offense to win a game of merit. Their first midfield is in a bit of a slump. 
Maryland (8-4) finishes in third place in the Big Ten and hosts Rutgers in the quarterfinals on Saturday at 8:00pm (BTN). "Be the Best" has been involved in four one-goal games against UVA, JHU, OSU, and ND.
6) Cornell
The Big Red (10-2) locked up a spot in the Ivy League Tournament. A 16-9 victory over Brown this week came via an early onslaught, 11 first half goals quieted the Bears. CJ Kirst and Michael Long form a lethal one-two punch. 
Princeton comes to Ithaca on Saturday April 29th at 3:00pm. Defender Gavin Adler squares off against Coulter Mackesy for the bantamweight world title. Winner is the No.1 seed and plays first at Columbia on May 5th.
5) Johns Hopkins
I'm a big fan of trophy games. Lacrosse needs more trophy games. What a difference a year makes for the Jays (11-4). "We Want More" shot 8 for 17 in the second half, breaking open a 10-10 tie for a 12-10 lead. The 12-11 final over Maryland means the Jays are 7-1 since early March. The defense was clean off the ground. Alex Mazzone and Russell Melendez are impact transfers. 
I was on a plane, getting ready to fly home from Denver after calling the Colorado Buffalo Spring Football Game. The airline television actually had BTN as a channel and I tuned in late as JHU built the 12-10 lead. The feed then went dead as the stewardess began the pre-flight directives and safety messages. I missed the final portion of the game. I'll go back this week and take a closer look, as well as watching ND tape, some UVA, some Ivy League action, as well as Army and Navy. The edited highlight packages that are about 20 minutes in length are a great way to familiarize yourself with a team you may not have seen yet. 
Back to the Jays. What best explains the turnaround on Homewood? I think it's four things.
Chemistry / Culture
Coaching – All 4 Spots
Key Additions
Healthy Subtractions 
Hopkins will host the Big Ten Tournament regardless of seed. Offensive Coordinator John Crawley was my guest on the Quintessential Podcast, presented by Axia Time.
4) Penn State
The Nittany Lions (9-3) remained unbeaten at home after a resounding Friday win over Rutgers. They own a share of the Big Ten regular season title and won the Friendship Cup after a one sided 14-5 outing. Friendship Cup is a funny trophy to be fighting for. Goalie Jack Fracyon made 17 saves with just 5 goals against (77%). TJ Malone had five points.
PSU is holding worthy wins over Cornell, JHU, Yale, and Penn and is a lock for NCAA selection and perhaps a home game. Their reversal from 3-11 in 2022 to 9-3 is incredible, especially notable on the defensive end where opponents are scoring 10.1 goals per game in 2023 compared with 13.6 in 2022. They've flipped six close losses in 2022 into wins this spring. 
3) Virginia
I love the throwback uniforms and specialty outfits that teams break out periodically. I'm fascinated by these yearly introductions due to their unique looks and historical significance. The Cavaliers went full on Best of the 80's on Saturday at Klockner while hosting Syracuse. 
The only way Syracuse was going to beat Virginia was to dial up some throwback players, using a 'back to the future' time machine to deliver a Powell or three, a Gait or two, and a Ric Beardsley or Pat McCabe to play defense.
In the early 80's, Airplane, Caddyshack, and Stir Crazy dominated the box office. Xander Dickson starred in Saturday's 80's themed 19-12 win over SU. Even Head Coach Lars Tiffany dressed like Ace Adams with khakis (rain pants in this case) and a tie, the signature sideline look for the era. 
Connor Shellenberger is back in the lineup, although clearly not 100%. He just doesn't look right yet. Ferris Bueller, a highly rated LSM recruit from Chicago, was spotted driving his Ferrari near campus.
The Cavaliers travel to Easton, PA on Tuesday. Lafayette (6-8) is going to the Patriot League Tournament for the first time since 2010. Charlie Cunniffe is dangerous and productive.
Wahoos welcome Notre Dame to the grounds on Sunday April 30th at 2:00pm. Chris Cotter and I will have the call on the ACCNetwork.
2) Duke
Winning is like oxygen. You get too much, you get too high. Not enough and you're going to die. The Blue Devils (11-2) were off this week and host Syracuse in the regular season finale on April 29th at noon on ESPNU with Anish and Carc on the call. Duke has swept Virginia and has wins over Penn, Denver, Syracuse, and North Carolina. One can only imagine the breadth of music that Coach John Danowski is exposing to his team during bye week practices. 
1) Notre Dame
Rudy (9-1) wearing Loyola's emerald green helmets, chewed up North Carolina, not a surprise given how poorly the Heels have looked recently. Goalie Liam Entenmann got pegged with a shot during warm-ups in the collar bone area and appeared to be shaken up. Fortunately, he bounced back and played, earning the win. The Irish were hungrier on groundballs and the Kavanagh brothers rode like banshees. 
Notre Dame flies to Charlottesville to duel with UVA on Sunday April 30th at 2:00pm (ACCN). UVA defeated ND earlier this season using picks at X and an active crease cutting game. The Cavs scored five times from the slot, six if you throw in a Xander Dickson rebound goal. 
Quint Kessenich's Socials
Twitter: @QKessenich
Instagram: @quintekessenich
Facebook: Quint Kessenich
LinkedIn: Quint Kessenich