Cavalier Attackmen Scoring at Prodigious Pace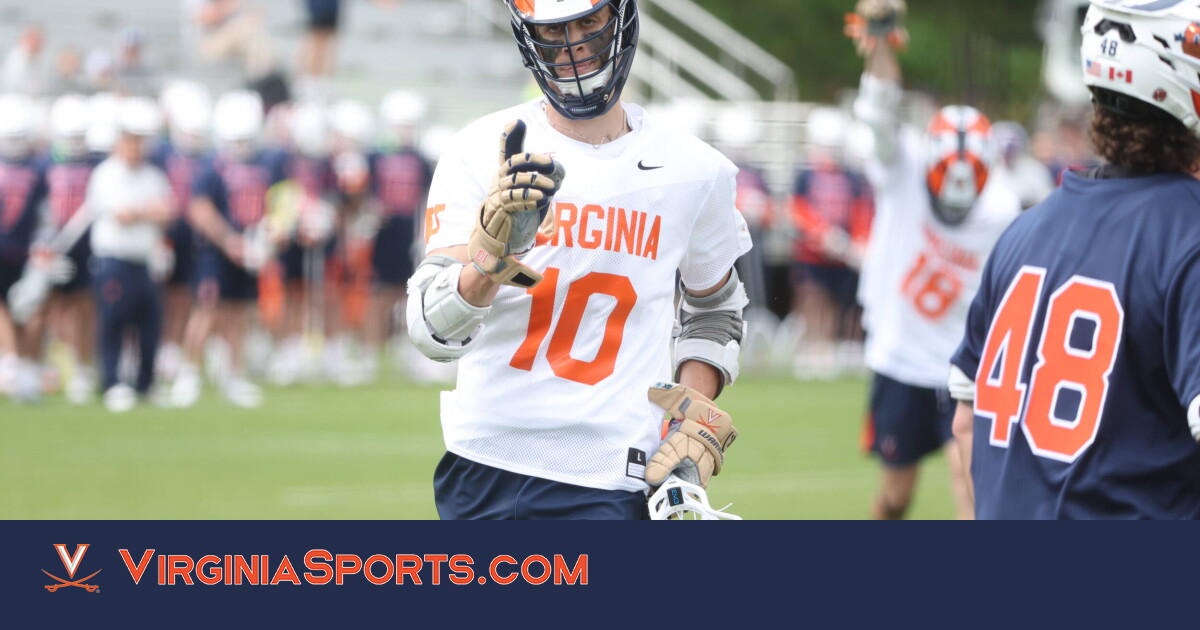 By Jeff White (jwhite@virginia.edu)
VirginiaSports.com
CHARLOTTESVILLE, Va. — On most lacrosse teams, Payton Cormier would be unrivaled for goal-scoring prowess. He rang up seven goals against Ohio State in February and had six against Duke on March 31. In two other games this season—wins over Michigan and North Carolina—the fifth-year senior has finished with five goals.
Whatever the left-handed Cormier can do, though, his fellow University of Virginia attackman Xander Dickson seemingly can do as well. Also a fifth-year senior, the right-handed Dickson came into the weekend having scored six goals three times this season—against Richmond, Johns Hopkins and Notre Dame—and five goals once, against Harvard.
Saturday at Klöckner Stadium, Dickson reached new heights. He scored seven goals (and added two assists) to lead the third-ranked Cavaliers to a 19-12 victory over No. 13 Syracuse.
Highlights: Virgina 19, Syracuse 12

pic.twitter.com/SZUXeMEc4L

— Virginia Men's Lacrosse (@UVAMensLax) April 22, 2023
Dickson, who's typically more of a finisher than a dodger, had three unassisted goals against the Orange (8-6 overall, 1-4 ACC). Still, he deflected credit for his production and noted that he's regularly on the receiving end of pin-point passes.
"A lot of it is just my teammates," said the 6-foot-1, 160-pound Dickson, whose nickname is The Slim Reaper.
The program record for goals in one game is eight, and it's shared by three players: Butch McCleary (vs. Navy in 1958), Doug Knight (vs. Syracuse in 1996), and Garrett Billings (vs. Stony Brook in 2009)
This was not the first seven-goal game of Dickson's UVA career. He scored that many in 2019 against VMI and also had two assists in that game.
Unlike VMI, however, Syracuse is one of the sport's storied programs, and this was a crucial game for a Virginia team coming off yet another frustrating loss to Duke. Moreover, this was the Cavaliers' annual alumni game, and scores of former players were in the crowd at Klöckner, including members of the 1983 team that captured the ACC championship.
"This is a big win today," UVA head coach Lars Tiffany said.
With two regular-season games left, Dickson leads the Wahoos (9-3, 3-2) with 48 goals. He's played in all 12 games. Cormier, who has 42 goals, missed two games with an injury. Midfielder Thomas McConvey, who grew up playing with Cormier in Canada, is third on the team with 22 goals.
Cormier scored four goals Saturday, no small feat itself, and yet lost ground on Dickson. Their No. 1 priority is the team's success, but each can't help but be aware of how many goals the other is scoring.
"We have always banter going about that in the locker," Dickson said, smiling. "Not much, but a little bit."
Offensive coordinator Sean Kirwan has the privilege of coaching Dickson and Cormier. "They're just tremendous friends," Kirwan said Saturday. "I'm sure there's some busting chops and all of that, but they love playing together. And I think as much as they give each other a hard time, they're just so close and so supportive of one another. So it's awesome to see."