No. 3 Virginia Hosts No. 13 Syracuse for Alumni Day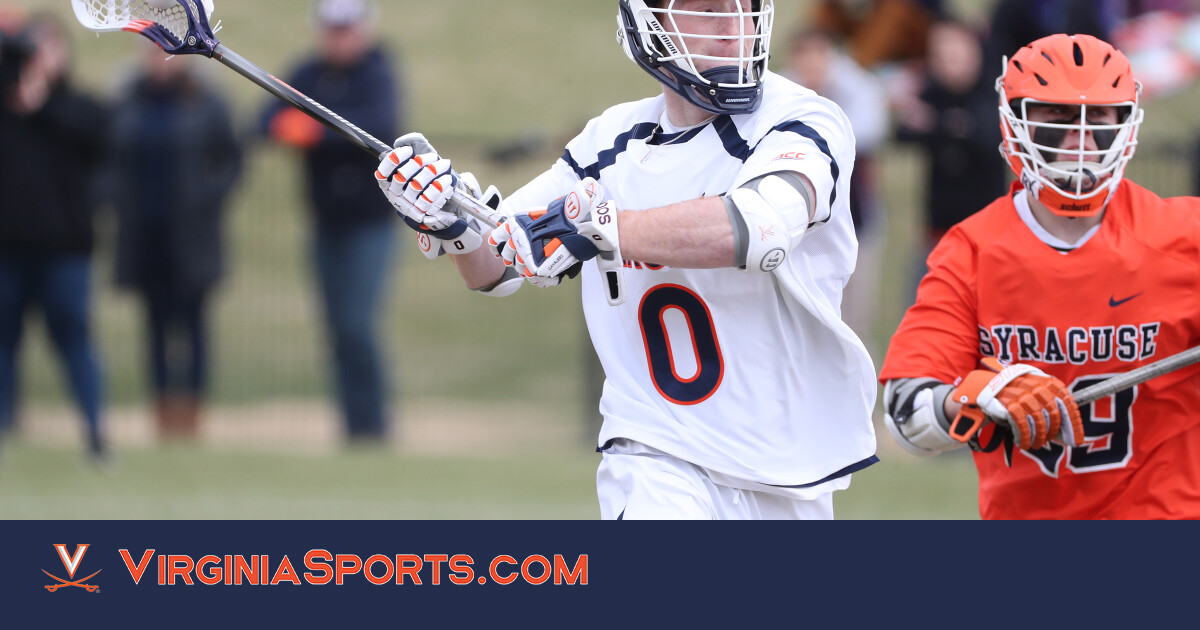 On Saturday, we pay homage to one of the most momentous eras in our program's history, the 1980s!#GoHoos️ pic.twitter.com/GcBhdiQKV2

— Virginia Men's Lacrosse (@UVAMensLax) April 18, 2023
CHARLOTTESVILLE, Va. – No. 3 Virginia (8-3, 2-2 ACC) welcomes No. 13 Syracuse (8-5, 1-3 ACC) to Klöckner Stadium on Saturday (April 22) in the lone matchup between the two teams this season. Saturday's contest is currently slated for 2 p.m. on ESPNU.
With a forecast of inclement weather in the Charlottesville area on Saturday, fans are advised to check @UVAMensLax on Twitter or VirginiaSports.com Saturday morning for updates on a potential start time change.
The Cavaliers will don new retro uniforms that were inspired by those worn by UVA in the 1980s. Virginia will also honor its 1983 team at halftime to commemorate the 40-year anniversary of the program's eighth ACC title.
PARKING INFORMATION
Parking is free to the public at the JPJ South and West lots. Overflow parking is also available at the UVA Emmet/Ivy Garage.
Note: In addition to Saturday's home men's lacrosse game, UVA Athletics is also hosting track & field (all day) at Lannigan Field and softball (6 p.m.) at Palmer Park. Fans are encouraged to arrive early and expect heavy traffic in the area.
HONORING THE EIGHTIES
Saturday's contest against Syracuse will serve as Virginia's Alumni Game.
UVA welcomes and honors all alumni in attendance, but will recognize members of the 1983 team at halftime of Saturday's game to commemorate the 40-year anniversary of the program's eighth ACC title.
The 1983 ACC championship team played a large role in what became one of the most successful decades in program history. The 1980s featured five ACC championship teams, including the '83 team, and six teams that made it to Championship Weekend.
The 1983 Cavaliers went undefeated in ACC play and outscored Maryland, Duke and North Carolina, 48-22.
The '83 title marked the first of four consecutive ACC championships for UVA from 1983-86.
Both the 1980 and 1986 teams reached the national championship game (vs. Johns Hopkins & North Carolina, respectively), but fell in double overtime in both instances.
After being inducted into the USILA Hall of Fame in 1975, Jim "Ace" Adams served as UVA head coach from 1978-92. Adams passed away in November of 2019 in Charlottesville, Va.
The 1983 team was captained by Steve Byrne, Mike Caravana and JB Meyer.
#GoHoos️ pic.twitter.com/ReiBxJlUDD

— Virginia Men's Lacrosse (@UVAMensLax) April 19, 2023
BY THE NUMBERS
3 – Virginia is the only program in the nation with three players in Payton Cormier (5.33), Connor Shellenberger (5.10) and Xander Dickson (4.73) averaging at least 4.73 points per game.
7 – Virginia's seven NCAA titles are third most by any program since the NCAA Tournament's inception in 1971.
20 – The all-time series between UVA and Syracuse, which dates to 1938, is tied 20-20. After dropping four straight games against the Orange from 2015-18, the Cavaliers have won four of the last six.
LAST TIME OUT
The Cavaliers fell 15-14 at No. 2 Duke last Saturday (April 15).
Virginia trailed by as many as seven goals [10-3] in the first half, but battled back to nearly tie the game with 15 seconds left.
Goalie Matthew Nunes made a career-high 17 saves. Payton Cormier [4g] and Griffin Schutz [3g, 1a] led the Cavaliers offensively. Cole Kastner collected a career-high six ground balls.
The win marked Duke's 18th consecutive regular-season win over UVA.
SERIES HISTORY
Virginia and Syracuse are tied, 20-20, in the all-time series, including 8-8 in Charlottesville and 6-6 at Klöckner Stadium.
After winning both regular-season matchups against the Orange in 2022, the Cavaliers are currently riding a two-game win streak in the series.
The last time the two teams met was on April 23, 2022 at the Carrier Dome, when UVA defeated 'Cuse 21-15 to clinch a share of the program's 19th ACC championship.
The Cavaliers' 21 goals tied for the most by a Syracuse opponent inside the Carrier Dome since it opened in 1980.
MORE ON THE SYRACUSE SREIES
In last year's ACC opener at Klöckner Stadium, UVA dominated the Orange, 20-11, which marked the largest margin of victory in the series. Four Cavaliers notched hat tricks and Petey LaSalla set the program record for career faceoffs won.
In 40 all-time matchups, UVA narrowly leads 'Cuse, 528-525, in goals scored.
The two schools battled only three times between 1938-93, but have met at least once each season from 1994-2023 with the exception of 2020 due to COVID-19.
The two schools have also met six times in the NCAA Tournament since 1995 with the Orange leading 4-2 in such contests.
The 2018 season was the first time UVA and 'Cuse met in the ACC Tournament, an 11-10 win for UVA in the semifinals.
The Orange won in overtime, 9-8, in the 2003 at the Dome. It was the first time in the series that neither team scored in the double figures.
Another heartbreaking UVA loss saw the Orange pull out a dramatic come-from-behind 12-11 double overtime win in the semifinals of the 2008 NCAA Tournament on the way to capturing the national championship.
The 2008 Syracuse NCAA win ended Virginia's five-game series winning streak, the longest by either team in the series.
In the 2014 meeting at Klöckner Stadium between UVA and Syracuse, James Pannell scored a career high seven goals in a 17-12 UVA triumph. It was Syracuse's first-ever ACC game.
Virginia's loss in 2011 snapped a three-game win streak in the Dome over Syracuse, a feat boasted by no other opponent of the Orange.
CAVALIERS AMONG THE NATION'S STATISTICAL LEADERS
Virginia currently leads the nation in assists (11.82/gm), ground balls (40.73/gm), points (29.64/gm), scoring offense (17.82/gm) and shot percentage (.384). The Cavaliers are fifth in man-up offense (.567) and scoring margin (5.09/gm), and seventh in clearing percentage (.910).
Connor Shellenberger is currently second in assists (3.60/gm) and ninth in points (5.10/gm). Payton Cormier is second in goals (4.22/gm), fifth in points (5.33/gm) and fourth in shot percentage (.528). Xander Dickson is fourth in goals (3.73/gm) and second in shot percentage (.539). Petey LaSalla is sixth in ground balls (8.82/gm) and Cade Saustad is ninth in caused turnovers (2.00/gm).
CORMIER, SHELLENBERGER NAMED TEWAARATON AWARD NOMINEES
UVA attackmen Payton Cormier and Connor Shellenberger were named two of 25 total Tewaaraton Award Nominees, the Tewaaraton Foundation announced April 20.
The list will be trimmed to five finalists on May 11. Virginia was one of seven programs nationally to have multiple nominees.
The ACC boasted eight nominees, which led all conferences nationally.
With four goals yesterday, Payton Cormier moved to No. 2 all-time on UVA's career goals list

In just 49 career games, Payton has tallied 145 goals and is in elite company after passing Michael Watson (142g) & Matt Moore (143g) pic.twitter.com/otdc6zQMr6

— Virginia Men's Lacrosse (@UVAMensLax) April 16, 2023
THE CAVALIERS AT KLÖCKNER STADIUM
Saturday's game against Syracuse marks the Cavaliers' first at Klöckner Stadium in the last 22 days.
Virginia owns a 170-45 (.791) all-time record at Klöckner Stadium, including a 4-2 record in 2023, and has won 20 of its last 25 games played at the historic edifice.
The Cavaliers' average margin of victory in their last 25 games at Klöckner Stadium is 5.68 goals.
Virginia is 44-13 (.772) all-time at Klöckner Stadium under head coach Lars Tiffany.
UVA is also 13-3 all-time at Klöckner Stadium in NCAA Tournament contests.
Lacrosse debuted in Klöckner Stadium in 1993.
GOING STREAKING
Thomas McConvey, a transfer in the midfield from the University of Vermont, is currently riding a 63-game point streak, which began on Feb. 1, 2019.
McConvey has registered at least one point in every game of his career.
His 63-game point streak leads the nation among all active players.
During his streak, McConvey has amassed 147 goals and 64 assists.
Also riding a substantial point streak is UVA attackman Payton Cormier, who has recorded at least one point in his last 38 games.
Cormier's 38-game point streak is currently the seventh longest in the nation. During his streak, which began on March 6, 2021, Cormier has registered 119 goals and 24 assists.
ON THE HORIZON
The Cavaliers travel to Lafayette on Tuesday (April 25) to conclude non-conference action.
Opening faceoff is set for 7:30 p.m. on ESPN+.