No. 3 Virginia Storms Past No. 10 North Carolina, 19-12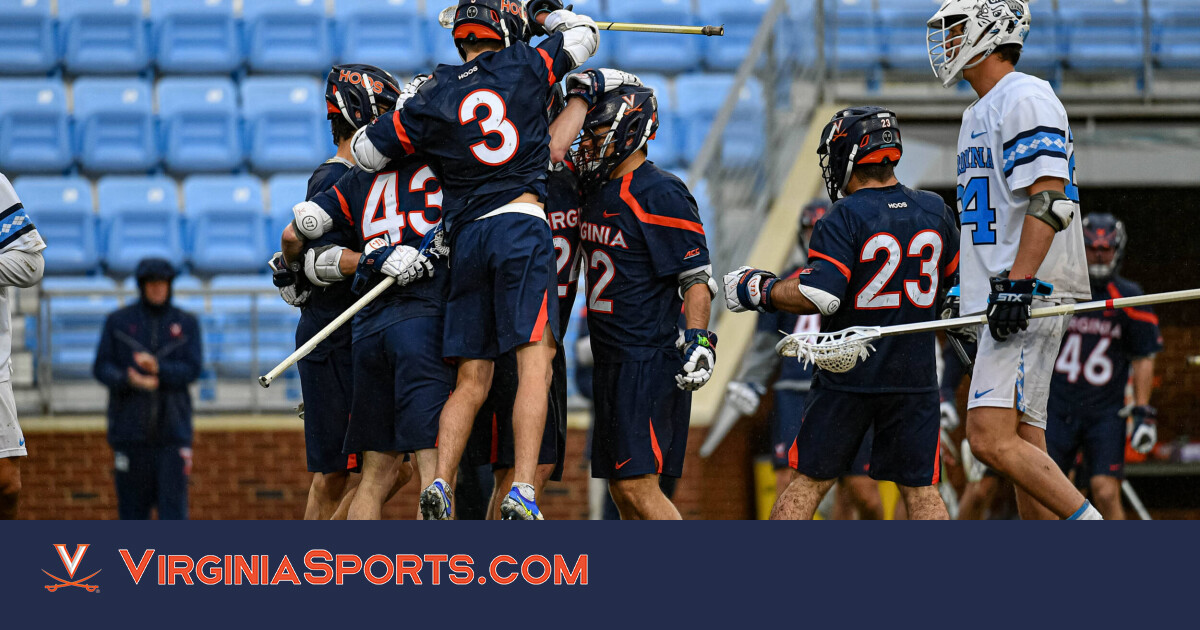 CHAPEL HILL, N.C. – In wet and rainy conditions, No. 3 Virginia (8-2, 2-1 ACC) cruised to a 19-12 victory over No. 10 North Carolina (7-4, 1-2 ACC) at Dorrance Field on Friday evening (April 7).
The win marked Cavaliers' fifth straight over the Tar Heels in the series and fifth consecutive at Dorrance Field. Virginia's 19 goals are the most by a UNC opponent this season. North Carolina entered Friday's contest as the No. 3 scoring defense in the nation, holding opponents to an average of 8.50 goals per game.
Virginia also improved to 18-0 in games following a loss (within the same season). UVA has not suffered back-to-back losses since 2017, Lars Tiffany's first year as its head coach.
The Cavaliers dominated the ground ball game, 42-28. For the eighth game this season, Petey LaSalla (2g, 17-33 FO, 9gb) finished above .500 at the faceoff X. Captain and short-stick defensive midfielder Grayson Sallade collected four ground balls and dished out one assist.
Offensively, Payton Cormier scored a game-high five goals on eight shots and added two assists. Xander Dickson (3g, 1a), Thomas McConvey (2g, 2a), Peter Garno (2g) and Petey LaSalla (2g) also finished with multiple goals for UVA.
️ "𝗟𝗮𝘀𝗮𝗹𝗹𝗮 𝘀𝗵𝗮𝗸𝗲𝘀 𝗮𝗻𝗱 𝗯𝗮𝗸𝗲𝘀" pic.twitter.com/mexw4ikTww

— Virginia Men's Lacrosse (@UVAMensLax) April 7, 2023
Goalie Matthew Nunes (8-2) earned the win and made 12 saves, while allowing 11 goals in 56:08 of action. UNC's Collin Krieg (7-4) made just seven saves in his fourth loss of the year.
HOW IT HAPPENED
Despite three called penalties in the opening period, the Cavaliers leaped out to a 6-1 lead after the first 15 minutes of action. Virginia dominated the ground ball game in the first period, collecting 13 of the 17 total balls on the ground. After the Tar Heels kicked off the scoring on a man-up goal, Virginia fired off six straight goals in less than 6:00 of play. After Dickson struck first for UVA, Cormier scored three consecutive goals to give the Cavaliers a 4-1 lead by the game's first media timeout. Evan Zinn and Garno capped the UVA scoring run. Garno's goal in the first marked his third straight game with a score.
𝙶𝚊𝚛𝚗𝚘 𝙶𝚘𝚊𝚕-𝚘 pic.twitter.com/DrAWFseKXx

— Virginia Men's Lacrosse (@UVAMensLax) April 7, 2023
North Carolina scored three of the first five goals to start the second before UVA closed out the half with four straight goals. The Cavaliers' run include Cole Kastner's third career goal on an open net from below UVA's own restraining line amid the Tar Heels' 10-man ride. Cormier tallied his fifth goal of the game on a UVA man-up chance with 46 seconds left in the half to conclude the first-half scoring for both sides.
Cole Kastner from 𝘿𝙀𝙀𝙀𝙀𝙀𝙀𝙋#SCTop10 pic.twitter.com/rOVEwpEugk

— Virginia Men's Lacrosse (@UVAMensLax) April 7, 2023
Coming out of the intermission, UVA ripped off three consecutive goals, stretching its scoring run to seven straight goals. In his first career start, attackman Truitt Sunderland tallied his fifth goal of the season on an assist from Dickson two minutes in. After Cormier found McConvey for Virginia's 16th goal, the Tar Heels closed out period No. 3 by scoring four of the last five goals as UVA comfortably held a 17-8 lead by the end of the third.
UVA received goals from Griffin Schutz and Dickson in the fourth as the Cavaliers started to mix in some of their reserves toward the back half of the period. Dickson's goal in the fourth quarter marked UVA's second extra-man score of the game and his seventh hat trick of the season. After the Tar Heels trailed by as many as 10 goals [19-9] in period No. 4, they scored three straight to close out the game.
FROM THE LOCKER ROOM
Lars Tiffany on tonight's ground ball play…
"It was a great night for Virginia Lacrosse. What really typified it was the way we played the ground balls. We were chopping. We were running through ground balls, highlighted by Grayson Sallade's ground ball early in the game. We were going to slide, dive, fight – whatever we could. We have a great history of being tenacious off the ground and we certainly demonstrated that today to give us those extra opportunities."
️ Our captain Grayson Sallade offers his thoughts on tonight's 19-12 road win over No. 10 North Carolina…#GoHoos️ pic.twitter.com/c7Z4Ybi2ON

— Virginia Men's Lacrosse (@UVAMensLax) April 8, 2023