Third-Ranked Cavaliers Continue ACC Play at No. 10 North Carolina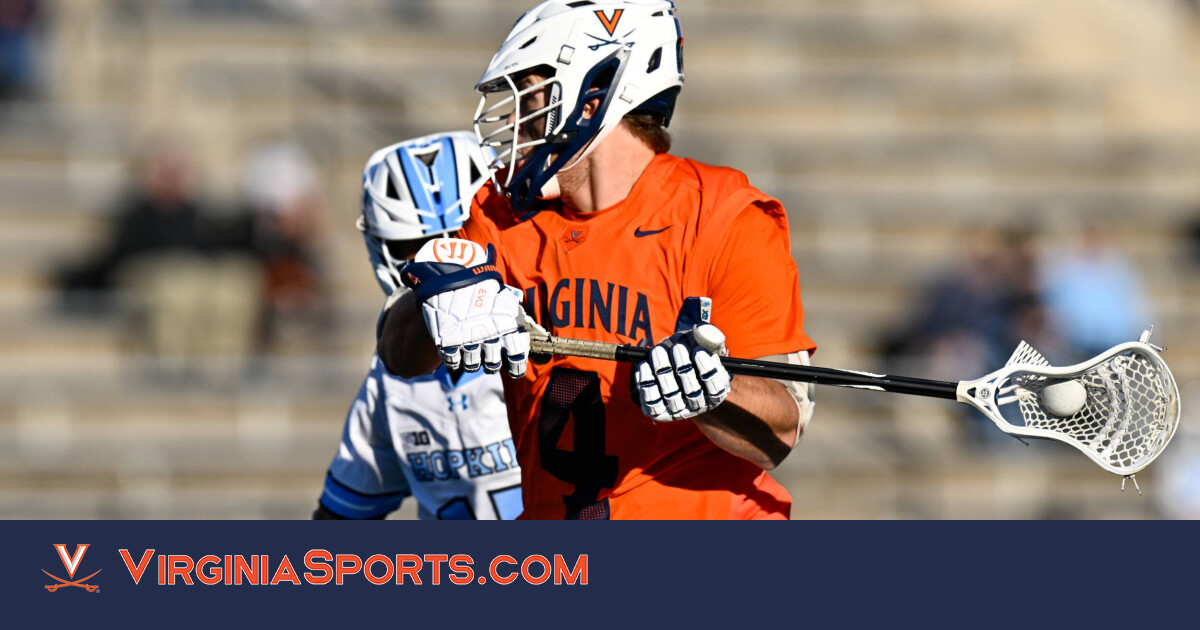 CHARLOTTESVILLE, Va. – No. 3 Virginia (7-2, 1-1 ACC) travels to No. 10 North Carolina (7-3, 1-1 ACC) on Friday (April 7) for the Cavaliers' fourth consecutive top-10 matchup in as many weeks. Opening faceoff from Dorrance Field is set for 6 p.m. as Chris Cotter (play-by-play) and Quint Kessenich (analyst) will have the call on ACC Network.
We are SO PROUD to announce that our very own Cole Kastner has been named the 2023-24 recipient of the T. Rodney Crowley Scholarship, one of the most prestigious honors at UVA!https://t.co/BunpIFmtp5

— Virginia Men's Lacrosse (@UVAMensLax) April 5, 2023
BY THE NUMBERS
3 – Virginia is the only team in the nation with three players averaging at least 5.00 points per game in Connor Shellenberger (5.33), Payton Cormier (5.29) and Xander Dickson (5.00).
7 – Virginia's seven NCAA titles are third most by any program since the NCAA Tournament's inception in 1971.
9 – The Cavaliers returned nine starters this season. UVA's only departure from last year's starting lineup was attackman Matt Moore, who was drafted No. 4 overall in the 2022 PLL Draft by the Archers.
LAST TIME OUT
Coming off a 15-10 road triumph over top-ranked Notre Dame, then-No. 1 Virginia fell 16-14 to then-No. 4 Duke last Friday (March 31) at Klöckner Stadium.
UVA's Payton Cormier (6g), Xander Dickson (4g, 1a) Jeff Conner (3a) and Connor Shellenberger (3a) led the effort for the Hoos. At the faceoff X, Virginia's Petey LaSalla and Duke's Jake Naso went head-to-head on each of the game's 34 total faceoffs as LaSalla won 20 attempts.
With the win, the Blue Devils extended their regular-season win streak over Virginia to 17 straight games. Duke's Brennan O'Neill (6g, 3a) totaled nine points in the first of two regular-season meetings between the two teams.
When he's not in between the pipes or in the classroom pursuing two degrees (computer science & commerce), odds are goalie David Roselle is refining his self-developed mobile app, DoorList.#GoHoos️

— Virginia Men's Lacrosse (@UVAMensLax) April 6, 2023
SERIES HISTORY
Friday marks the 90th all-time meeting between the Cavaliers and Tar Heels, a series the Cavaliers own a 57-32 advantage in since 1938.
UVA faced the Tar Heels every year from 1964-2019 until COVID-19 shutdown the 2020 season.
After dropping seven of its previous eight contests to UNC from 2012-17, the Cavaliers have won seven of the series' previous eight games, including the last four.
Virginia is also riding a four-game win streak at Dorrance Field. The Cavaliers' last loss to UNC in Chapel Hill was in 2016.
MORE ON THE NORTH CAROLINA SREIES
The Cavaliers' 57 wins places the Tar Heels on UVA's list of most beaten opponents (UVA has defeated Duke 50 times).
The two teams squared off twice in the regular season in 2022 as the Cavaliers won both matchups.
At Dorrance Field last year, the Cavaliers trailed 10-9 at the half, but held UNC to just one goal in the second to complete the comeback by a final score of 15-11. Connor Shellenberger (4g, 3a) posted seven points in the win and short-stick defensive midfielder Grayson Sallade collected six ground balls.
Last year's 11-4 win over the Tar Heels at Klöckner Stadium on April 9 was UVA's largest win in the series since 2006, when the Cavaliers downed UNC 21-13 in Chapel Hill. The Tar Heels' four goals scored are their fewest in a single game since 2006 and fewest under UNC head coach Joe Breschi.
From 2004-12, Virginia tallied 10 consecutive wins over the Tar Heels, the longest win streak in the series since UVA rattled off 17 straight victories from 1949-75.
In 2018, UVA used seven points from Michael Kraus (3g, 4a) and four goals from Mike D'Amario to record its first ACC win since 2014 when the Cavaliers won, 15-12, at Kenan Stadium in 2018. The ACC win snapped an 18-game losing streak in league play.
VIRGINIA IN THE POLLS
At No. 3 in this week's USILA Coaches poll, Virginia has been ranked in the top 5 of the poll in 322 weeks all-time.
UVA has been ranked No. 1 in the nation in 70 all-time polls.
The USILA Poll began in 1973 and there have been 534 polls all-time.
CAVALIERS AMONG THE NATION'S STATISTICAL LEADERS
Virginia currently leads the nation in assists (12.38/gm), ground balls (40.88/gm), points (31.00/gm), scoring offense (18.62/gm) and shot percentage (.382). The Cavaliers are second in the nation in clearing percentage (.932), and third in man-up offense (.611) and scoring margin (6.50).
Connor Shellenberger leads the nation in assists (3.88/gm) and is third in points (5.62/gm). Xander Dickson is third in goals (4.00/gm), 10th in points (5.00/gm) and fourth in shot percentage (.553). Payton Cormier is fifth in goals (3.83/gm), eighth in points (5.17/gm) and fifth in shot percentage (.523). Cade Saustad is sixth in caused turnovers (2.12/gm).
VIRGINIA IS A GROUND BALL MACHINE
Since 2009, UVA has finished in the top 3 nationally in ground balls per game in all but one season and led the nation in ground balls per game eight times.
UVA is the only school in the nation to finish in the top 5 nationally in ground balls per game 13 times over the last 14 seasons.
The only school in 2016 to finish with more ground balls per game was UVA head coach Lars Tiffany's Brown team.
Virginia has led the ground ball battle in all nine games this year and its season high in ground balls is 53 vs. Richmond (March 4).
GOING STREAKING
Newcomer Thomas McConvey, a transfer in the midfield from the University of Vermont, is currently riding a 61-game point streak, which began on Feb. 1, 2019.
McConvey has registered at least one point in every game of his career.
His 61-game point streak leads the nation among all active players.
During his streak, McConvey has amassed 145 goals and 61 assists.
Also riding a substantial point streak is UVA attackman Payton Cormier, who has recorded at least one point in his last 36 games.
Cormier's 36-game point streak is currently the eighth longest in the nation. During his streak, which began on March 6, 2021, Cormier has registered 110 goals and 22 assists.
ON THE HORIZON
The Cavaliers return to the Old North State to take on Duke on Saturday (April 15).
Opening faceoff from Koskinen Field is set for 12 p.m. on ACC Network.