No. 1 Virginia Falls to No. 4 Duke, 16-14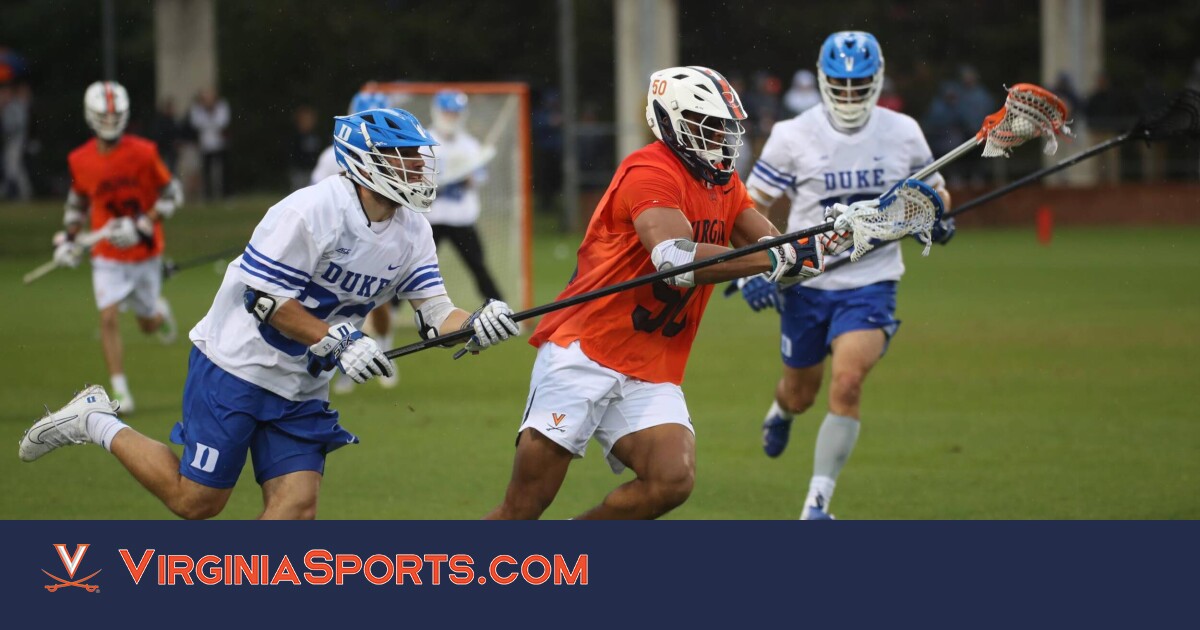 CHARLOTTESVILLE, Va. – The No. 4 Duke Blue Devils (10-1, 3-0 ACC) took an early lead, which they did not relinquish the rest of the way, to knock off No. 1 Virginia (7-2, 1-1 ACC), 16-14, in rainy conditions Friday evening (March 31) at Klöckner Stadium.
Duke attackman Brennan O'Neill tied his career high of nine points on six goals and three assists.
Virginia's Payton Cormier (6 goals, 15 shots) and Xander Dickson (4 goals) led the effort for the Cavaliers. Both Jeff Conner and Connor Shellenberger dished out three assists each.
The Cavaliers' man-up unit finished 4-for-6 and was led by Peter Garno, who notched a pair of scores off Shellenberger assists.
Matthew Nunes (7-2) made 14 saves as did Duke netminder William Helm (10-1). At the faceoff X, Virginia's Petey LaSalla and Duke's Jake Naso went head-to-head on each of the game's 34 total faceoffs as LaSalla won 20 attempts.
With the win, the Blue Devils extended their win streak over UVA in regular season games to 17 consecutive victories, a streak that began in 2008.
HOW IT HAPPENED
The Blue Devils led 3-2 at the end of the first quarter. After Duke registered the first two goals of the game, Cormier found the back of the net for UVA to help the Cavaliers settle in. Virginia cut it back to a one-goal game with 45 seconds left when Conner found a cutting Dickson, who quick-sticked his 33rd goal of the season.
Four minutes into the second, the Blue Devils embarked on a 4-0 run, the second-longest scoring spree by a UVA opponent this season. Cormier's second unassisted goal of the day halted the Duke run with 7:22 left in the half. The Cavaliers went on to close out the second period by scoring four of the last five goals, all of which were by Cormier or Dickson. The Blue Devils clung to an 8-6 lead at the intermission.
Both teams traded the first three goals before Duke scored three straight, including a pair by O'Neill, to secure a 12-8 lead. Virginia's man-up unit netted its first two goals on a Duke non-releasable penalty to cut the Cavaliers deficit back to one, 12-11. However, the Blue Devils scored the next three goals to close out the period and regain a four-goal lead [15-11].
O'Neill's sixth and final goal of the game kicked off the scoring to start the fourth less than 90 seconds in. For the first time this season, UVA short-stick defensive midfielder Grayson Sallade buried a goal with 9:11 to play. The Cavaliers would score two more times, both of which on man-up opportunities, but the Blue Devils' defense pestered UVA down the stretch to hold on for their 10th win of the season.
FROM THE LOCKER ROOM
Lars Tiffany on today's effort…
"I really appreciate the fight back we had. It's just unfortunate – it's was one of those days we were always down. You know, right out of the gate we were down two, three goals. But I love that this team was determined to not let this one slip away."
Lars Tiffany highlighting today's standout performances…
"I'm really proud of what Matt Nunes did in goal, despite the barrage he was facing. And certainly, what a couple guys on offense [did], Payton [Cormier] and Xander [Dickson]. Just chipping away, and not giving in, and not giving up. So, I'm very grateful to coach a group of men that is, you know, sick and tired of losing the Duke, and did everything they could to prevent that from happening, even though it still happened."
NOTES
Virginia's man-up unit finished 4-for-6. Its four EMO goals are the most since tallying five against Robert Morris in the first round of the 2019 NCAA Tournament.
With one goal, Thomas McConvey extended his point streak to 61 games. Having registered at least one point in all 61 career games, McConvey's streak is the longest among all active Division-I players. For his career, McConvey has amassed 145 goals and 61 assists.
With six goals, Payton Cormier extended his point streak to 36 games. During his streak, Cormier has registered 110 goals and 22 assists.
With 136 career goals in 47 games, Cormier is now tied for eighth with Ben Rubeor on UVA's career goals list.
Cormier's six goals tied for the most by a UVA player in the series, which began in 1938. He is just the fourth UVA player in program history score six goals against the Blue Devils.
Petey LaSalla finished 20-for-34 at the faceoff X, which moved him to No. 6 all-time on the NCAA's career faceoffs won list. LaSalla now has 932 career faceoff wins in 69 career games.
LaSalla also moved to No. 4 on the NCAA's career faceoffs taken list with 1,553.
UP NEXT
The Cavaliers travel to North Carolina (7-3, 1-1 ACC) on Friday (April 7). Opening faceoff from Dorrance Field is set for 6 p.m. on ACC Network.