No. 1 Virginia Hosts No. 4 Duke in ACC Home Opener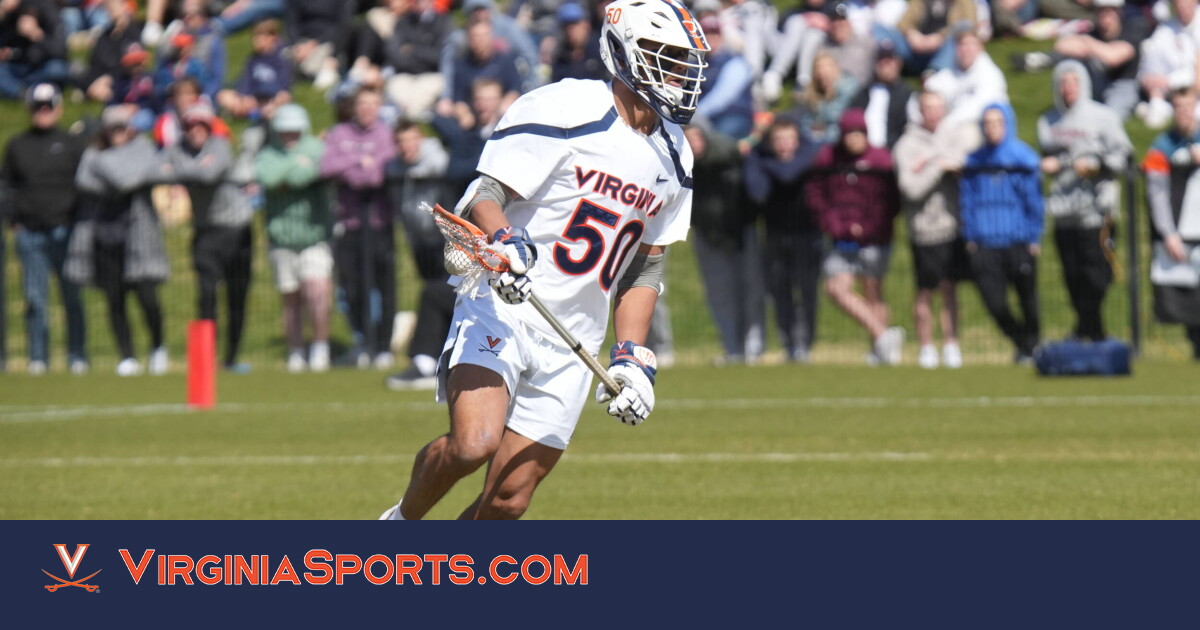 CHARLOTTESVILLE, Va. – No. 1 Virginia (7-1, 1-0 ACC) hosts No. 4 Duke (9-1, 2-0 ACC) in its first home ACC contest of the season on Friday (March 31). Opening faceoff from Klöckner Stadium is set for 5 p.m. Anish Shroff (play-by-play) and Quint Kessenich (analyst) will have the call on ESPNU.
️ Head coach Lars Tiffany, Payton Cormier and Scott Bower sound off on the Hoos' upcoming heavyweight matchup against the Blue Devils…

🆚 #4 Duke (9-1, 2-0 ACC)
️ Klöckner Stadium
️ Friday, March 31
5 p.m.
️ https://t.co/uRMEjdslxx pic.twitter.com/aafmwowVlP

— Virginia Men's Lacrosse (@UVAMensLax) March 29, 2023
MORGAN'S MESSAGE GAME
Friday's contest is dedicated to the life and legacy of Morgan Rogers, a former Duke women's lacrosse student-athlete who tragically passed away in 2019 after struggles with mental health.
Morgan's Message is a non-profit organization that strives to amplify stories, resources and expertise to strengthen student-athlete mental health, builds a community by and for athletes through peer-to-peer conversations and provides a platform for advocacy.
UVA players will wear a special warmup shirt to honor Morgan's Message and Rogers' legacy.
Friday's home contest against Duke (5pm) will serve as our annual @MorgansMessage game 🦋

It's our honor to dedicate Friday's game to the life & legacy of Morgan Rogers, a former @DukeWLAX student-athlete who tragically passed away in 2019 after struggles with mental health. pic.twitter.com/Tk1tJCM3R2

— Virginia Men's Lacrosse (@UVAMensLax) March 29, 2023
LAST TIME OUT
After suffering their first loss of the season in overtime to Maryland, the Cavaliers rebounded with a 15-10 win over then-No. 1 Notre Dame at Arlotta Stadium last Saturday (March 25).
UVA attackmen Xander Dickson (6g, 1a), Connor Shellenberger (2g, 5a) and Payton Cormier (2g, 2a) combined for 18 points.
Virginia's win snapped the Fighting Irish's 12-game win streak, which led the nation. Their previous loss was to UVA at Klöckner Stadium last season. The Cavaliers' 15 goals scored are third most by Virginia in the series and most since 1994.
SERIES HISTORY
Virginia leads the all-time series over the Blue Devils, 50-36, including a 27-12 record in Charlottesville, however Duke has won 10 of the last 11 meetings.
The last time the two teams met at Klöckner Stadium was in 2021, when the Blue Devils won 13-12 in overtime.
Before falling in the lone matchup in 2021, UVA defeated the Blue Devils in double-overtime on an Ian Laviano game-winning goal in the 2019 NCAA Tournament semifinals at Lincoln Financial Field.
The Cavaliers have dropped their last 15 regular-season meetings against Duke. UVA's last regular-season win over the Blue Devils was a 13-4 victory on April 17, 2004.
Virginia has lost its last eight contests in Charlottesville to the Blue Devils.
UVA and Duke have different all-time series records due to the fluidity of when a program was a "varsity" sport up until the conclusion of WWII. UVA lists its "varsity only" record against Duke above.
VIRGINIA IN THE POLLS
At No. 1 in this week's USILA Coaches poll, Virginia has been ranked in the top 5 of the poll in 321 weeks all-time.
UVA has been ranked No. 1 in the nation in 70 all-time polls.
The USILA Poll began in 1973 and there have been 533 polls all-time.
CAVALIERS AMONG THE NATION'S STATISTICAL LEADERS
Virginia currently leads the nation in assists (12.38/gm), ground balls (40.88/gm), points (31.00/gm), scoring offense (18.62/gm) and shot percentage (.382). The Cavaliers are second in the nation in clearing percentage (.932), and third in man-up offense (.611) and scoring margin (6.50).
Connor Shellenberger leads the nation in assists (3.88/gm) and is third in points (5.62/gm). Xander Dickson is third in goals (4.00/gm), 10th in points (5.00/gm) and fourth in shot percentage (.553). Payton Cormier is fifth in goals (3.83/gm), eighth in points (5.17/gm) and fifth in shot percentage (.523). Cade Saustad is sixth in caused turnovers (2.12/gm).
THE CAVALIERS AT KLÖCKNER STADIUM
Virginia saw its 13-game home win streak at Klöckner Stadium come to an end after falling to then-No. 3 Maryland, 14-13, in overtime on March 25, 2023.
Virginia owns a 170-44 (.794) all-time record at Klöckner Stadium, including a 4-1 record in 2023, and has won 21 of its last 25 games played at the historic edifice.
The Cavaliers' average margin of victory in their last 25 games at Klöckner Stadium is 5.88 goals.
Virginia is 44-12 (.786) all-time at Klöckner Stadium under head coach Lars Tiffany.
UVA is also 13-3 all-time at Klöckner Stadium in the NCAA Tournament.
Lacrosse debuted in Klöckner Stadium in 1993.
DICKSON NAMED TEWAARATON AWARD WATCH LIST SECOND ROUND ADDITION
Xander Dickson became Virginia's fifth Tewaaraton Award Watch List selection, joining teammates Connor Shellenberger, Cole Kastner, Petey LaSalla and Payton Cormier, the Tewaaraton Foundation announced March 30.
One of the nation's top goal scorers, Dickson currently leads UVA in goals (32) and is second in points (40).
Dickson has scored six goals in three different games this season, including UVA's 15-10 triumph at then-No. 1 Notre Dame (March 25).
Xander Dickson @Tewaaraton Award consideration

Dickson is currently third in the nation and leading the ACC in goals (4.00/gm).

https://t.co/KAFCue9kkg pic.twitter.com/6RmLw6awwV

— Virginia Men's Lacrosse (@UVAMensLax) March 30, 2023
GOING STREAKING
Newcomer Thomas McConvey, a transfer in the midfield from the University of Vermont, is currently riding a 60-game point streak, which began on Feb. 1, 2019.
McConvey has registered at least one point in every game of his career.
His 60-game point streak leads the nation among all active players.
During his streak, McConvey has amassed 144 goals and 61 assists.
Also riding a substantial point streak is UVA attackman Payton Cormier, who has recorded at least one point in his last 35 games.
Cormier's 35-game point streak is currently the eighth longest in the nation. During his streak, which began on March 6, 2021, Cormier has registered 104 goals and 22 assists.
"We've been doing that our whole lives."

Payton Cormier and Thomas McConvey have brought a Canadian flair to @UVAMensLax with a connection the duo developed growing up in Ontario since they were ten-years-old: https://t.co/h7LTLm7AIr pic.twitter.com/LhyMQeMIDs

— Preston Willett (@PrestonWillett) March 30, 2023
ON THE HORIZON
The Cavaliers travel to North Carolina (7-3, 1-1 ACC) on Friday (April 7).
Opening faceoff from Dorrance Field is set for 6 p.m. on ACC Network.