Playing Lacrosse in the MCLA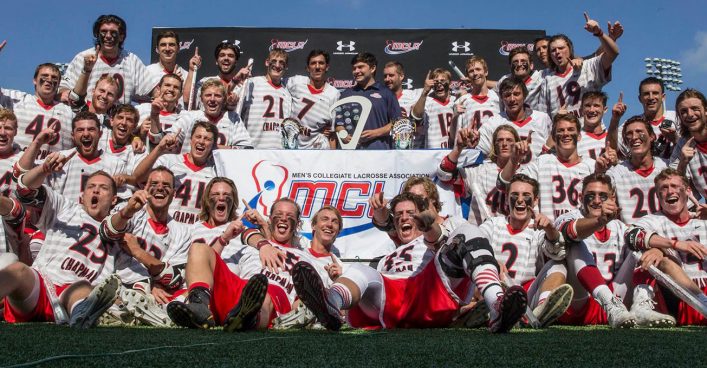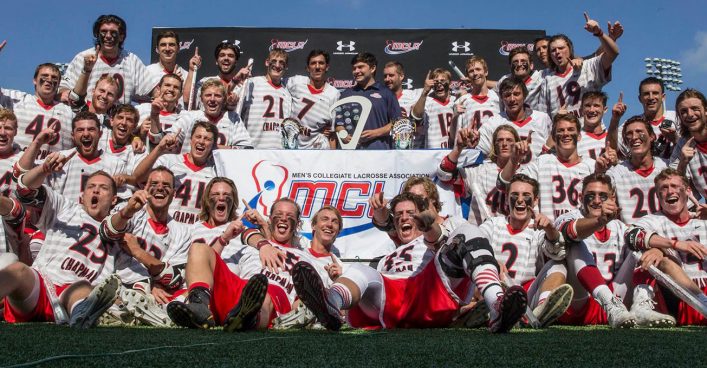 The Men's Collegiate Lacrosse Association (MCLA) has developed into an attractive alternative for scholastic players who don't land in NCAA programs.
While there is little argument that the NCAA represents the elite level of lacrosse at the college ranks, there are plenty of MCLA programs fielding excellent teams with very dedicated student-athletes.
I played goalie in the MCLA and had an amazing experience. In this post I want to share some answers to common questions I've gotten about playing lacrosse in the MCLA.
All of these responses are based on my experience playing in the MCLA for Cal and I should caveat all my responses by saying that I graduated some years ago.
Things may have changed but based on my conversations with current players and coaches I do believe most of the info is accurate.
What is the MCLA?
The Men's Collegiate Lacrosse Association (MCLA) is a confederacy of 10 non-varsity college lacrosse conferences featuring over 200 teams in two divisions across 43 states. There's even a team in Canada (hello, Simon Fraser).
The MCLA provides a governing structure similar to the NCAA, consisting of eligibility rules, national polls, and a national tournament to decide national champions for both Divisions I and II.
On an individual scope, the MCLA's rules and structure promote "virtual varsity" lacrosse. On a national scale, the MCLA's infrastructure supports a level playing field through eligibility rules and enforcement, along with the use of NCAA rules of play.
The MCLA's goal is to provide a quality college lacrosse experience where varsity lacrosse does not yet exist.
Programs use the "virtual varsity" name because the level of effort put in by the players does mimic that of a Division 1 NCAA varsity program. Of course it does of course vary by program.
MCLA teams receive very little (if any) financial support from their schools and are typically self-funded by the players through player dues, donations, fundraisers, and/or apparel sales.
The teams are run by elected members of the team – Team President, Team Treasurer, etc.
For those who want to continue their lacrosse goalie career but can't compete at the NCAA level, an MCLA school is a tremendous option.
What's the talent level of the MCLA?
The MCLA is extremely competitive.
On any given MCLA Division 1 team you'll see players who have serious talent. Players who could easily make NCAA Division 1 teams.
I think the primary difference in talent in the MCLA vs. the NCAA is the depth.
Whereas the 3rd string goalie on Notre Dame's lacrosse team was probably a star on his high school team, an MCLA team might not even have a 3rd string goalie. And the 2nd string goalie might have just started playing his freshman year of college.
Same goes for the lines of attack, middie, and defense.
The MCLA is competitive. Teams play to win. This isn't a beer league where everyone gets equal playing time. During the season, coaches will stick with playing their top lines as much as possible and definitely will only play their #1 goalie.
The top 30 or 40 Div 1 MCLA and top 25 MCLA Div 2 teams tend to have tough schedules, travel nationally, and even scrimmage NCAA programs.
During my Cal days we played several NCAA teams like Whittier college (loss) and MIT (win).
So if you're brand new to the sport of lacrosse I fully encourage you to go out for the team but tamper your expectations regarding playing time. At least for the 1st year or 2, you'd be surprised with hard work and passion, how quickly you can pickup the game.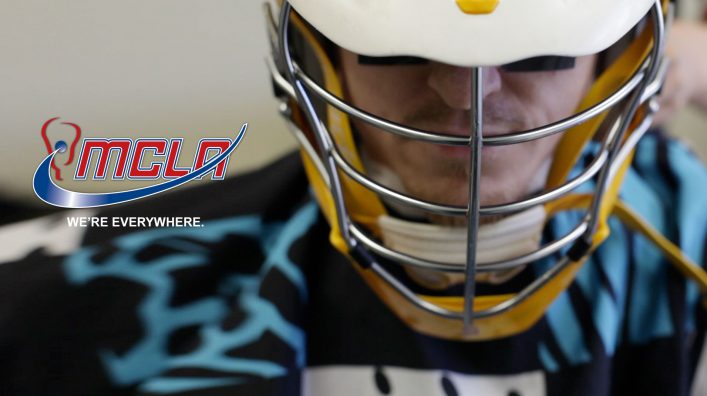 Can you walk on to an MCLA team?
It's possible.
Many MCLA teams, given their lack of depth, are in need of players who are 1.) athletes and 2.) have the right attitude.
There are some MCLA teams that are stacked. Chapman, Cal Poly, BYU have great teams as of this writing. Trying to walk onto those teams would be extremely difficult if you didn't already have some lacrosse experience.
But an MCLA team outside the top 25 might be hurting for additional players to help fill out their roster. In that case, they'll take walk-ons who are enthusiastic about learning the game, are willing to work hard to improve and possess some athletic ability.
In my years at Cal, we would get players who walked onto the team with no lacrosse experience. We only made cuts if the player didn't have the right attitude or had absolutely zero athletic ability.
This year Cal has a recruiting class of 17 players (!) and only graduated 3 seniors last year so it might be difficult to walk on to the team this year without any high school lacrosse experience.
Even if you make the team, playing time is a different story. As a new lacrosse player or goalie you shouldn't expect to see a lot of playing time while you're learning the game.
How do you get recruited to play in the MCLA?
Most MCLA teams don't have a big recruiting budget (if they even have one at all), so don't expect to see a ton of MCLA coaches at summer tournaments, camps, and showcases that are not located in physical proximity.
Cal Poly's head coach is not going to recruit at a tournament in New Jersey but he might make an appearance at a Southern California based event. The camps and showcases near the schools you want to attend are a good way to get your skills out there and meet coaches.
I would say your best bet is to produce a good highlight tape and send it to the coaches. Check out my lacrosse recruiting guide for additional tips.
The camps, tournaments, and showcases – while they may not be attended by MCLA coaches – are excellent opportunities to get some good film from which to make a highlight video.
Most MCLA teams will have a website with a "Recruiting" section. This is an excellent place to 1st get the head coaches' or the team president's attention.
Here is Cal's Recruiting form. Here is Cal Poly's recruiting form. Here is Chapman's recruiting form. These are pretty easy to find just by searching for the team's website.
Once you get in contact with the coach and there's mutual interest you can organize a campus visit during which you can check out the campus, meet with the coach, watch some practices, and meet/hang out with the current players. We hosted recruits like this frequently.
I would say your sophomore year of high school is a good time to start contacting coaches. But if you're reading this and you're currently a junior or senior, don't worry, still reach out.
Since the MCLA doesn't have much pull with the university you'll need to be accepted to the college on your own merit. Rarely can MCLA lacrosse teams influence a university's acceptance decision. I've seen it happen before where the lacrosse team can "flag" a player to help with admissions but it's so rare that I wouldn't count on it. So hit the books!
What's the schedule like on an MCLA team?
Here was my experience at Cal. Obviously this will defer depending on the team but I would say my experience is what the average MCLA team does.
For Fall Ball, we practiced 3 days a week along with team weight room workouts, runs, and wall ball sessions.
In January, the team came back from Winter break a week before the Spring semester officially started for a week long training camp with double days.
During the Spring we practiced every day during the week, Monday through Friday for 2 – 3 hours a session. Some weekends we had off, others we'd meet for a team jog, video session, or something like that.
As we got closer to games, we watched and analyzed more video too as a part of our practice sessions.
During my Cal days, our head coach was Joe Proud, an All-American defenseman from Duke University. So we ran physically intense, NCAA style practices.
Games started around the 1st week of February. We'd then have a game per week with bye weeks sprinkled in here and there.
Sometimes more games per week if we were on a road trip. For example, on a road trip to LA we'd play both UCLA and USC to take advantage. Same thing with an Arizona trip, we'd play both ASU and Arizona.
Again, we don't have the travel budget of an NCAA team so you have to take advantage of the trips in to get in as many games as possible.
We would always take a lacrosse trip during Spring Break.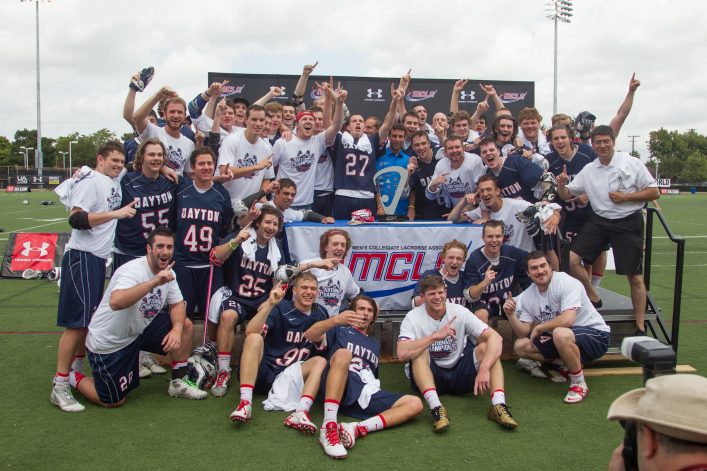 Lacrosse / School Balance While On an MCLA team
I studied engineering at Cal Berkeley which is a pretty rigorous curriculum.
However I found that when well organized I could easily balance my school workload with my lacrosse life and still have a social life on top of that. I was in a fraternity at Cal.
For me, I always knew in the Spring that I didn't have time to mess around. I got into trouble in the Fall where I knew I had more time to goof off and would procrastinate. But in the Spring if I had free time I knew I had to use it to study.
Overall I would say that a focused student will have no problem balancing lacrosse with school work, even if you pick a more rigorous major like engineering, pre-med, etc. It will be challenging for sure, but the reward of getting to play lacrosse is totally worth it.
Playing lacrosse in the MCLA allows you to have a college lacrosse experience but also have a life off the field.
Can I play MCLA lacrosse if I've never played before?
Depends on the team.
There are 3 ways to be dominant at lacrosse. 1.) Be in better shape. 2.) Be a better athlete. 3.) Be a better lacrosse player
If you're a new player, the last option will not be true.
But I don't think there are many coaches in the MCLA that will turn away a player who is in better shape and is a better athlete than other players on the team.
So you if you want to increase your odds of making an MCLA team and having an impact, you will need to prepare with some serious training before you show up to the 1st day of fall ball or tryouts.
Simply put, if you can run faster and longer than the other players you are going to make the team and get playing time.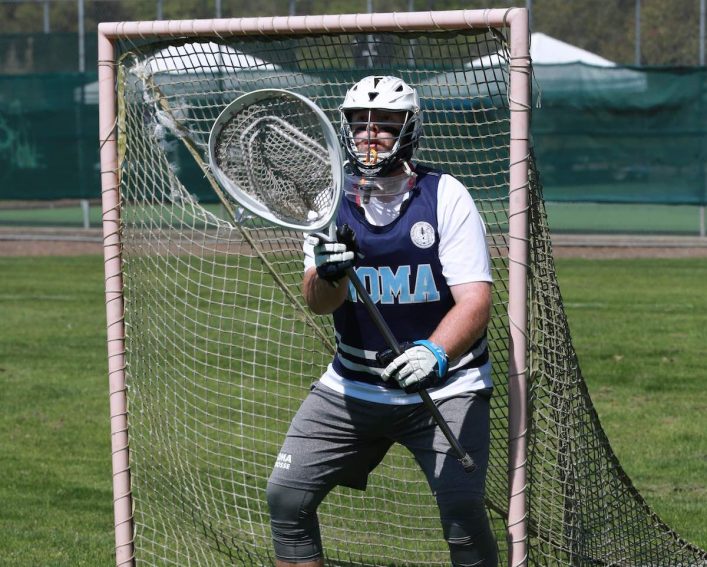 Why the MCLA might be a better choice for you
If you're an experienced lacrosse player and have options to play at D2 or D3 schools (even D1), here's why you might consider attending a college with an MCLA program.
Better Degree
At the end of the day, lacrosse is not going to pay your bills. Even players in the MLL have side jobs because they don't earn enough money from professional lacrosse.
So if you're faced with the decision of playing at a small no-name D3 college vs. a top academic university (Stanford/Cal/UCLA)  in the MCLA, the better degree might be the way to go.
Of course there are plenty of D1 lacrosse programs at great academic universities too (hello Ivy League). Just something to consider as you decide where to attend college.
Better Weather 
Most MCLA programs are out west. So if the idea of playing lacrosse in 65 degree weather in Arizona or California during the winter is appealing to you, then you might consider the MCLA.
Of course, not all MCLA programs have better weather but I've never played a home game in the snow. I have played on the beach. Just sayin'.
More Playing Time
The NCAA attracts the top lacrosse talent in the world. There's no doubt about that. So if you're good at lacrosse but not the top talent in the world you could spend the majority of your NCAA college lacrosse experience on the bench.
As a goalie who's been on the bench and been the starter, I can say without a doubt that being the starter is more fun.
On an MCLA team you'll have a better chance at seeing the field for games, a better chance to make an impact on the team, and a better chance to be a star of the team.
Podcasts with MCLA Goalies
On my podcast I've had the chance to chat with a few goalies who play / played in the MCLA. Listen to their experience:
Conclusion
Playing goalie in the MCLA was the best decision I made in college.
I'm so grateful to the game of lacrosse for giving me so much. If you're contemplating playing lacrosse at college, I offer you this simple advice – do it.
The MCLA is extremely competitive and will give you a quality college lacrosse experience.
Until next time! Coach Damon
Anyone have a different experience on an MCLA lacrosse team? Let me know about it in the comments below.