Virginia's Attack Lifts Third-Ranked Hoos Over No. 1 Notre Dame, 15-10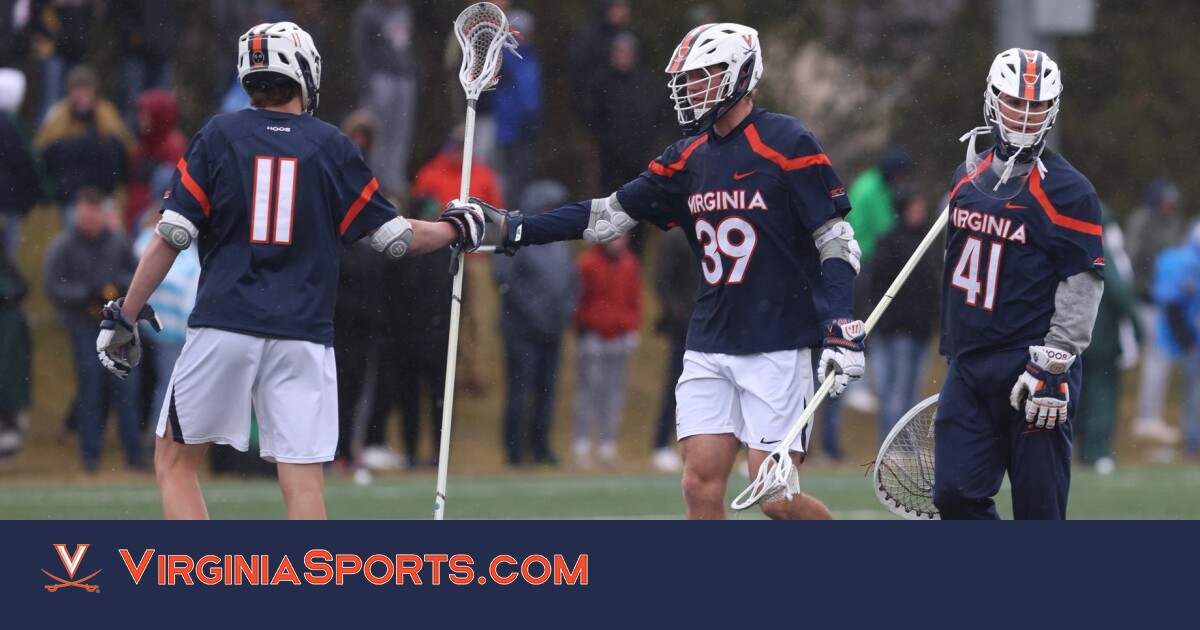 NOTRE DAME, Ind. – No. 3 Virginia (7-1, 1-0 ACC) attackmen Xander Dickson (6g, 1a), Connor Shellenberger (2g, 5a) and Payton Cormier (2g, 2a) combined for 18 points to lead the Cavaliers in a 15-10 victory over No. 1 Notre Dame (6-1, 0-1 ACC) at Arlotta Stadium on Saturday afternoon (March 25). Saturday's result snapped the Fighting Irish's 12-game win streak, which led the nation. Their previous loss was to UVA at Klöckner Stadium nearly one year ago (March 26, 2022).
The win marked UVA's 16th over a No. 1 opponent all-time and first since defeating Maryland 17-16 in the 2021 national championship game. It was also Cavaliers' fifth straight win in the series and their 15 goals are second-most in series history and most since 1994. Coming off a 14-13 overtime loss to Maryland last week, Virginia has now won its last 17 games following a loss.
Virginia faceoff specialist Petey LaSalla finished 17-for-29 at the faceoff X. Goalie Matthew Nunes (7-1) saved 14 of Notre Dame's 24 shots on goal. Nunes' 14 saves tied his own series record, which he set in last year's win.
HOW IT HAPPENED
Notre Dame struck first at the 12:10 mark when Chris Kavanagh scored his 19th goal of the season on his brother's (Pat Kavanagh) 19th assist of the year. After Kavanagh's initial score, the Hoos closed out the first period with five straight goals, including one man-up. Shellenberger scored on a dodge from X with 9:24 to kick off scoring for UVA. After Jeff Conner registered his seventh goal of the season, Cormier scored back-to-back goals, including UVA's 11th man-up goal of the season. Dickson notched the final goal of the first quarter with 1:32 remaining on an assist by Shellenberger. Shellenberger would assist on three more Dickson goals the rest of the way. LaSalla won six of the game's first seven faceoffs.
Put him in a bₗₑₙdₑᵣ#GoHoos pic.twitter.com/8DipWvrk5N

— Virginia Men's Lacrosse (@UVAMensLax) March 25, 2023
Virginia held the Irish scoreless for 17:53 of game time before Notre Dame cut into the UVA lead [5-2] with 9:17 left in the first half. The two teams traded the next four goals, including two by Shellenberger and one by Ricky Miezan, his fifth of the season.
The last time Ricky was in South Bend, he had two tackles for Stanford!

🥍 Today, he has a goal for Virginia!#GoHoos pic.twitter.com/Qj8VhSFyRU

— Virginia Men's Lacrosse (@UVAMensLax) March 25, 2023
The Irish closed out the half by netting their fifth goal of the game with 21 seconds left in the second as UVA clung to a 7-5 lead at the half. Virginia's two-goal lead at the break marked the first time this year the Irish trailed at the half. LaSalla finished the half 10-for-14 at the center X.
"At UVA, we pride ourselves on the ride!" pic.twitter.com/LcfRqPtiQt

— Virginia Men's Lacrosse (@UVAMensLax) March 25, 2023
After the Kavanagh brothers scored the first two goals of the second half, Dickson scored back-to-back goals to extend UVA's lead back to 9-7. Patrick McIntosh got on the board with his 13th score of the season on an unassisted goal. Less than two minutes later, Shellenberger found a cutting Dickson, who buried a shot from the crease to cap a 4-0 UVA run.
A 𝓅𝓇𝑒𝓉𝓉𝓎 pass

A 𝓅𝓇𝑒𝓉𝓉𝓎 goal pic.twitter.com/vz2qq8sDbC

— Virginia Men's Lacrosse (@UVAMensLax) March 25, 2023
After a push with possession was called on UVA during a faceoff scrum, the Irish ripped their second extra-man goal with 4:27 to go. Thomas McConvey (1g, 1a) and Dickson scored for Virginia, but Notre Dame received another late-period goal – this one with 10 seconds left – to cut its deficit to 13-9 at the end of the third.
🇨🇦-to-🇨🇦 connection#GoHoos pic.twitter.com/IYaOn0t1j0

— Virginia Men's Lacrosse (@UVAMensLax) March 25, 2023
Snow started to fall at Arlotta at the top of the fourth quarter. Neither team found the back of the net until the 8:24 mark when Peter Garno fired a shot on the run, registering his sixth goal of the year. Dickson tallied UVA's 15th and final goal of the game on an assist from Cormier with 5:07 to play. The Irish only managed one goal in the fourth quarter as Nunes recorded sixth saves in the final period.
Checkout the footwork!#GoHoos pic.twitter.com/7jYRSrmMYz

— Virginia Men's Lacrosse (@UVAMensLax) March 25, 2023
FROM THE LOCKER ROOM
Lars Tiffany on today's big individual performances …
"What a great day for Virginia lacrosse, highlighted by some exemplary performances starting with [Matthew] Nunes in the goal. He gave us consistency throughout the game and then stepped up huge in the fourth quarter. Petey LaSalla: it was a battle at the faceoff X. Notre Dame's faceoff men did a fantastic job countering Petey, but he was able to scrap for ground balls and Scott Bower picked up a bunch of tough ones. What Cade Saustad and Cole Kastner did to be able to neutralize the Kavanagh brothers and not allow them to break down our defense that often was incredibly important for our team defense. And then certainly when you've got Connor Shellenberger as a quarterback finding Xander Dickson and the others. What an incredible performance by Xander with his six goals. It's a team effort obviously, but I really wanted to highlight some massive performances by individuals here at UVA Lacrosse."