Quint Kessenich's Top 20: March 27, 2023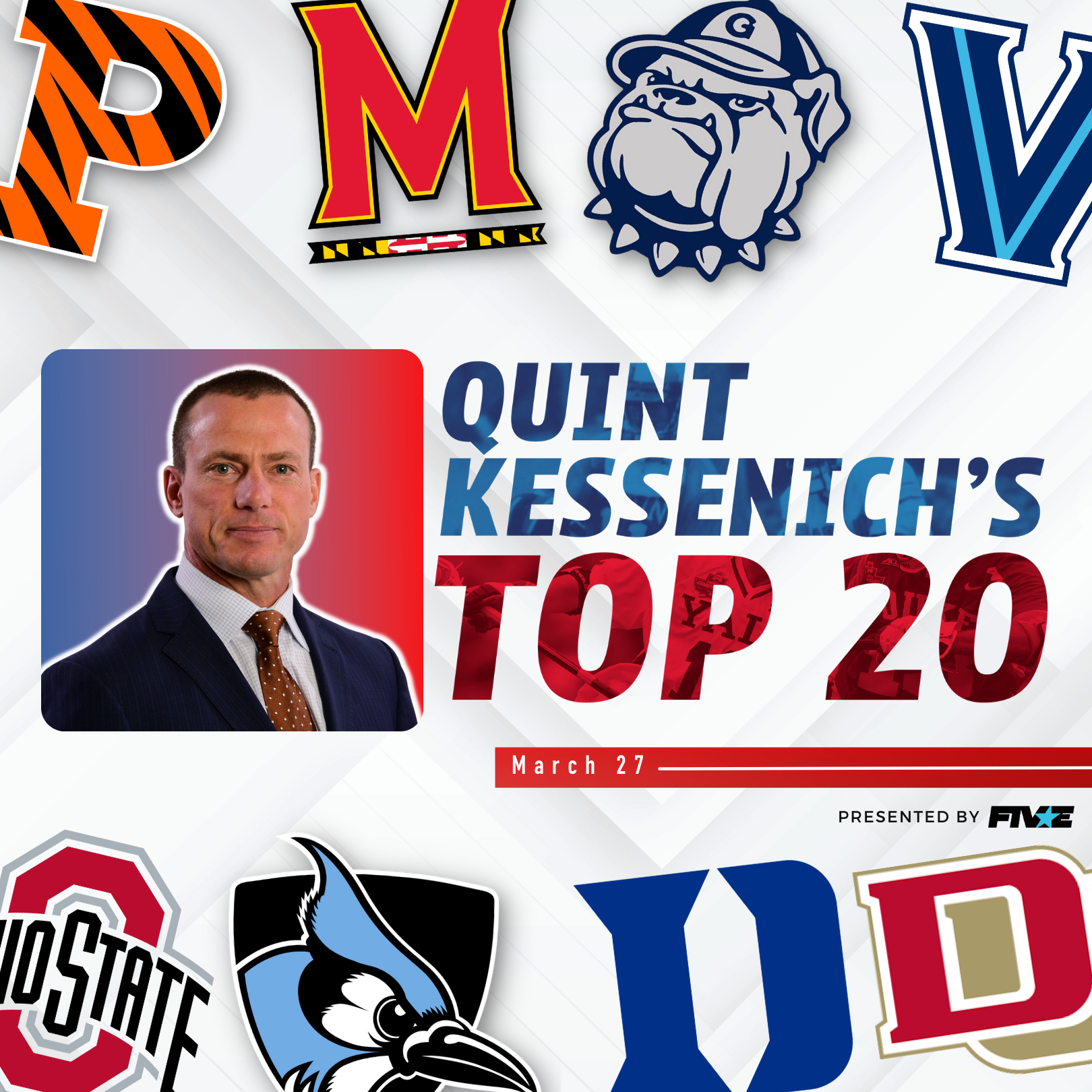 Quint Kessenich covers lacrosse for the ESPN networks. His podcast drops every Thursday and can be listened to anywhere podcasts can be found.
Twitter: @QKessenich
Instagram: @quintekessenich
Facebook: Quint Kessenich
LinkedIn: Quint Kessenich
Quint Kessenich's Top 20
20) Delaware
The Hens (6-3) bounced back after a Sunday loss to Hopkins by defeating conference rival Hofstra 15-7. Tye Kurtz now has 49 points after nine games. Delaware is the team to beat in the CAA and will get tested by Drexel, Stony Brook, Monmouth and Towson in the regular season and league tournament. 
The Blue Hens host Hampton in a CAA conference game on April 1.
19) Loyola
The Hounds (5-3) lacked offense in a loss at Army. They pocketed wins over Maryland and Hopkins in early February, which seems hard to believe. They are #8 in the RPI and playing like a borderline Top 20 team with one goal wins over Bucknell and Towson. 
The Hounds tangle with Holy Cross this weekend. 
18) Denver
The Pioneers are (4-3) coming off a rare bye week and fly to Washington, D.C., for a crucial Big East game at Georgetown. The league has three killers, so garnering the top seed has its advantages come league playoff time.
17) Boston University
The Terriers (7-1) had a productive week beating Harvard and Lafayette. They needed five goals in the final quarter to dispatch the pesky Leopards. Timmy Ley became the program's all-time points leader in the process. They were down 8-5 midway thru the third quarter. LSM Roy Meyer surpassed the 100 caused-turnover mark in the win. BU plays Navy on Friday night.
16) Princeton
I think when the dust settles, the Tigers (3-4) will be the second best team in the Ivy League behind Cornell and will have ample opportunities to climb up the leaderboard after an awful February and early March. Coulter Mackesy scored 8 times in the 23-10 demolition of Yale. I dropped the Bulldogs out of my Top 20 after giving up 43 goals in two weeks. The Princeton win snapped a four-game losing streak. Brown is up next. Princeton's main goal right now is qualifying for the four team Ivy League Tournament at Columbia in NYC in May. They will not have an at-large resume, even if they win out. They appear to be a good team with a bad record. 
15) Rutgers
Shot selection and execution was awful in an 11-7 loss in Columbus on Sunday night. Sidearm releases and aiming for corners isn't the answer. Shooting 17% rarely wins games. Rutgers non-league schedule isn't top tier, their SOS ranks #21 in the country, meaning there is significant work to do. They trailed throughout after opening the game by shooting 2 for 20 and failing to match the urgency of the Buckeyes, who's season felt like it was on the brink after playing non-league titans. LSM Ethan Rall was a bright spot. 
RU is at Hopkins on Saturday at 3:00pm on ESPNU. 
14) Ohio State
The Buckeyes took some lumps playing heavyweights like Virginia, Notre Dame and Cornell with a SOS that ranks #7. It wasn't a surprise when they circled the wagons on a Sunday night at home and defeated Rutgers 11-7 in front of a lively crowd. The new facility sparkles on TV. I like the OSU defense. They have a pair of top cover men in Marcus Hudgins and Bobby Van Buren. The shorts are above par for the level. Goalie Skylar Wahlund was sharp. This is a team that'll win with defense first. Bucks are at Penn State on Sunday at noon (ESPNU).
13) Georgetown
The Hoyas snuck past Lehigh 17-15, their fourth straight win of 2023. Georgetown (4-3) got six goals from Tucker Dordevic and three from Patrick Crogan. FOGO James Reilly and Lehigh's Mike Sisselberger staged an epic battle between two future pros with Sisselberger going 16 of 26 and Reilly winning 15 of 32 while scooping up 15 grounders. Lehigh had 25 turnovers and Georgetown went 3 for 4 with the extra man. 
Big East league play starts on Saturday with the Pioneers in The Swamp. 
12) Penn
The Quakers (3-4) have terrific shooters but a shortage of passers and dodgers not named Sam Handley. Penn couldn't win enough faceoffs on Sunday. None of the Ivy's have a dominating FOGO this year which helps explain the 1-10 record against the Big Ten and ACC. Penn played too much defense on Sunday at Cornell and took a 18-12 loss. They are still finding their flow on offense without Dylan Gergar. According to Anish Shroff, since start of last season 15 of Penn's 23 games have been decided by two goals or less (8-7 record). Ten games have been decided by one goal (7-3 record) and seven games have gone into OT (5-2). Penn welcomes Yale to the City of Brotherly Love.
11) Jacksonville
The Dolphins (7-1) have won seven straight, the latest being an unimpressive 18-15 victory over Mercer. Give the Bears credit for not quitting and making things difficult for JU. Jackson Intrieri had a big game. Jax travels to Cleveland State on Wednesday in their quest to win the Atlantic Sun. The Dolphins are in pursuit of the league AQ because with an SOS of #56 and an RPI of #19, that's the open avenue.
10) Johns Hopkins
On a rainy, cold, and windy night in Ann Arbor, Hopkins defeated Michigan 15-11 utilizing a 7-1 run. This game was sloppy. Michigan makes all sorts of mistakes, they don't play a detailed brand of lacrosse and Hopkins made them pay. Garret Degnon, Russell Melendez, and Brendan Grimes starred combining for 13 of the 15 goals. The maize and blue had 20 turnovers, 7 failed clears, and got very little production from the midfield. Michigan did score an empty net goal against the Hopkins ten-man ride. You can not utilize a ten-man ride without ball pressure. Hopkins played goalie Luke Caracciolo in the second half as starter Tim Marcille was struggling with the optics of rain and lights. The lefty transfer from Bryant played confidently. Defender Alex Mazzone continues to flash. 
Hopkins, with an RPI of #5 right now, welcomes Rutgers to Homewood Field next. The Jays (8-3) have wins over Jacksonville, Georgetown, Utah, Saint Joseph's, Syracuse, Navy, Delaware and Michigan. 
9) North Carolina
The Tar Heels went 3-1 during a four game stint in just nine days. They captured high scoring wins over Providence, High Point, and Dartmouth, with a road loss to Duke. Lefty attackman Logan McGovern has become the go to guy. UNC is playing tons of personnel on offense and further growth is expected. The shooting has been terrific. They have an awkward schedule the rest of the way.
UNC (7-3) is off this weekend. They play Virginia on Friday April 7, Syracuse on April 15 in Olney, MD, at Good Counsel High School, at Notre Dame on April 22, then have a bye week before finishing with Notre Dame on May 6. So that's two off weeks and ACC competition only for a team that's firmly on the NCAA Tournament bubble with a singular win over Hopkins and losses to Ohio State and Denver. They will need to hold serve against the Orange and steal an additional win in the ACC.
8) Army
Army (7-1) dropped their opener to UMass and have won seven straight, the latest on Saturday over Loyola. The Cadets defense clamped down on the Hounds while their offense scored five straight goals during the middle of the game for a 10-5 victory. They pulled away after the game was knotted at 4-4. Coach Joe Alberici and his staff doing sensational work with a young roster after the graduation of 19 seniors. This team keeps taking positive steps forward behind the scoring acumen of Reese Burek, Evan Plunkett, Paul Johnson, and Jacob Morin. Their SOS is just #43 so it'll be interesting to watch their game with Cornell later this spring. 
Bucknell and Army play on Saturday. 
7) Penn State
I finally got to watch some PSU tape and saw their Maryland game live on Saturday. They are playing a clean and efficient brand of lacrosse, avoiding self-inflicted wounds and shooting well. The interior passing is notable, as is the organized defense and solid goaltending. Their compete level is high, playing a spirited brand of lacrosse. Defensive Coordinator Joe Bucci has done wonderful work with the defense. Their 13-10 loss to Maryland was nothing to get upset about. I thought PSU played really hard. They had some smart wrinkles which led to eight first half goals before Maryland adjusted and shut PSU down for 27:00 minutes in the second half. Faceoffs were an issue, like body punches, they take their toll later. And when the FOGO bails to the bench immediately after the draw, a smart team like Maryland will make you pay. Terps scored directly off the faceoff. 
Ohio State makes the journey to Happy Valley on Sunday at noon. PSU needs this one. 
6) Villanova
The Wildcats (7-1) own wins over Penn State, Delaware, Navy, Hofstra, Drexel, Penn and Monmouth. They are in the midst of a monster season with an RPI rating of #9. On Tuesday night the Cats tanked Navy, as the Mids stepped off the bus without key offensive components. Nova is playing complimentary lacrosse. Matt Campbell is a dangerous shooter. This Nova team playing with a sense of structure and discipline that I haven't seen from them in years. They value the ball, don't make bone-headed mistakes on defense and are getting outstanding play from their specialists. 
Brown plays Villanova today, Monday March 27, and the Wildcats faceoff with St. John's on Saturday.
5) Cornell
CJ Kirst scored seven goals on ten shots in a sunny Sunday 18-12 win over Penn. He put on a show with remarkable efficiency per touch. Cornell was strong up the middle of the field with FOGO's Angelo Petrakis, Jack Cascadden and goalie Chayse Ierlan. Time of possession was lopsided. They had ample midfield depth, play three LSM's, and have a sturdy close group in Jack Follows, Gavin Adler, and Jayson Singer. The offense was well prepped for Penn's pack-it-in defense. SSDM Michael Bozzi scored twice. Michael Long, who played last week at Yale, did not play. We called the game remotely. Cornell officials said that Long was a game-time decision and late scratch. 
The Big Red's transformation from an ugly home loss against Penn State to a road demolition of Yale in one week was eye-opening. I like the Cornell offense a lot. Their defense is sound and Ierlan is clicking with a strong save percentage, he doesn't let in soft goals. My questions would center on the depth of the SSDM position, faceoffs, and middle of the field capability when they have to play a more athletic team from the ACC or Big Ten. Lots to like here. Cornell is the favorite in the Ivy League, and a title contender. 
Dartmouth visits Ithaca on Saturday. The Big Green defeated Harvard on Saturday for their first Ivy League win since 2015 (35 games). Dartmouth faces off well and leads the country in time of possession.
4) Duke
The Blue Devils have won seven straight (9-1) after defeating Air Force 18-6 and Saint Joseph's 12-9 this week. They are #1 in the RPI, the metric that matters most. The offense is humming. Lefty Brennan O'Neill had six points in Philly on Saturday and Kenny Brower held Hawk attackman Levi Anderson scoreless. Duke has held four straight opponents to single digits and their GAA for the season is 9.8. Jake Naso and company are winning draws at a 63% clip. Naso topped Zach Cole of Saint Joseph's 15 of 24 on Saturday in a heavyweight fight. The trio of Andrew McAdorey, O'Neill and Garrett Leadmon start the party for the offense. Leadmon is playing like a boss. He looks like a PLL midfielder over the last four weeks. He's dodging to the dirt and hitting on 28% of his shots. Lefty sniper Dyson Williams has 33 goals. The defensive personnel of Tyler Carpenter, Will Frisoli, Wilson Stephenson, Keith Boyer and Kenny Brower all have solid groundball stats.
The Blue Devils face Virginia on Friday night in Charlottesville. Happy Hour lacrosse starts at 5:00pm on ESPNU. Head Coach John Danowski is 8-0 in Charlottesville against UVA while at Duke. In the past ten meetings, Duke has averaged 15.8 goals per game against UVA. 
3) Maryland
The 13-10 win at home over Penn State featured a Jekyll and Hyde defensive performance giving up eigh goals in the first half and then making adjustments to clamp down, holding the Lions to just two goals over the final 30 minutes. That's a sign of great coaching and also a credit to the players for understanding schemes and reacting, adjusting on the fly, and absorbing the 'in game' lessons quickly. They fixed the issues in real time. That's when a defense goes from good to great. That's proof that the third quarter is the coaching quarter. Penn State had scored eight goals on their first 16 shots over just 14 possessions. The pace was frenetic. Match-up integrity along with switches and slides were cleaned up in the second half. Luke Weirman won 19 of 27 draws. Jack Koras and Kyle Long provided the punch. Terps are #4 in the RPI. Their young players have progressed rapidly. 
Michigan and Maryland meet in College Park on Saturday afternoon. 
2) Notre Dame
The Irish (8-1) took their first lost since March 26, 2022, in Arlotta against Virginia 15-10 in front of an overflowing crowd on a miserable South Bend weather day. The football team showed up in the beginning of the third quarter and that juice spilled onto the field. Although in the end ND didn't have answers for UVA after tying the game at 7-7. ND was outplayed as UVA spurted away behind a 4-0 run.
Can they beat UVA the next time they play? Absolutely. They'll have to make some adjustments and push for improvement in a variety of areas such as faceoffs, groundballs, coverage of Shellenberger, midfield scoring, and interior crease defense. Quinn McCahon can't play the entire game. This strategy isn't sustainable. Notre Dame is a viable title contender if they can make progress and keep taking positive steps. Jake Taylor was back in the starting lineup and looked comfortable on the crease. LSM Jose Boyer scored a goal and had seven groundballs. This Notre Dame team will bounce back and compete like crazy. I'm certain of that. 
Rudy, now #2 in the RPI, is in the JMA Dome on Saturday at 2:00pm (ACCN).
1) Virginia
The Cavaliers displayed improvement after the OT loss to Maryland on March 18, going on the road and handling Notre Dame in front of a raucous crowd. UVA was ready to play at the first whistle and dominated the opening quarter. Wahoos played hard, showed guile on offense, and goalie Matt Nunes was excellent. Defenders Cade Saustad and Cole Kastner did fine work on the Kavanagh's. Their rope unit did much better against Notre Dame than what they had showed against Maryland.
The 15-10 win was dotted by ties at 1-1 and 7-7, before the Wahoos pulled away in the second half. The Irish football team stirred up the pot, but Xander Dickson had the answered and quieted the golden domers. Their specialists, FOGO Petey LaSalla and goalie Nunes were both strong. Groundballs and shot volume were always in their corner. They had a plan for the Kavanagh brothers along with lefty midfielder Eric Dobson, sliding quickly to him on defense while at the other end routinely exploiting the Notre Dame interior defense with feeds to Xander Dickson and Payton Cormier the paint. Connor Shellenberger and Dickson, aka the Slim Reaper, had huge afternoons. Shellenberger was his typical dominating self, faking out the Notre Dame defense that was mystified by his skills. Dickson may be the smartest cutter in college lacrosse. When Virginia moves their feet and gets the ball out of their sticks, its a thing of beauty.
Virginia hosts Duke on Friday night at 5:00pm on ESPNU with Anish and I in the booth. 
Quint Kessenich's Socials
Twitter: @QKessenich
Instagram: @quintekessenich
Facebook: Quint Kessenich
LinkedIn: Quint Kessenich