Top-Ranked Hoos Welcome No. 3 Maryland for HEADstrong Foundation Game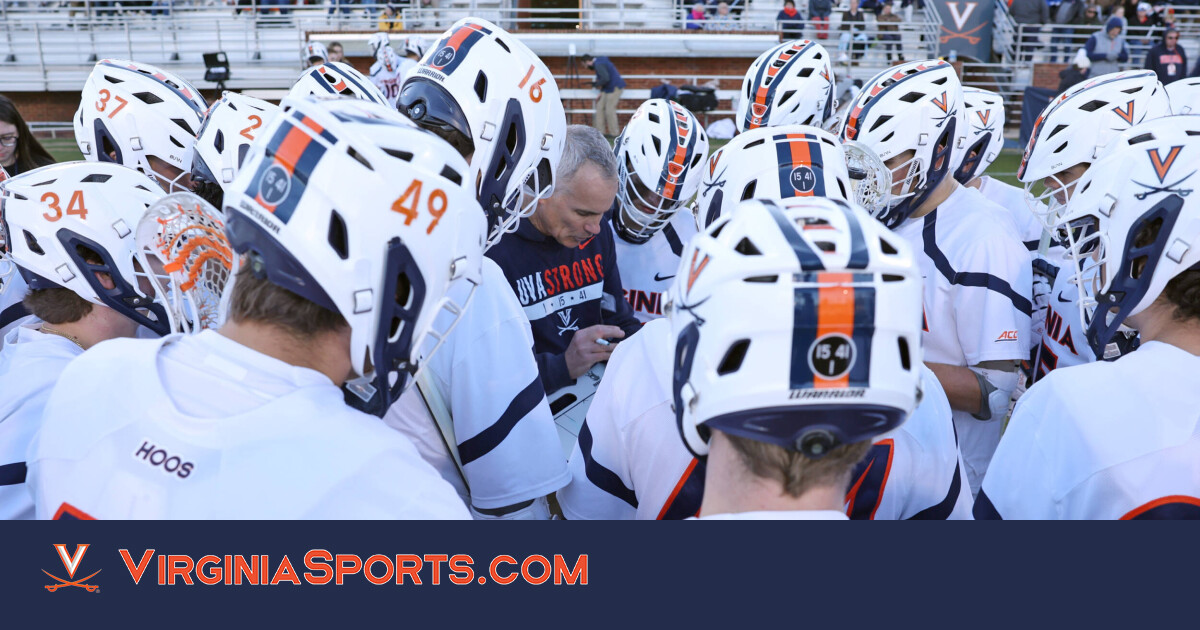 CHARLOTTESVILLE, Va. – Undefeated and top-ranked Virginia (6-0) hosts No. 3 Maryland (4-2) at Klöckner Stadium for the first time since 2013 on Saturday (March 18). Opening faceoff is set for 2 p.m. as Anish Shroff (play-by-play) and Paul Carcaterra (analyst) will have the call on ACC Network.
For the fifth consecutive week, the Cavaliers are ranked No. 1 in all three polls, USILA, Inside Lacrosse and Nike/USA Lacrosse Magazine.
PARKING INFORMATION
Parking for lacrosse fans is available in the JPJ South and West Lots.
HEADstrong FOUNDATION
Saturday's contest will serve as UVA's HEADstrong Foundation game. The HEADstrong Foundation is a non-profit organization that offers financial, residential, and emotional support to families affected by cancer.
HEADstrong founder Nick Colleluori played lacrosse at Hofstra as a freshman in 2005 before being diagnosed with Diffuse Large B-Cell non-Hodgkin's Lymphoma, a blood cancer affecting the lymphatic system. Former UVA captain and three-time first team All-American Ken Clausen (2007-10) currently serves as National Director of Attack Cancer.
During Saturday's game, UVA players will wear special laces in their cleats to show support for HEADstrong Foundation and those affected by cancer.
LAST TIME OUT
The Cavaliers improved to 6-0 on the season, including 4-0 at home, with its 19-12 win over Towson last Saturday (March 11).
With four goals and six assists, Connor Shellenberger tied his career high of 10 points, which he previously achieved in UVA's 25-21 win over then-No. 18 Harvard (Feb. 18). Xander Dickson (4g, 2a) recorded six points for the third straight game and Thomas McConvey (3g, 2a) contributed five points.
Virginia won the ground ball game, 46-40, and forced six Tiger failed clears, while UVA had just one. Towson goalie Evan Long tallied 20 saves, a career best.
SERIES HISTORY
Maryland leads the all-time series, which began in 1926, 49-46.
The two teams last squared off at Klöckner Stadium on March 30, 2013, the final ACC regular-season meeting between the Terps and UVA in Charlottesville. Maryland won, 9-7.
The last time the Cavaliers defeated Maryland at Klöckner Stadium was on March 28, 2009, when the two teams went to seven overtime periods – the longest game in NCAA history. Brian Carroll scored the game-winning goal to seal the victory for the Hoos.
The Cavaliers and Maryland have met nine times in NCAA Tournament history, including the last three consecutive tournaments.
UVA and the Terrapins have gone head-to-head in NCAA championship games twice – in 2011 and 2021 – as the Cavaliers won both matchups, 9-7 and 17-16, respectively.
LARS TIFFANY VS. JOHN TILLMAN ALL-TIME
Virginia's Lars Tiffany and Maryland's John Tillman are two of the most accomplished head coaches of all-time and have gone head-to-head eight times as head coaches.
Tiffany is 5-3 all-time against Tillman in matchups when the two are head coaches. While Tiffany leads the series, Tillman's average margin of victory is 1.75 goals.
The last five meetings between the two teams have been at neutral sites, including four NCAA Tournament games.
Tiffany and Tillman are two of just four active Division-I head coaches with at least two NCAA Tournament titles.
THE CAVALIERS AT KLÖCKNER STADIUM
Virginia is currently on a 13-game win streak at Klöckner Stadium, a streak that began in 2021.
Virginia owns a 170-43 (.798) all-time record at Klöckner Stadium, including a 4-0 record in 2023, and has won 21 of its last 25 games played at the historic edifice.
The Cavaliers' average margin of victory in their last 25 games at Klöckner Stadium is 5.76 goals.
Virginia is 44-11 (.800) all-time at Klöckner Stadium under head coach Lars Tiffany.
UVA is also 13-3 all-time at Klöckner Stadium in the NCAA Tournament.
Lacrosse debuted in Klöckner Stadium in 1993.
VIRGINIA IN THE POLLS
At No. 1 in this week's USILA Coaches poll, Virginia has been ranked in the top 5 of the poll in 317 weeks all-time.
UVA has been ranked in the top 10 in 471 polls all-time.
UVA has been ranked No. 1 in the nation in 76 all-time polls, including in the most recent edition of the poll.
The USILA Poll began in 1973.
CAVALIERS AMONG THE NATION'S STATISTICAL LEADERS
One of three unbeaten teams in Division I, Virginia currently leads the nation in assists (13.33/gm), ground balls (42.50/gm), man-up offense (.692), points (33.50/gm), scoring offense (20.17/gm) and shot percentage (.412). The Cavaliers are also second in the nation in scoring margin (8.00/gm) and third in clearing percentage (.941).
Connor Shellenberger leads the nation in assists (4.00/gm) and is second in points (5.83/gm). Xander Dickson is No. 3 in the country in goals (4.17/gm), No. 7 in points (5.33/gm) and No. 2 in shot percentage (.610). Cade Saustad is seventh in caused turnovers (2.00/gm) and Petey LaSalla is 11th in ground balls (8.67/gm).
Note: NCAA leaders list requires players play in 75% of their team's games.
CONNOR SHELLENBERGER IS ELITE
Connor Shellenberger, who is in his third season at UVA, is arguably the most-accomplished active player in college lacrosse.
In addition to being a two-time USILA first team All-American (2021-22), Shellenberger became UVA's 11th Tewaaraton Award finalist last season.
Shellenberger currently leads all active Division-I players in career assists (110), is second in assists per game (2.75) and third in points per game (4.75).
This year, Shellenberger was crowned a first team preseason All-American by the USILA, Inside Lacrosse and USA Lacrosse Magazine, and the top returning player in 2023 by Inside Lacrosse.
This offseason, Shellenberger was invited to try out for a spot on the U.S. National Team for the 2023 World Championships.
In 2022, he led UVA in points (76) and assists (44) and finished second in goals (32).
In 2021, Shellenberger was sensational in the NCAA Tournament, guiding the Hoos to the program's seventh NCAA championship and was named the tournament's Most Outstanding Player.
In 40 career appearances, Shellenberger has posted at least one point in 39 contests and has recorded multiple assists in 32 career games.
Shellenberger has tallied a career-best 10 points on two occasions this season: against then-No. 18 Harvard (3g, 7a) and Towson (4g, 6a).
GOING STREAKING
Newcomer Thomas McConvey, a transfer in the midfield from the University of Vermont, is currently riding a 58-game point streak, which began on Feb. 1, 2019.
McConvey has registered at least one point in every game of his career.
His 58-game point streak leads the nation among all active players.
During his streak, McConvey has amassed 139 goals and 59 assists.
Also riding a substantial point streak is UVA attackman Payton Cormier, who has recorded at least one point in his last 33 games.
Cormier's 33-game point streak is currently the sixth longest in the nation. During his streak, which began on March 6, 2021, Cormier has registered 119 points (99g, 20a).
ON THE HORIZON
The Cavaliers open ACC play on the road at Notre Dame (5-0) on Saturday (March 25).
Opening faceoff from Arlotta Stadium is set for noon on ESPNU.