No. 1 Virginia Hosts Towson; Looks to Improve to 6-0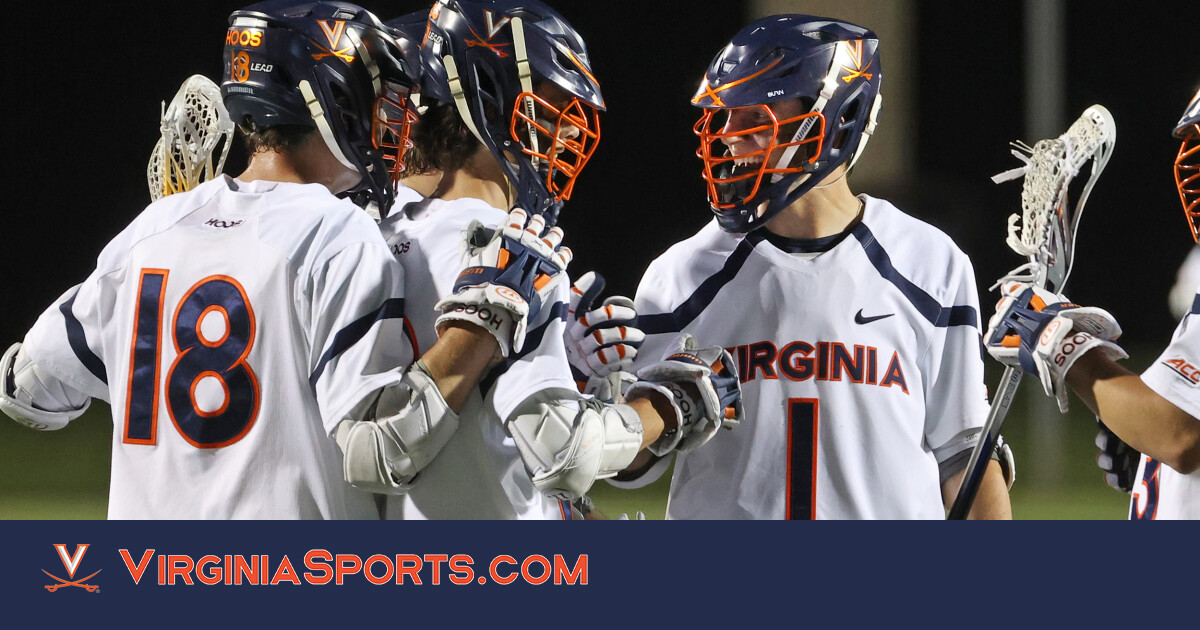 CHARLOTTESVILLE, Va. – Undefeated and top-ranked Virginia (5-0) returns to Klöckner Stadium to host Towson (1-4) on Saturday (March 11). Opening faceoff is set for 4 p.m. on ACC Network.
For the fourth consecutive week, the Cavaliers are ranked No. 1 in all three polls, USILA, Inside Lacrosse and Nike/USA Lacrosse Magazine.
PARKING INFORMATION
Parking for lacrosse fans is available in designated spaces of the JPJ South lot.
Fans are also encouraged to park in the Emmet/Ivy garage. A shuttle will run from the Emmet/Ivy garage to Klöckner Stadium from 3-7pm.
POSTGAME AUTOGRAPHS
Fans are invited to stick for postgame autographs, which are scheduled to begin approximately 30 minutes after the conclusion of Saturday's game.
Autographs will take place at the southwest corner of Klöckner Stadium at the tabling adjacent to section 1.
LAST TIME OUT
On Tuesday (March 7), Virginia tallied its fifth consecutive win of the season with its 18-13 victory over No. 11 Johns Hopkins (4-3) at Homewood Field.
With the win, the Cavaliers retained possession of the Doyle Smith for the third consecutive year.
In his first career start, Patrick McIntosh scored six goals on seven shots. Xander Dickson (6g) and Griffin Schutz (4g, 2a) also recorded six points in the win.
Petey LaSalla finished 22-for-33 at the faceoff X and goalie Matthew Nunes (5-0) came up clutch with five saves in the fourth quarter to help fend off the Blue Jays.
The Cavaliers shutout Hopkins in the first quarter and opened up a 6-0 lead within the first 16 minutes of the game.
SERIES HISTORY
Virginia leads the all-time series over the Tigers, 15-3, and is currently riding a 12-game win streak, which began in 2001.
The two teams went head-to-head last season at Johnny Unitas Stadium, when the Cavaliers overcame an early 4-1 deficit at the end of the first quarter. Both Payton Cormier and Jack Simmons scored a game-high four goals.
UVA forced 21 Tiger turnovers, while only producing 11 giveaways.
MORE ON THE SERIES VS. TOWSON
Virginia and Tigers rekindled the series in 2021 after a 10-year hiatus from 2011-20.
UVA played every year from 2001-10 before the series went on hiatus following UVA's 15-9 win at Towson.
Two of Towson's three victories have been by one-goal (1977 & 1991). The Tigers' average margin of victory in their three wins of the series is 2.0 goals.
The last time the two teams squared off at Klöckner Stadium was in UVA's 2021 season opener. The Cavaliers used a seven-goal second quarter to distance themselves from the Tigers in the 20-11 win. The 2021 matchup was Connor Shellenberger's collegiate debut. The then-redshirt freshman registered seven points on four goals and three assists. Payton Cormier scored a then-career high six goals and notched one assist.
THE CAVALIERS AT KLÖCKNER STADIUM
Virginia is currently on a 12-game win streak in games held at Klöckner Stadium, a streak that began in 2021.
Virginia owns a 169-43 (.797) all-time record at Klöckner Stadium, including a 3-0 record in 2023, and has won 21 of its last 25 games played at the historic edifice.
The Cavaliers' average margin of victory in their last 25 games at Klöckner Stadium is 5.64 goals.
Virginia is 43-11 (.796) all-time at Klöckner Stadium under head coach Lars Tiffany.
UVA is also 13-3 all-time at Klöckner Stadium in NCAA Tournament contests.
Lacrosse debuted in Klöckner Stadium in 1993.
VIRGINIA IN THE POLLS
At No. 1 in this week's USILA Coaches poll, Virginia has been ranked in the top 5 of the poll in 316 weeks all-time.
UVA has been ranked in the top 10 in 470 polls all-time, including in the most recent edition of the poll.
UVA has been ranked No. 1 in the nation in 75 all-time polls, including in the most recent edition of the poll.
The USILA Poll began in 1973.
CAVALIERS AMONG THE NATION'S STATISTICAL LEADERS
One of four unbeaten teams in Division I, the Cavaliers currently lead the nation in assists per game (13.32), ground balls per game (41.60), points per game (33.60), scoring margin (8.20), scoring offense (20.40) and shot percentage (.436). UVA is also second in the nation in man-up offense (.700).
Connor Shellenberger is second in the nation in assists per game (3.60) and 13th in points per game (5.00). Payton Cormier leads the ACC and is third in both goals per game (4.50) and points per game (6.00), and is fourth in the nation in shot percentage (.562). Xander Dickson is No. 2 in the country in shot percentage (.636), fifth in goals per game (4.20) and 11th in points per game (5.20).
CORMIER NAMED TEWAARATON AWARD WATCH LIST FIRST ROUND ADDITION
UVA attackman Payton Cormier was named one of nine Tewaaraton Award Watch List first round additions, the Tewaaraton Foundation announced on March 9.
Cormier is currently third among Division-I players and leads the ACC in both goals per game (4.50) and points per game (6.00). In each of his four appearances so far this season, Cormier has scored at least three goals, including a career high of seven against then-No. 9 Ohio State (Feb. 25).
The Ontario native joined teammates Connor Shellenberger, Petey LaSalla and Cole Kastner as candidates for the award. Shellenberger, LaSalla and Kastner were named to the Foundation's initial Watch List on Feb. 10.
GOING STREAKING
Newcomer Thomas McConvey, a transfer in the midfield from the University of Vermont, is currently riding a 57-game point streak, which began on Feb. 1, 2019.
McConvey has registered at least one point in every game of his career.
His 57-game point streak leads the nation among all active players.
During his streak, McConvey has amassed 136 goals and 57 assists.
Also riding a substantial point streak is UVA attackman Payton Cormier, who has recorded at least one point in his last 33 games.
Cormier's 33-game point streak is currently the sixth longest in the nation. During his streak, which began on March 6, 2021, Cormier has registered 119 points (99g, 20a).
ON THE HORIZON
The Cavaliers return to Klöckner Stadium on Saturday (March 18) to host Maryland (3-2) in a rematch of the 2021 national championship.
Opening faceoff is set for 2 p.m. on ACC Network.