Early Scores Lift Top-Ranked Cavaliers Over No. 11 Johns Hopkins, 18-13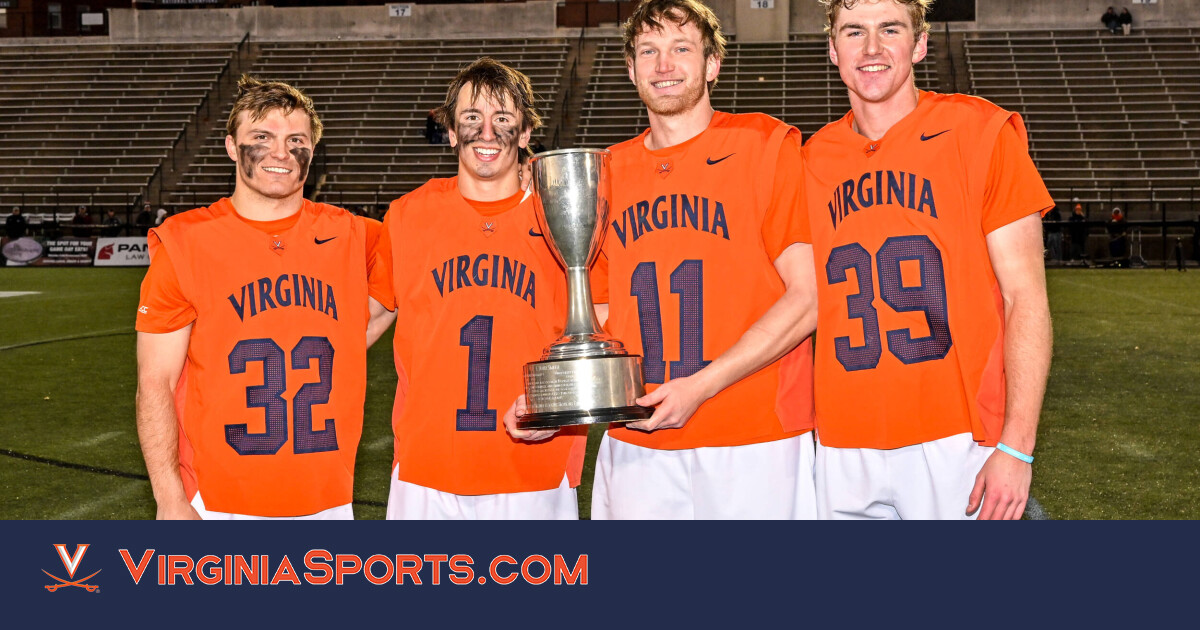 BALTIMORE – No. 1 Virginia (5-0) scored the first six goals of the game and held on the rest of way to defeat No. 11 Johns Hopkins (4-3), 18-13, at Homewood Field Tuesday night (March 7). With the win, the Cavaliers retained possession of the Doyle Smith Cup and tallied their third straight win of the series.
Patrick McIntosh (6g), Griffin Schutz (4g, 2a) and Xander Dickson (6g) all totaled six points for the Hoos. Both Mcintosh and Schutz set career bests in goals and points. For the second consecutive game, Dickson posted six goals, and is now averaging 4.20 goals per game on the season. At the faceoff X, Petey LaSalla won 22 of his 33 attempts, setting a season high in faceoff wins.
UVA goalie Matthew Nunes (5-0) came up clutch with five saves in the fourth quarter, including one on a Hopkins man-up opportunity.
HOW IT HAPPENED
Virginia dominated the opening period, leaping out to an early 3-0 lead within the first five minutes after the Cavaliers won game's first three faceoffs and fired off nine consecutive shots. Both Schutz and McIntosh netted a pair of the goals in the first, while Thomas McConvey (1g, 3a) added one as the Hoos led 5-0 at the end of the first 15 minutes of play. UVA won the ground ball battle in the first quarter, 11-2.
Shellenberger + Pat Mac = goals#GoHoos pic.twitter.com/sEJCa7ig2U

— Virginia Men's Lacrosse (@UVAMensLax) March 7, 2023
The Cavaliers tacked one more goal 44 seconds into the second to open up a 6-0 lead, but Hopkins quickly cut UVA's advantage in half with three unanswered scores of its own, including a man-up goal at the 8:07 mark. LaSalla finished the half having taken all 17 faceoffs and winning 13. Virginia, which dominated possession in the first half, also forced four failed Hopkins clears. One of those four failed Blue Jay clears came at the hands of UVA defenseman Cole Kastner, who dislodged ballcarrier Hopkins of the ball at midfield, once again erasing what could have been a JHU possession. Schutz found the back of the net with four seconds remaining in the first half to extend the UVA lead to 10-5 at the intermission. Virginia concluded the half leading the ground ball game, 27-8.
That's a grown man's goal!#GoHoos pic.twitter.com/BG5JqohsfO

— Virginia Men's Lacrosse (@UVAMensLax) March 7, 2023
In the second half, Hopkins only cut the UVA lead to as little as four the rest of the way. Both teams shot the ball well in period No. 3 as the Blue Jays scored five goals, while UVA managed four. Both teams had just one save each in the period.
The find️
The finish️#GoHoos pic.twitter.com/EWndrQPhmO

— Virginia Men's Lacrosse (@UVAMensLax) March 7, 2023
In addition to Nunes' five saves in the fourth, the Cavaliers won five of the quarter's eight total faceoffs to help Cavaliers control the clock. Both McIntosh and Dickson scored a pair of a pair of goals in the last quarter to shut the door on any hope of a Hopkins' fourth-quarter comeback.
Nunes DENIES him on the doorstep to preserve our five-goal lead in the fourth! pic.twitter.com/G8xxccb3xN

— Virginia Men's Lacrosse (@UVAMensLax) March 7, 2023
FROM THE LOCKER ROOM…
Lars Tiffany on Petey LaSalla's faceoff performance…
"[We're] very grateful for Petey LaSalla. Watching us dominate the faceoff X for majority of the game – we're not pulling away because of a Hopkins team that kept scoring goals and just wouldn't go away. Thankfully, Petey kept giving us extra possessions."
Lars Tiffany on Patrick McIntosh stepping up today…
"Certainly what Patrick McIntosh did – stepping in for an injured Payton Cormier – was exceptional. We had been seeing Patrick compete at high level in practice. Sometimes on the scout offense, not even on the first offense. He comes down and does the scout offense against our first defense. We've had a heck of a [difficult] time stopping him. What he did today is a little surprising, but not totally surprising because he practices with everything he has."
️ Patrick McIntosh, who scored a career-high six goals on seven shots in his first career start, offers his thoughts on our 18-13 win over Hopkins… pic.twitter.com/6njdxoh2pw

— Virginia Men's Lacrosse (@UVAMensLax) March 8, 2023
WITH THE WIN…
The Cavaliers are off to a 5-0 start for second consecutive season.
Virginia improved to 34-61-1 in the all-time series, which began in 1904, and has won the last three meetings of the series.
The Cavaliers improved to 10-6 in Doyle Smith Cup matchups, which began in 2006.
UVA improved to 1-0 in true road games this season and 2-0 away from Klöckner Stadium.
Virginia has scored 17 goals or more in its first five games.
ADDITIONAL NOTES
Virginia successfully cleared the ball on all 15 of its attempts.
With one goal and three assists, Thomas McConvey extended his point streak to 57 games. Having registered at least one point in all 57 career games, McConvey's streak is the longest among any active player in college lacrosse. For his career, McConvey has amassed 136 goals and 56 assists.
In his first career start, Patrick McIntosh tallied a career-high six goals on seven.
Having scored the first six goals of the game against Hopkins, the Cavaliers have scored the first six goals or more in their last three contests.
For the second consecutive game, Xander Dickson scored six goals. In UVA's five games played this season, Dickson is averaging 4.20 goals per contest.
Payton Cormier did not appear in Tuesday's contest due to a lower-body injury.
UP NEXT
The Cavaliers return to Klöckner Stadium on Saturday (March 11) to host Towson (1-4). Opening faceoff is set for 4 p.m. on ACC Network.