Top-Ranked Cavaliers Host Richmond on Saturday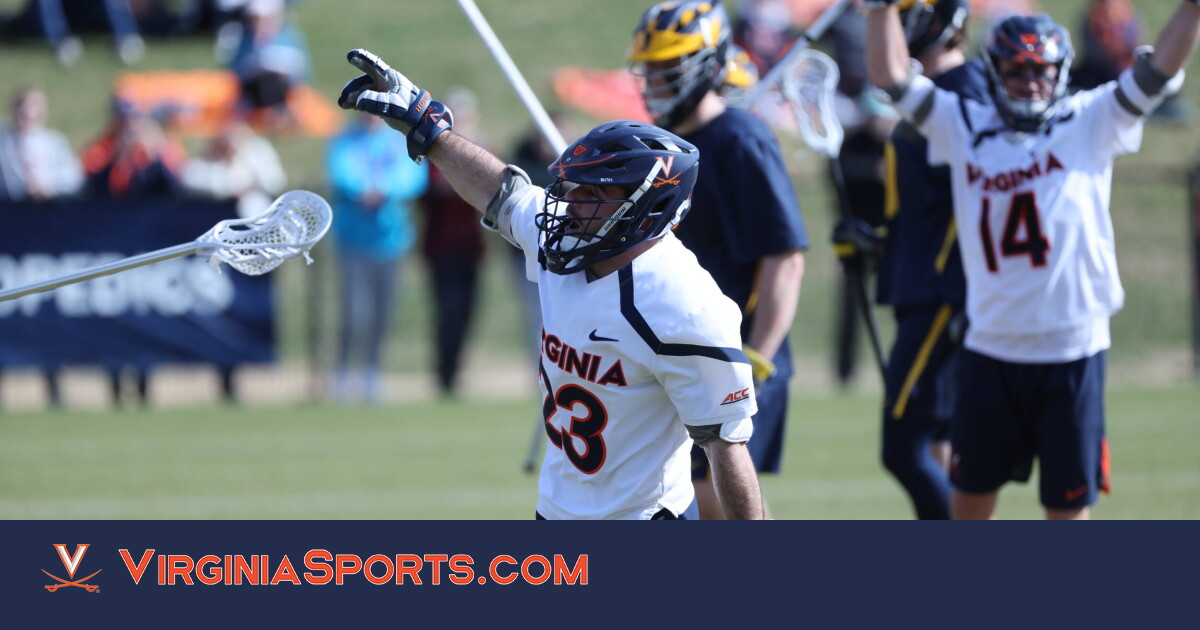 CHARLOTTESVILLE, Va. – The No. 1 Virginia men's lacrosse team (3-0) returns to Klöckner Stadium on Saturday (March 4) to host Richmond (3-1). Opening faceoff is set for 6 p.m. on ACC Network Extra (ACCNX).
Saturday's contest is dedicated to the One Love Foundation, which was created in 2010 to honor the memory of former UVA women's lacrosse player Yeardley Love. Since her passing, One Love's mission has been to educate, empower and activate young people in a movement to end relationship violence and to promote healthy relationships in its place. The first 500 fans at the Klöckner Stadium marketing table are eligible for a free One Love t-shirt.
🤝 Join us at Klöckner tomorrow as we host our annual @join1love game against Richmond (6pm)!

* First 500 fans at the marketing table are eligible for a free One Love t-shirt.#GoHoos️ pic.twitter.com/OcTPNyoTlX

— Virginia Men's Lacrosse (@UVAMensLax) March 3, 2023
PARKING INFORMATION
Due to overlapping UVA Athletics home events on Saturday, including men's basketball, baseball and softball, fans planning to attend Saturday's men's lacrosse game may park in lots surrounding John Paul Jones Arena beginning at 5 p.m. Attendees should expect increased traffic nearby as basketball traffic exits the JPJ lots late Saturday afternoon. Lacrosse fans may also park in the Emmett/Ivy Garage and shuttles will be running from the garage to the Klöckner Stadium entrance from 9 a.m. to 5 p.m.
SERIES HISTORY
Virginia leads the all-time series against the Spiders, 7-1.
The series began in 2014, when UVA played at Richmond in the program's inaugural game.
The Cavaliers won the first seven games of the series before UofR defeated UVA, 17-13, at Robins Stadium last season.
In 2022, UVA led by as many as four goals in the second quarter before the Spiders scored seven straight to lead it the rest of the way.
UVA VS. THE COMMONWEALTH OF VIRGINIA
UVA enters Saturday's contest with Richmond with a 114-20-2 all-time record against opponents from the Commonwealth.
In 2022, the Spiders snapped UVA's 73-game win streak over Commonwealth of Virginia opponents. UVA's previous loss to an in-state opponent was against Washington & Lee on April 23, 1977, when the Generals were an NCAA Division I program in men's lacrosse.
For the 17th year out of the last 18, UVA is facing an opponent from the Commonwealth of Virginia. From 2006-16, UVA played VMI every season, while adding Richmond to the annual schedule with the launch of the Spiders' program in 2014.
The Cavaliers did not face a Commonwealth team in 2020, when the coronavirus pandemic (COVID-19) halted the season. Richmond and VMI were both on UVA's schedule, which was eventually canceled due to the onset of COVID-19.
LAST TIME OUT
Last Saturday (Feb. 25), Virginia won its first contest away from Klöckner Stadium in a 17-6 rout over No. 9 Ohio State at Paradise Coast Sports Complex in Naples, Florida.
Payton Cormier (7g), Xander Dickson (2g, 3a) and Cade Saustad (2gb, 4ct) led the Cavaliers' effort in the win.
Ohio State's six total goals marked the fewest by a Virginia top-10 opponent since the Cavaliers took down then-No. 6 Georgetown in the 2021 NCAA Tournament, when UVA defeated the Hoyas, 14-3.
CORMIER, SAUSTAD EARN ACC PLAYER-OF-THE-WEEK HONORS
For their performance against No. 9 Ohio State, Payton Cormier and Cade Saustad earned ACC player-of–the-week honors for games played Feb. 20-26, the conference office announced Feb 28.
Cormier was named ACC Offensive Player of the Week after scoring a career-high seven goals against the Buckeyes. Cormier's seven goals also tied for No. 2 in UVA single-game history and tied for the most by an ACC player in a single game this season.
Saustad recorded a career-high four caused turnovers and added a pair of ground balls. In addition to holding the Buckeyes to their lowest goal total this season, Saustad limited 2022 second team All-American Jack Myers to just two goals on 10 shots.
VIRGINIA IN THE POLLS
No. 1 Virginia has been ranked in the top 5 of the USILA Coaches poll in 314 weeks all-time.
UVA has been ranked in the top 10 in 468 polls all-time, including in the most recent edition of the poll.
UVA has been ranked No. 1 in the nation in 73 all-time polls, including in the most recent edition of the poll.
The USILA Poll began in 1973.
THE CAVALIERS AT KLÖCKNER STADIUM
Virginia is currently on an 11-game win streak in games held at Klöckner Stadium, a streak that began in 2021.
Virginia owns a 168-43 (.796) all-time record at Klöckner Stadium, including a 2-0 record in 2023, and has won 21 of its last 25 games played at the historic edifice.
The Cavaliers' average margin of victory in their last 25 games at Klöckner Stadium is 5.08 goals.
Virginia is 42-11 (.792) all-time at Klöckner Stadium under head coach Lars Tiffany.
UVA is also 13-3 all-time at Klöckner Stadium in NCAA Tournament contests.
Lacrosse debuted in Klöckner Stadium in 1993.
GOING STREAKING
Newcomer Thomas McConvey, a transfer in the midfield from the University of Vermont, is currently riding a 55-game point streak, which began on Feb. 1, 2019.
McConvey has registered at least one point in every game of his career.
His 55-game point streak leads the nation among all active players.
During his streak, McConvey has amassed 132 goals and 53 assists.
Also riding a substantial point streak is UVA attackman Payton Cormier, who has recorded at least one point in his last 32 games.
Cormier's 32-game point streak is currently the sixth longest in the nation. During his streak, which began on March 6, 2021, Cormier has registered 113 points (96g, 17a).
ON THE HORIZON
The Cavaliers travel to No. 15 Johns Hopkins (3-2) on Tuesday (March 7) in a clash for the Doyle Smith Cup.
Opening faceoff from Homewood Field is set for 4 p.m. on ESPN+.
Grayson Sallade plays what can be a thankless position, but his value to @UVAMensLax is immense, not only as a short-stick defensive middie but as a team captain.https://t.co/AlTDsaqmhz

— Jeff White (@JeffWhiteUVa) March 3, 2023