Hoos Grateful for Sallade's Swift Recovery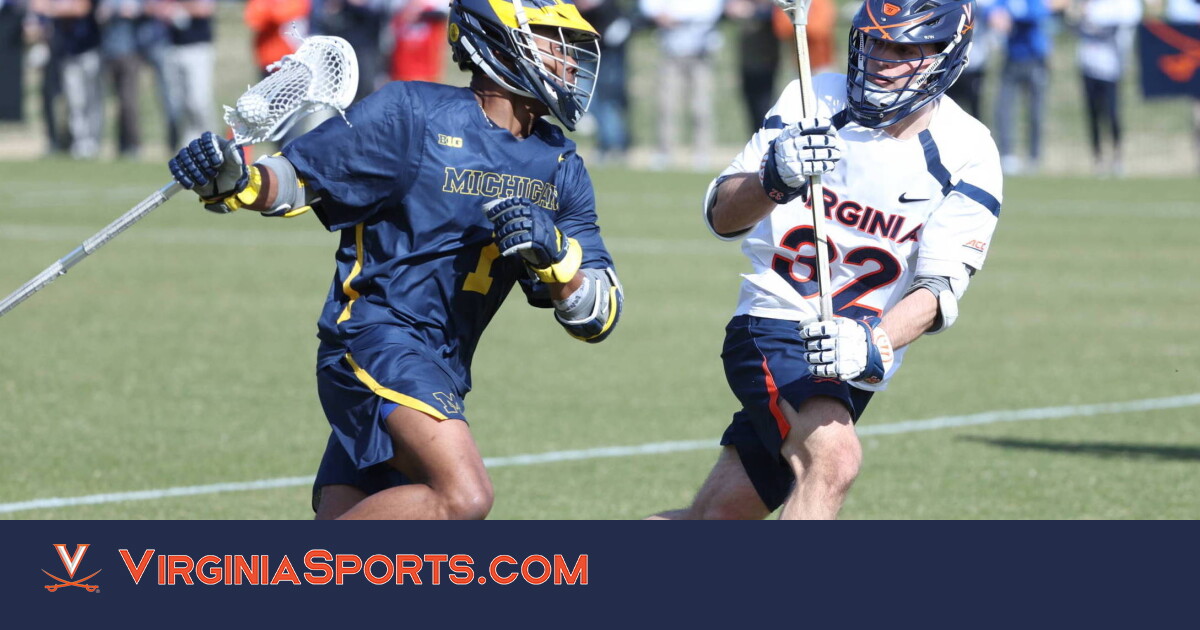 By Jeff White (jwhite@virginia.edu)
VirginiaSports.com
CHARLOTTESVILLE, Va. — On the day he had surgery to repair the torn anterior cruciate ligament in his left knee, Grayson Sallade asked Rebecca Vozzo how long he was likely to be sidelined. It was June 3, 2022.
"And I said, 'February 3rd is eight months. That is my goal for you, and that's what we're going to do,' " recalled Vozzo, the athletic trainer for the University of Virginia men's lacrosse team.
Head coach Lars Tiffany hoped Sallade, a starting defensive midfielder, would be cleared in time to play in Virginia's fourth game this season.
"I was like, 'Nah, I'm going to play in the first game,' " Sallade recalled Wednesday with a smile.
Vozzo and Tiffany are happy their projections were wrong. Sallade was cleared in early December, six months after Dr. Stephen Brockmeier operated on his knee.
"For all the ACLs I've seen," Vozzo said, "Grayson's strength numbers at six months were amazing."
The Wahoos had concluded fall workouts by then, but when they resumed practice in late January, Sallade was a full participant. He's played in every game this season for top-ranked UVA (3-0), which hosts Richmond (3-1) at Klöckner Stadium at 6 p.m. Saturday.
Of his teammates, only faceoff specialist Petey LaSalla (20) has scooped up more ground balls than Sallade (eight), who was named ACC Defensive Player of the Week for his performance in UVA's season-opening win over Michigan.
"I would have thought best-case scenario, the Richmond game is his first game," Tiffany said. "But here he was, seven-and-a-half months [after surgery], running around at practice and making us coaches and everyone else quickly forget that he tore his ACL. It's a distant memory nine months later. That's what's shocking about it."
Vozzo said: "With ACLs, you typically think a year. You're back playing earlier, but you don't usually see athletes trusting their bodies, trusting themselves on the field and feeling really settled and comfortable until about a year."
And then there's Sallade. "I was able to kind of slowly ease into things," he said, "but I was definitely feeling pretty good by mid-January."
As a freshman in 2019, when Virginia captured the program's sixth NCAA title, Sallade missed much of the regular season after breaking a bone in his left foot. The injury required surgery, but he rehabbed diligently and played in the Cavaliers' final two games: wins over Duke and Yale in Philadelphia.
The COVID-19 pandemic shut down college sports in March 2020, long before postseason tournaments were scheduled to begin, but UVA won another NCAA title in 2021. A year later, the Hoos knocked off Brown in the NCAA tournament's first round to advance to a quarterfinal matchup with top-seeded Maryland in Columbus, Ohio. The eventual NCAA champion Terrapins dominated that game, and a bad day got worse for Virginia when Sallade tore his ACL in the third quarter.
"I kind of knew it right away," he said.
Sallade, who graduated last spring with a bachelor's degree in American studies, wasn't sure initially if he'd return to UVA for a fifth year. But when he learned about a master's program in civil engineering at the University, his interest was piqued. His concentration is construction engineering and management.
"I'm incredibly grateful that I decided to come back and be a part of this again," Sallade said. "It sounds like a cliché, but I did need to find a program that I was interested in and willing to put some time into and energy into, while obviously knowing that lacrosse would come beyond that."
He had an internship last summer in Northern Virginia with the Bozzuto Group, a real estate company. Sallade was on its construction team, he said, "and kind of shadowed the project manager and saw his day-to-day activities. I thought it was really interesting. We were building a 350-apartment complex, and it was right next to another 200-something apartment complex, so there was a lot going on in this little space in Alexandria, Virginia."
He recently started another internship, this one with the University of Virginia Foundation, which provides real estate and financial services for UVA. He's leaning toward a career in real estate development and he's enjoyed learning about the University's Ivy Corridor project, among other initiatives.