No. 1 Virginia Set for Top-10 Showdown Against No. 9 Ohio State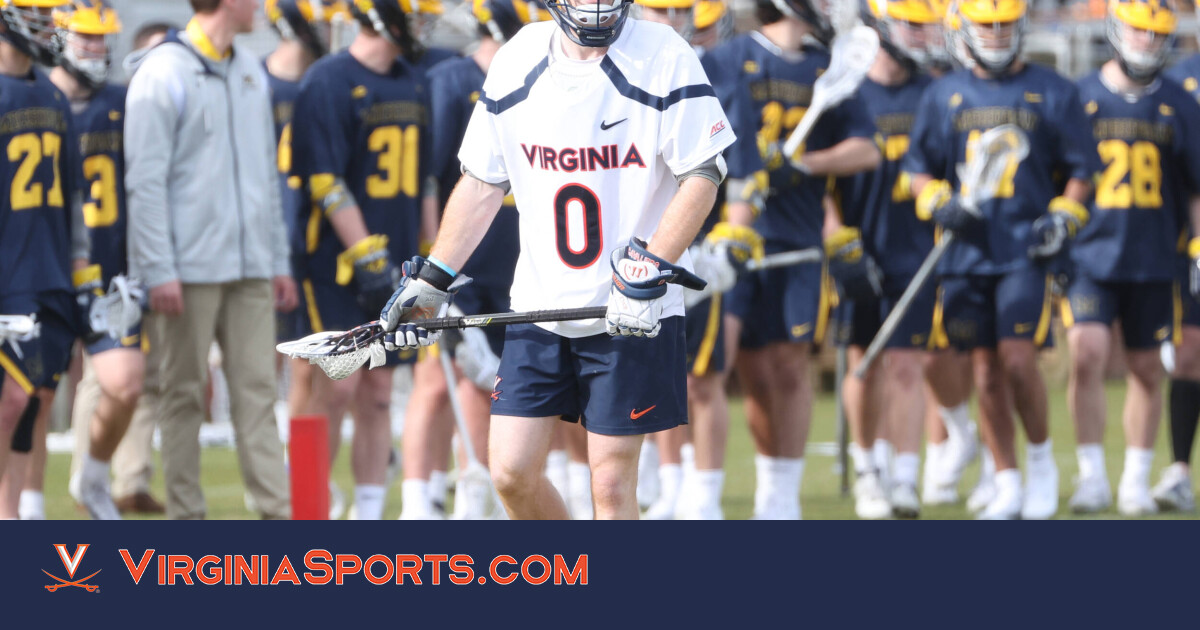 CHARLOTTESVILLE, Va. – No. 1 Virginia (2-0) heads to Naples, Florida on Saturday (Feb. 25) to take on No. 9 Ohio State (3-0) in a top-10 matchup at the Paradise Coast Sports Complex. Opening faceoff is set for 7 p.m.
The neutral-site meeting will stream on B1G+ with a paid subscription. Saturday's contest also marks Virginia's first-ever in the state of Florida.
THE SERIES VS. OHIO STATE
Virginia and Ohio State will meet for the first time on a neutral-site field at the Paradise Coast Sports Complex.
UVA, which leads the all-time series 6-1, suffered an 11-10 loss at Klöckner Stadium the last time the two teams went head-to-head, which was in 2013. There was a 103-minute lightning delay during the game. The Cavaliers had a chance to force overtime, but former OSU goalie Greg Dutton stopped Nick O'Reily's shot from the crease with five seconds remaining.
UVA has only faced the Buckeyes away from Klöckner Stadium twice, both of which were true away games but in separate venues in Columbus. The Cavaliers' first road game against OSU was in 2000, a 13-7 victory from Jesse Owens Stadium, while the second was an 11-9 win at Ohio Stadium in 2012.
Virginia's largest margin of victory in the series was a 21-0 shutout in 1999, the same year UVA won its second NCAA Championship. The shutout was the program's sixth at the time and first since blanking Virginia Tech 27-0 in 1986. UVA was credited with 83 ground balls, while the Buckeyes managed 42.
LAST TIME OUT
Last Saturday (Feb. 11), Virginia improved to 2-0 on the season after defeating then-No.18 Harvard, 25-21, at Klöckner Stadium.
The Hoos never trailed in last Saturday's matchup against the Crimson. The game also set the NCAA record for most faceoff attempts (47).
Connor Shellenberger (3g, 7a) set a career high with 10 points. His seven assists are also a career best. Shellenberger's 10-point performance tied for No. 8 all-time in UVA single-game history.
Xander Dickson scored a team-high five goals on five shots.
VIRGINIA IN THE POLLS
No. 1 Virginia has been ranked in the top 5 of the USILA Coaches poll in 314 weeks all-time.
UVA has been ranked in the top 10 in 468 polls all-time, including in the most recent edition of the poll.
UVA has been ranked No. 1 in the nation in 73 all-time polls, including in the most recent edition of the poll.
The USILA Poll began in 1973.
CONNOR SHELLENBERGER IS ELITE
Connor Shellenberger, who is in his third season at UVA, is arguably the most-accomplished active player in college lacrosse.
In addition to being a two-time USILA first team All-American (2021-22), Shellenberger became UVA's 11th Tewaaraton Award finalist last season.
This year, Shellenberger was crowned a first team preseason All-American by the USILA, Inside Lacrosse and USA Lacrosse Magazine, and the top returning player in 2023 by Inside Lacrosse.
This offseason, Shellenberger was invited to try out for a spot on the U.S. National Team for the 2023 World Championships.
In 2022, he led UVA in points (76) and assists (44) and finished second in goals (32).
In 2021, Shellenberger was sensational in the NCAA Tournament, guiding the Hoos to the program's seventh NCAA championship and was named the tournament's Most Outstanding Player.
In 36 career appearances, Shellenberger has posted at least one point in 35 contests and has recorded multiple assists in 28 career games.
GOING STREAKING
Newcomer Thomas McConvey, a transfer in the midfield from the University of Vermont, is currently riding a 54-game point streak, which began on Feb. 1, 2019.
McConvey has registered at least one point in every game of his career.
His 54-game point streak leads the nation among all active players.
During his streak, McConvey has amassed 132 goals and 51 assists.
SHELLENBERGER, LASALLA EARN ACC WEEKLY HONORS
For their performance against then-No. 18 Harvard, Connor Shellenberger and Petey LaSalla were named the ACC's Co-Offensive Player of the Week and Co-Defensive Player of the Week, respectively, for games played Feb. 13-19, the conference office announced Feb. 21.
Shellenberger (3g, 7a) recorded a career-high 10 points, and his seven assists are also a career best. At the time, his 10 points tied for the most nationally by an individual in a single game this season and most by an ACC player this year. Shellenberger's 10-point performance is also tied for eighth all-time in program history and marks just the 17th occasion that a UVA player has registered 10 points or more.
In a game that set the NCAA record for most combined faceoffs (49), LaSalla dominated the center X, finishing 18-for-29 (.621) against the Crimson. LaSalla also tallied a game-high 10 ground balls and ripped two goals off faceoff wins. LaSalla's second goal of the evening proved to be the game-winning goal in what was one of the highest-scoring games in NCAA men's lacrosse history.
CAVALIERS EXCELLING ON THE FIELD & IN THE CLASSROOM
On Feb. 15, Virginia men's lacrosse announced it achieved a 3.610 team GPA in the Fall of 2022.
The Cavaliers' 3.610 team GPA led all UVA men's athletic programs for the semester.
It also marked a 10% increase from the team's GPA in the fall of 2021.
ON THE HORIZON
The Cavaliers return to Klöckner Stadium on Saturday (March 4) to take on Richmond (1-1).
Opening faceoff is set for 6 p.m. on ACC Network Extra (ACCNX).