No. 1 Virginia Downs No. 18 Harvard, 25-21, in High-Scoring Affair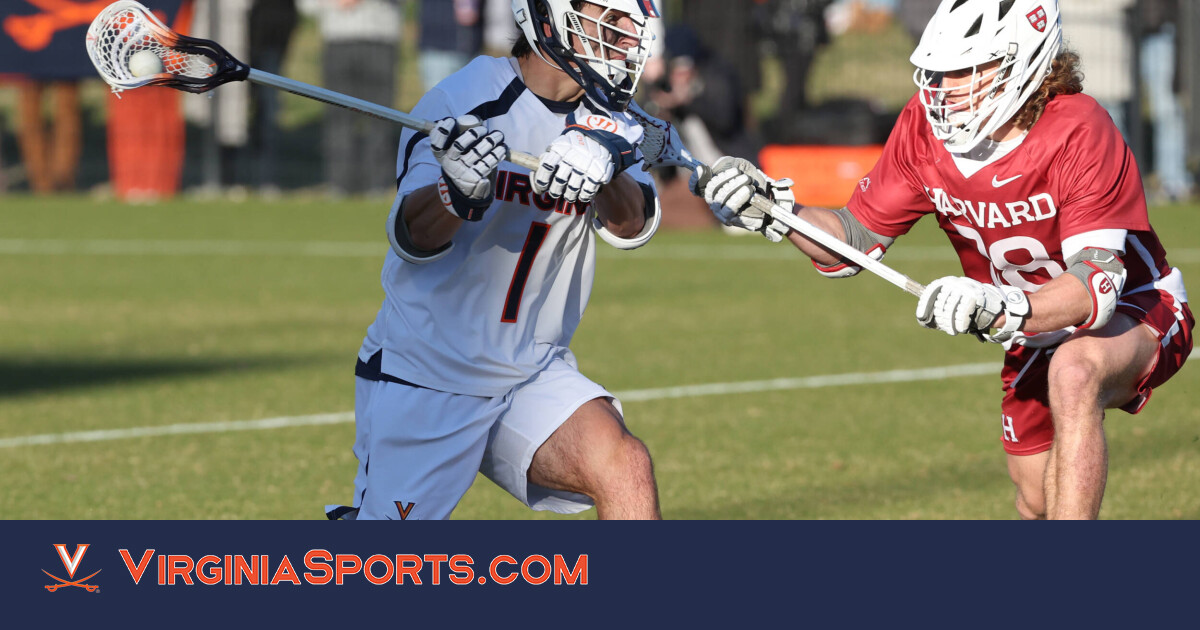 CHARLOTTESVILLE, Va. – After scoring 20 goals in the first half, No. 1 Virginia (2-0) held on to defeat No. 18 Harvard by a final score of 25-21 at Klöckner Stadium Saturday night (Feb. 18).
The two teams combined for an NCAA-record 50 faceoffs, which shattered the previous record (47) set by Virginia and NC State in 1978 and Virginia and Syracuse in 1997.
Connor Shellenberger led the Cavaliers after setting a career-high 10 points on three goals and seven assists. Shellenberger's 10-point performance tied for No. 8 all-time in UVA single-game history. Michael Kraus was the last Cavalier to accomplish that feat against Stony Brook in 2018.
Xander Dickson also scored on all five of his shot attempts, including on four Shellenberger assists. Goalie Matthew Nunes (2-0) earned the win, while Harvard's Christian Barnard (0-1) suffered the loss.
HOW IT HAPPENED
The Cavaliers wasted no time, scoring the first of their 25 goals in the first 10 seconds of play as Shellenberger found the back of the net on an assist from Grayson Sallade. UVA scored the first nine goals of the game within the first eight minutes of play. Harvard got on the board at the 4:21 mark in the first quarter. Virginia led 11-3 at the end of the first period as Shellenberger, Dickson, Payton Cormier (3g, 1a) and Thomas McConvey (2g, 2a) all netted a pair of goals in the opening period.
Virginia continued to pour it on to start the second as the Cavaliers scored four straight to take a 15-3 lead. First-year attackman Truitt Sunderland scored for the first time of his career on a pair of goals just 14 seconds apart late in the second quarter. Dickson's third goal of the night came with 18 seconds left in period No. 2 as the Hoos led 20-8 at the intermission.
After UVA got on the board first in the third, the Crimson scored four unanswered to cut the UVA lead back to single digits, 21-12. Petey LaSalla (2g, 30-31 FO) ripped his second goal of the night late in the third period before Shellenberger found Dickson for the duo's final connection of the evening to close out the third.
The Cavaliers doubled up Harvard with their first goal of the fourth, but the Crimson closed out the game by scoring nine of the game's last 10 goals. Virginia reached deep into its bench in period No. 4, as 37 Cavaliers checked into Saturday's game.
FROM THE LOCKER ROOM
Lars Tiffany's opening comments …
"What an exceptional performance by our offense, and give our offensive coordinator Sean Kirwan tremendous credit. To score 20 goals in the first half on Gerry Byrne's defense is unheard of. Gerry is one of the best defensive coaches – great coach, period. And for Sean to prepare our men like that is mind blowing. Granted, you have to have exceptional players to execute game plans and we're fortunate to have that. Connor Shellenberger, just his vision, playing through checks and seeing through defenses. And then to have the shooters we have: this is the second game in a row now that we've shot at a really high efficiency in the first half."
WITH THE WIN…
The Cavaliers improved to 4-0 in the all-time series against Harvard, which began in 1954.
Virginia extended its home win streak to 11 straight games and has won 21 of its last 25 contests at Klöckner Stadium.
UVA is off to a 2-0 start for the fourth consecutive season.
Lars Tiffany improved to 7-5 all-time against Harvard as head coach.
ADDITIONAL NOTES
Virginia's 20 goals in the first half are a first since the Cavaliers posted 22 goals in the first half against VMI on April 16, 2019.
Both teams combined for an NCAA-record 50 faceoffs. The previous record of 47 faceoffs in a single game was held by Virginia and NC State in 1978 and Virginia and Syracuse in 1997.
The Cavaliers received goals from 13 different players.
Connor Shellenberger (3g, 7a) set a career-high 10 points. The last UVA player to register 10 points in a single game was Michael Kraus (5g, 5a) against Stony Brook in 2018. Shellenberger's 10-point performance marks the 17th in program history.
Shellenberger's seven assists are also a career best and the most by a Cavalier in a single game since Matt Moore did so against Robert Morris in 2019.
Both Thomas McConvey (53 games) and Payton Cormier (31) extend their point streaks.
Petey LaSalla scored two goals and finished 20-for-31 on faceoffs.
UP NEXT
The Cavaliers travel to Naples, Florida to take on Ohio State (2-0) on Saturday (Feb. 25) at the Paradise Sports Complex. Opening faceoff is set for 7 p.m. on B1G+ ($).