Top-Ranked Hoos Welcome No. 18 Harvard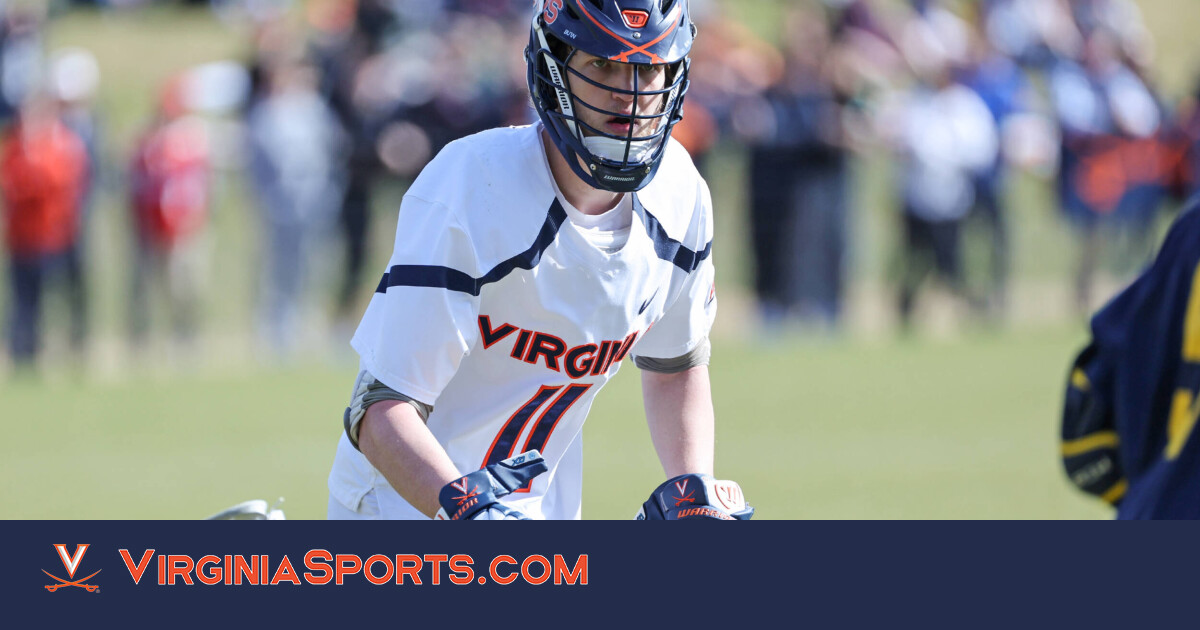 CHARLOTTESVILLE, Va. – No. 1 Virginia (1-0) returns to Klöckner Stadium to host No. 18 Harvard (0-0) on Saturday (Feb. 18) at 4 p.m. William Foshee (play-by-play) will have the call on ACC Network Extra (ACCNX).
Single game tickets are available for purchase via UVATix.com.
PARKING INFORMATION
Due to Saturday's home men's basketball contest against Notre Dame (12 p.m.), parking for Virginia's men's lacrosse game against Harvard will be available in the JPJ South Lot beginning at 3:15 p.m.
Fans should expect increased traffic nearby as basketball traffic exits the JPJ lots Saturday afternoon.
Fans may also park in the Emmet/Ivy Garage ($5.00) using the ParkMobile app. Access to the Emmet/Ivy Garage is only available from Ivy Road.
THE SERIES VS. HARVARD
Virginia leads the all-time series against Harvard, 3-0.
The series began in 1954, when UVA defeated the Crimson 19-14 in Charlottesville. The two teams also played the following year (1955) with Virginia once again coming out on top, 18-10.
The last time the Cavaliers and Harvard met was in the quarterfinals of the 1996 NCAA Tournament at Johns Hopkins. After defeating Harvard, 23-12, UVA went on to fall to Princeton, 13-12, in overtime of the championship game.
LAST TIME OUT
Last Saturday (Feb. 11), Virginia opened its season with a 17-13 win over Michigan at Klöckner Stadium. The meeting marked the first-ever between the two teams.
The Hoos never trailed in Saturday's contest. After UVA goalie David Roselle made a critical save early in the fourth quarter to preserve the Cavaliers' 13-12 lead, UVA outscored the Wolverines, 4-1, the rest of the way.
Payton Cormier (5g, 2a), Connor Shellenberger (3g, 3a) and Thomas McConvey (3g, 2a) led the Cavaliers' effort on offense. Starting goalie Matthew Nunes (15 saves) finished one save shy of tying his career high.
Virginia's man-down unit killed all four of Michigan's extra-man opportunities and the Cavaliers went 16-for-16 on clears.
THE CAVALIERS AT KLÖCKNER STADIUM
Virginia is currently on a 10-game win streak in games held at Klöckner Stadium, a streak that began in 2021.
Virginia owns a 167-43 (.795) all-time record at Klöckner Stadium, including a 1-0 record in 2023, and has won 21 of its last 25 games played at the historic edifice.
The Cavaliers' average margin of victory in their last 25 games at Klöckner Stadium is 5.28.
Virginia is 41-11 (.788) all-time at Klöckner Stadium under head coach Lars Tiffany.
UVA is also 13-3 all-time at Klöckner Stadium in the NCAA Tournament.
Lacrosse debuted in Klöckner Stadium in 1993.
VIRGINIA IN THE POLLS
No. 1 Virginia has been ranked in the top 5 of the USILA Coaches poll in 313 weeks all-time.
UVA has been ranked in the top 10 in 467 polls all-time, including in the most recent edition of the poll.
UVA has been ranked No. 1 in the nation in 72 all-time polls, including in the most recent edition of the poll.
The USILA Poll began in 1973.
CONNOR SHELLENBERGER IS ELITE
Connor Shellenberger, who returns for his third season at UVA, is arguably the most accomplished active player in college lacrosse.
In addition to being a two-time USILA first team All-American (2021-22), Shellenberger became UVA's 11th Tewaaraton Award finalist last season.
This year, Shellenberger was crowned a first team preseason All-American by USILA, Inside Lacrosse and USA Lacrosse Magazine, and the top returning player in 2023 by Inside Lacrosse.
This offseason, Shellenberger was invited to try out for a spot on the U.S. National Team for the 2023 World Championships.
In 2022, he led UVA in points (76) and assists (44) and finished second in goals (32).
In 2021, Shellenberger was sensational in the NCAA Tournament, guiding the Hoos to the program's seventh NCAA championship and was named the tournament's Most Outstanding Player.
In 35 career appearances, Shellenberger has posted at least one point in 34 contests and has recorded multiple assists in 27 career games.
GOING STREAKING
Newcomer Thomas McConvey, a transfer in the midfield from the University of Vermont, is currently riding a 53-game point streak, which began on Feb. 1, 2019.
McConvey has registered at least one point in every game of his career
His 53-game point streak leads the nation among all active players.
During his streak, McConvey has amassed 130 goals and 49 assists.
SALLADE NAMED ACC DEFENSIVE PLAYER OF THE WEEK
With three ground balls and two caused turnovers in UVA's season opener against Michigan, Grayson Sallade was named the ACC's Defensive Player of the Week on Feb. 14.
The weekly award was Sallade's first of his career.
Sallade and the UVA defense held the Wolverines to just one goal in the fourth quarter and scoreless on all four of their extra-man opportunities.
As a member of Virginia's faceoff unit, Sallade helped the Cavaliers finish 18-for-32 at the center X.
CAVALIERS EXCELLING ON THE FIELD & IN THE CLASSROOM
On Feb. 15, Virginia men's lacrosse announced it achieved a 3.610 team GPA in the Fall of 2022.
The Cavaliers' 3.610 team GPA led all UVA men's athletic programs for the semester.
It also marked a 10% increase from the team's GPA in the fall of 2021.
ON THE HORIZON
The Cavaliers travel to Naples, Florida to take on Ohio State (2-0) at the Paradise Coast Sports Complex on Saturday (Feb. 25).
Opening faceoff is set for 7 p.m. on B1G+ ($).