Quint Kessenich's Top 20: February 13, 2023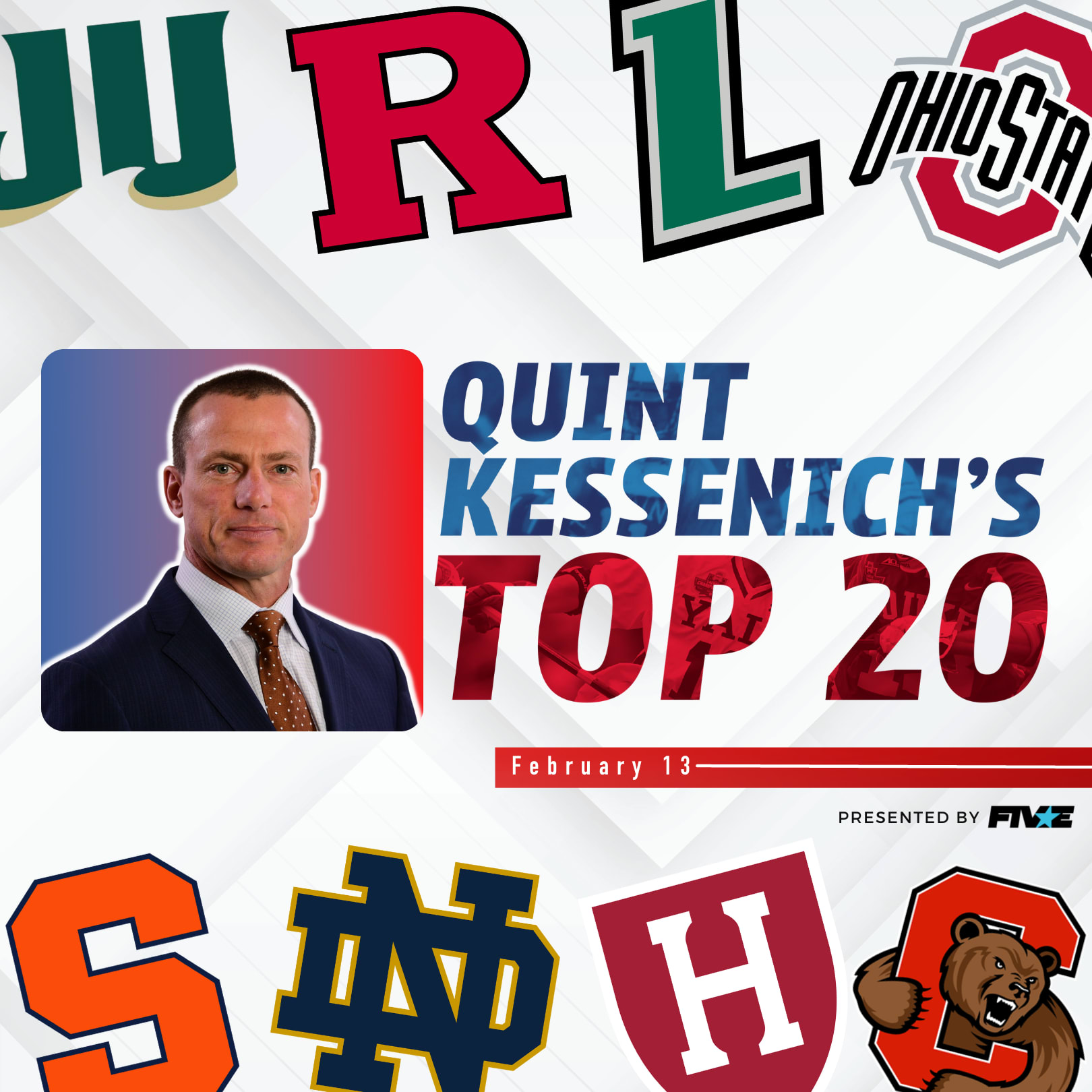 Maryland, Georgetown, BU, Duke, and Denver all lost on enemy soil. It was a forgettable weekend for the Big East who nearly went winless, salvaged by a Sunday Villanova win over Penn State. The Clemson Women's Lacrosse program debuted. Ivy League teams waited out a final week.
This week, everyone is activated. Mother Nature was in the mood for some action and it did not disappoint. This season promises to be the most riveting in memory as the pack of championship caliber teams is deep and league races will be heated. February lacrosse is it's own entity. making strong judgments on initial impressions can prove false, so be patient and let the puzzle pieces come together.
Twitter: @QKessenich
Instagram: @quintekessenich
Facebook: Quint Kessenich
LinkedIn: Quint Kessenich
Quint Kessenich's Top 20
20) Navy
The Midshipmen continue to roll through their non-conference schedule. A 13-12 win over Hofstra was triggered by seven points from Xavier Arline and five goals from sharp-shooter Henry Tolker. With BU and Army dropping week one games, the Patriot League is ripe for the taking and should be a wide open and unpredictable race amongst Navy, Loyola, Army, Lehigh, Bucknell and BU. Navy plays Manhattan next. 
19) Syracuse
Head, heart and hustle finished off Albany 20-7 on Friday night behind five goals from freshman Joey Spallina. Goalie Will Mark continues to shine with his flopping excellence. This offense is young and skilled. The win over the Great Danes showcased significant improvement from a week zero win against Vermont. The Orange midfield is where the most serious question marks lay. I'm not sure about the overall team speed on offense, but against Albany the crisp ball movement resulted in some feet set clean looks. Assisted goals have been their calling card. Creating separation and drawing slides against more athletic defenses that press out will be fascinating to watch.
On Sunday they took a 6-2 lead and blew it open to a 14-2 margin on the way to a 15-6 tally. Vermont's win against BU adds credence to the strong Orange start. Joey Spallina had seven points, Owen Hiltz chipped in five and Finn Thomson scored four times. This group is really fun to watch, highly skilled and creative with two-man and motion concepts. Goalie Will Mark, a Danville CA. native and transfer from LIU, is 71% after three games. His style is unique, he's big at 6-3 with a wide stance and flops effectively, often ending up down on the turf on a knee or hip. He's playing at an All-American level. A true test is up next at Maryland on Saturday, which can be seen on Big Ten+, shot from a satellite in outer space.
18) North Carolina
The Tar Heels got six points from Logan McGovern in a 25-3 Friday night win over Mercer, their 25th consecutive season opening win. The grad student from Bryant was one of 20 different players who chipped in points. North Carolina is at Hopkins for some Tuesday turmoil at 5:00pm live on ESPNU. This is a critical game, an ACC vs Big Ten challenge, with the winner likely to ascend. I'll have the call with Mark Dixon live from historic Homewood Field. Tricky time for a game in north Baltimore with the sun setting behind the scoreboard side goal at 5:42pm. Carolina has mental health days on Monday and Tuesday, no classes are scheduled which allows the lacrosse team to travel to Charm City on Super Bowl Sunday and practice in Baltimore on Monday. Very atypical travel and prep for a mid-week game.
17) Harvard
Crimson start their season at Virginia on Saturday. This is a young team with a lot of upside, they get major contributions from the sophomore and freshmen classes and play defense by the book for the minister of defense Gerry Byrne. Let's see how youngsters Sam King, Owen Gaffney, Miles Botkiss, Andrew Perry, Joe Dowling, Lucas Hilsenrath, Andrew O'Berry, Colin Bergstrom, Thomas Martinson and Ray Dearth look with a year under their belts. 
16) Duke
On Tuesday, turmoil was averted with a resounding win over High Point. Dyson Williams, a potential two-league (NLL & PLL) pro player, is back where he always belonged, starting on attack. He scored seven times. It made me wonder why he was shifted to midfield in 2021 and 2022 after lighting up the 2020 pre-pandemic season as a freshman. That February, he was on pace for 50 goals. Saint Lawrence graduate transfer goalie William Helm finished with 16 stops.
Duke, with an attack of Andrew McAdorey, Brennan O'Neill and Dyson Williams, a trio I absolutely love, led 6-3 after the first quarter, matching the energy and juice that the Panthers brought off the bus. The Blue Devils dominated the second quarter outscoring High Point 8-0 for a 14-3 halftime lead. Warm up the bus. Durham was a no hunting zone on Tuesday.
Top heavy goal scoring from attackmen Brennan O'Neill and Dyson Williams wasn't enough in a 13-12 loss at Jacksonville. Feels like the Duke midfield lines remain a work in progress. Their SSDM position was exploited. The Blue Devils led 10-6 before Jacksonville went on a 6-0 run. February losses aren't catastrophic. Failing to improve from February losses is.
Duke faces Denver on Friday at 4:00pm in a nationally televised game on ESPNU. Both teams are coming off of road losses. Coach John Danowski and Bill Tierney, the two most winning leaders in Division 1 Lacrosse history, square off for one final time.
15) Jacksonville
The Dolphins outscored Duke 8-3 in the second half to upend the Blue Devils 13-12. Coach John Galloway and his crew own Duke, that's two years in a row. Jacksonville received sensational depth of scoring, the bench scored 8 times with Bryce Wojnovic, Reid Smith and Jack Taylor being difference makers. The Dolphins made a quantum leap from a week one loss to Hopkins to week two, only committing ten turnovers.
14) Saint Joseph's
A 17-5 win over Sacred Heart is a nice tune up for Towson on Saturday. FOGO Zach Cole went 17 of 23 with 10 groundballs. 
13) Delaware
The Blue Hens took down Lafayette 14-5 and play The Mount and St. John's this week. Tye Kurtz found the net five times and Mike Robinson had four points in the opener. 
12) Rutgers
Bada Bing, bada bang, bada boom. Ho hum, a 11-7 victory over Stony Brook made possible by a 5-1 advantage in the second quarter. The Seawolves only managed 14 shots on goal and went 1-6 with the extra-man. Rutgers bench scoring was non-existent with Ross Scott, Brian Cameron and David Sprock doing the damage. The Scarlet Knights play at Army on Saturday at noon (ESPN+). 
11) Maryland
Maryland was defeated for the first time since the 2021 NCAA Finals and for the first time during the regular season since February 18, 2020. This was inevitable. It was just a matter of when and how bad it would be. Maryland lost their top five goal scorers and four SSDMs from the undefeated 2022 title team.
This 2023 version has significant question marks. The Terps took it on the chin at Loyola in what will be a revealing loss. The Maryland attack right now is below par for the level. I expect Coach John Tillman to tinker and won't be surprised if down the road this unit relies on younger personnel. Be the Best doesn't have a "go to" offensive weapon. That's why a defender wears No.1.
Daniel Kelly finished with four goals. Maryland got zero points from the bench and didn't shoot the ball well against a left-handed goalie. Luke Weirman won 18 of 22 draws yet Maryland couldn't parlay this advantage. 22 turnovers and shooting 7 of 42 both jump off the page. Goalie Logan McNaney was injured late in the contest. He appeared to be wearing a knee brace on his right leg under his sweats during the Richmond game. Not sure what's going on with his health. Teddy Dolan is the current back-up. 
10) Loyola
Luke Stoudt made 19 stops, holding Maryland to seven goals in a 12-7 shocker at the Ridley Complex. Stoudt made seven saves in the fourth quarter. The shooting efficiency in this game tells the tale. Loyola hit on 7 of 10 second half shots while the Terps were 3 of 23. Evan James scored three times for Gang Green. The defense forced 22 turnovers. A 5-5 third quarter tie ballooned to a Loyola advantage behind a 5-0 run. 3,104 fans made their presence felt.
Loyola hosts Hopkins on Saturday at noon.
9) Georgetown
Interesting that we over scrutinize one-goal losses and under critique one-goal wins. The Hoyas lost at Homewood on Saturday after holding a three goal lead in the second half. Tucker Dordevic (5 goals on 13 shots) and Graham Bundy (3 goals on 11 shots) were most productive, but the Georgetown offense lacked chemistry and flow. Ball reversal and multiple pass goals were in short supply. Those two stars have to be utilized better to foster the growth and efficiency of the entire unit.
TJ Haley and Nicky Solomon, both talented players, barely got mentions. The ball died in sticks. Defensively, SSDM Will Godine was injured early and that put too much stress on too few legs. The defense wasn't bad, but the off-ball and interior coverage was sub-par for the program that led the nation in scoring defense. Giving up inside pipe goals hurts. Georgetown didn't ride effectively and didn't push tempo.
Overall, they fought hard, didn't have their normal FO edge, and eventually wore down on defense. The lack of transition offense, run outs, and odd-man rushes was a subtle difference maker. The Swamp Dogs could have won this game, but didn't. The second half was eerily similar to their Delaware loss in last year's NCAA First Round, a game in which Georgetown played just 18 players. 23 participated against JHU. 
It's not about where you start, it's about where you finish. The road to Philly is built upon constant improvement, daily, weekly and monthly. That's the challenge for everyone.
8) Johns Hopkins
After going 2-4, 4-9 and 7-9, Jays fans finally have something to chirp about. The funk of losing seasons appears to have been cleansed. A one-goal win over Georgetown is the most significant of the Peter Milliman regime. Hopkins fought – they scrapped, hustled, dove, sprinted, and battled like I haven't seen in a few years. They made mistakes, but worried about the next play. You can see their chemistry, confidence and grit.
The impact of new OC John Crawley is significant as is playing two attackmen Russ Melendez and Jacob Angelus with mobility. Melendez was assertive with his right hand and Angelus never stops moving. Defender Alex Mazzone is an upgrade, goalie Tim Marcille is radically improved, the Jays have two capable FOGO's and freshman Matt Collison looks like a keeper. Their motion offense finally had movement. I've felt only positive vibes from this group who must continue to harp on clean clearing and bolster their SSDM position. 
No time to celebrate in Fells Point. On Tuesday at 5:00pm, North Carolina comes to town live on ESPNU. Mark Dixon and I will be at Homewood Field with the call.
7) Penn
The Quakers start the 2023 season at Georgetown on Saturday. They play Duke, Penn State, St. Joseph's, Villanova, and Albany outside of the Ivy League. Sam Handley is their headliner but don't sleep on Cam Rubin, Ben Smith, Tynan Walsh, Gabe Furey, or James Shipley.
6) Yale
The Bulldogs sharpened their teeth in a scrimmage against RIT. Yale plays at Villanova on Sunday. This series has always been hotly contested.  
5) Notre Dame
The Irish debut against Marquette on Wednesday at 5:00pm (ACCNX) and Cleveland State on Sunday at noon (ACCNX). Quarterfinalists in 2019 and 2021, Rudy hasn't been to Championship Weekend since 2015.
Max Manyak's Pediatric Pep Talk was featured this week on ESPN's television coverage, the "What's Good" segment produced and voiced by Paul Carcaterra. The app based platform connects children hospitals and chronically ill patients with athletes across the country. It allows for the patients to join a team regardless of location. It can change the lives of sick children and benefit the student athlete with a dose of real world reality.  
4) Ohio State
The Buckeyes host North Carolina on Sunday at noon. These are the type of non-conference games that impact RPI and matter in May. A 19-12 win over Cleveland State may seem a bit misleading but OSU was up 10-2 at half and 14-2 before subbing liberally. Ed Shean scored five times for Ohio State. I respect the Buckeye shorties with Greg Langermeier, Connor Cmiel, Carter Hilleary, and Dante Bowen. 
3) Cornell
The Big Red visit Albany to open the 2023 slate. The 2022 finalist brings back defenders Gavin Adler and Jack Follows in front of goalie Chaise Ierlan. The offense will revolve around CJ Kirst, Michael Long, Hugh Kelleher, and Aiden Blake. They scrimmaged Colgate this weekend, the unofficial final was 11-6 with Aiden Blake being a precautionary scratch. 
2) Princeton
With five pre-season All-Americans and a robust senior class, the Tigers will attempt to make a return trip to Championship Weekend. They'll play Monmouth this weekend. 
1) Virginia
The Wahoos defeated Michigan 17-13 at Klockner on Saturday. The Wolverines are more formidable in 2023 as they took a punch and kept battling. Their transition game from defense to offense was lacking. The top group on offense will be a handful for everybody to stop. The attack of Connor Shellenberger, Payton Cormier and Xander Dickson combined for 16 points but the second midfield, rope and others had little offensive impact. Scary actually. Areas of observation going forward for me include SSDM performance, it has to get better. The second midfield input and FOGO depth are concerns as Petey LaSalla is battling an injury.
The Cavaliers host Harvard on Saturday at 4:00pm on ACCNX.
Quint Kessenich's Socials
Twitter: @QKessenich
Instagram: @quintekessenich
Facebook: Quint Kessenich
LinkedIn: Quint Kessenich