No. 2 Virginia Fends Off Michigan, 17-13, in Season Opener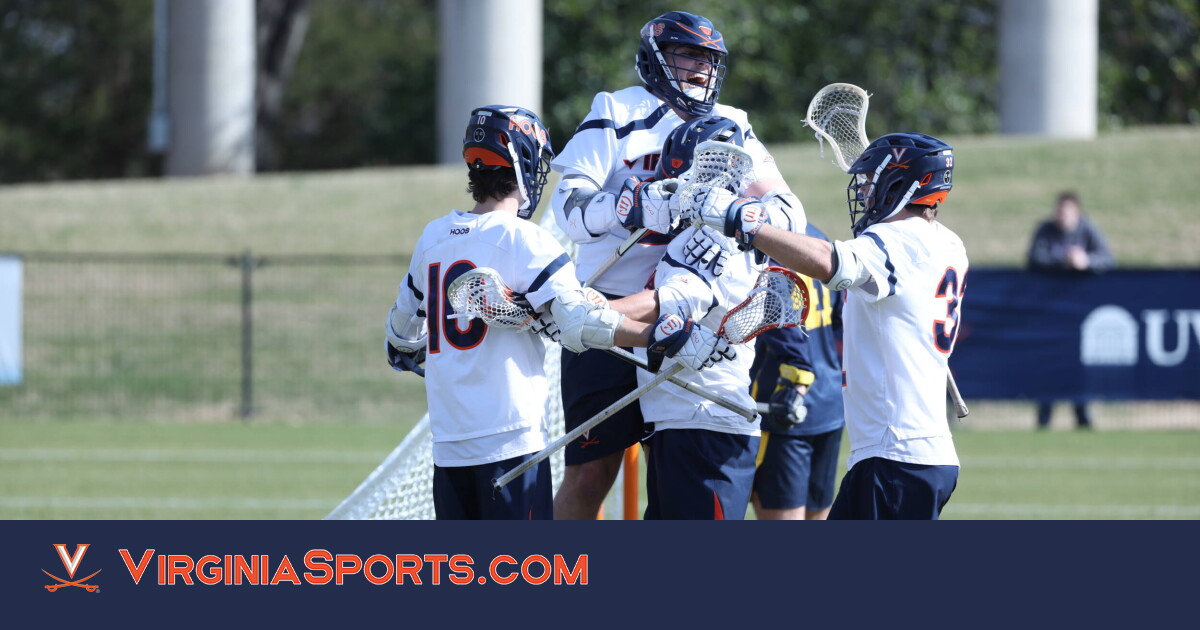 CHARLOTTESVILLE, Va. – Payton Cormier (5g, 1a), Connor Shellenberger (3g, 3a) and Thomas McConvey (3g, 3a) recorded six points each to lead No. 2 Virginia (1-0) to victory over Michigan (0-1) by a final score of 17-13 in its season opener at Klöckner Stadium Saturday afternoon (Feb. 11).
The Cavaliers never trailed in Saturday's contest. Virginia led by one [13-12] at the end of the third quarter, but pulled away by out-scoring the Wolverines in the fourth, 4-1.
Virginia goalie Matthew Nunes (1-0) earned the win, the 12th of his career. Nunes finished with 15 saves, just one shy of tying his career high. Michigan's Shane Carr (0-1) suffered the loss.
The Cavaliers' man-down unit held Michigan scoreless on four of its extra-man opportunities. Petey LaSalla (14-25 FO) and Mac Eldridge (4-7 FO) combined to win 18 faceoffs.
HOW IT HAPPENED
Virginia led 6-4 at the end of the first period after netting goals from six different scorers, including newcomers McConvey and Stanford football transfer Ricky Miezan. Nunes had four saves at the end of the first period, while the Wolverines had none. Virginia struck first on a pair of goals, the first of which was from Cormier on an assist from McConvey.
The Wolverines scored the last the goal of the opening quarter and the first of period No. 2 to cut UVA's lead to 6-5. Cormier netted two of UVA's three goals in the second period, while Jeff Conner (1g, 1a) scored an unassisted goal midway through the period. The Cavaliers led 9-7 at the intermission, which tied for its largest lead of the half.
The Wolverines out-scored UVA in the third, 5-4, to cut the Cavaliers' lead to one [13-12] heading into the fourth. Michigan's Ryan Cohen (3g, 2a) scored two of his three goals in the third.
Nunes was charged with his first career penalty with 13:32 remaining in the contest, which prompted the Cavaliers to bring David Roselle off the bench and in net. During Michigan's man-up opportunity, Roselle came up with a huge save to erase a chance for the Wolverines to tie the contest. After the Roselle save, the Cavaliers gained possession, killed the remainder of the penalty, and went on to score four of the game's final five goals, including a man-down goal by McConvey.
FROM THE LOCKER ROOM
Lars Tiffany's opening comments …
"Just so you know, the patches the men are wearing, the shirt I'm wearing, resembles a community here in Charlottesville that has gotten stronger, but we still have broken hearts for Devin, D'Sean, and Lavel. We will wear these patches and shirts proudly. We will try to remember as much as we can and it still hurts, it still hurts on today's game."
Lars Tiffany on today's result…
"First of all, what a great crowd for February and huge turnout. I was really inspired by several men who weren't on the board. We weren't sure if they would play. And I'm not going to tell you their names. But, you know, he persevered through some things. So, let's give Rebecca Vozzo (ATC) and [Stephen] Brockmeier (doctor) credit. The value of playing a better schedule early is hopefully going to pay dividends later in the season. We didn't really have a lot of close games last year either – we won or lost by a lot. This was a good test by an up-and-coming, improving Michigan opponent. I couldn't be more thrilled with the guts that we showed out there, when maybe we weren't playing our best defense. Maybe [Matthew] Nunes wasn't seeing the ball as well does, but he did end up making some big saves, no question."
WITH THE WIN…
The Cavaliers won the first-ever matchup against Michigan.
Virginia won its fifth consecutive season opener at Klöckner Stadium, including fourth under head coach Lars Tiffany.
ADDITIONAL NOTES
Newcomers Thomas McConvey and Ricky Miezan scored their first career goals as Cavaliers. McConvey finished with three goals and three assists, while Miezan scored one goal on one shot.
With three goals and three assists, McConvey extended his point streak to 53 games, which leads the nation among all active players.
With five goals and one assist Payton Cormier extended his point streak to 30 games.
McConvey and Shellenberger have now scored at least three goals in 22 career games, while Cormier has netted a hat trick in 21 career games.
Matthew Nunes tallied 15 saves, one shy of tying his career high.
Virginia's man-down unit held Michigan scoreless on all four of its man-up opportunities.
First year faceoff specialist Mac Eldridge finished 4-of-7 at the center-X.
Grayson Sallade and Cade Saustad led the Cavaliers with two caused turnovers each.
Virginia had 37 ground balls, including 14 in the third quarter, while the Wolverines finished with 34.
UP NEXT
The Cavaliers return to Klöckner Stadium on Saturday (Feb. 18) to host Harvard (0-0). Opening faceoff is set for 4 p.m. on ACC Network Extra (ACCNX).