No. 2 Virginia Hosts Michigan in 2023 Season Opener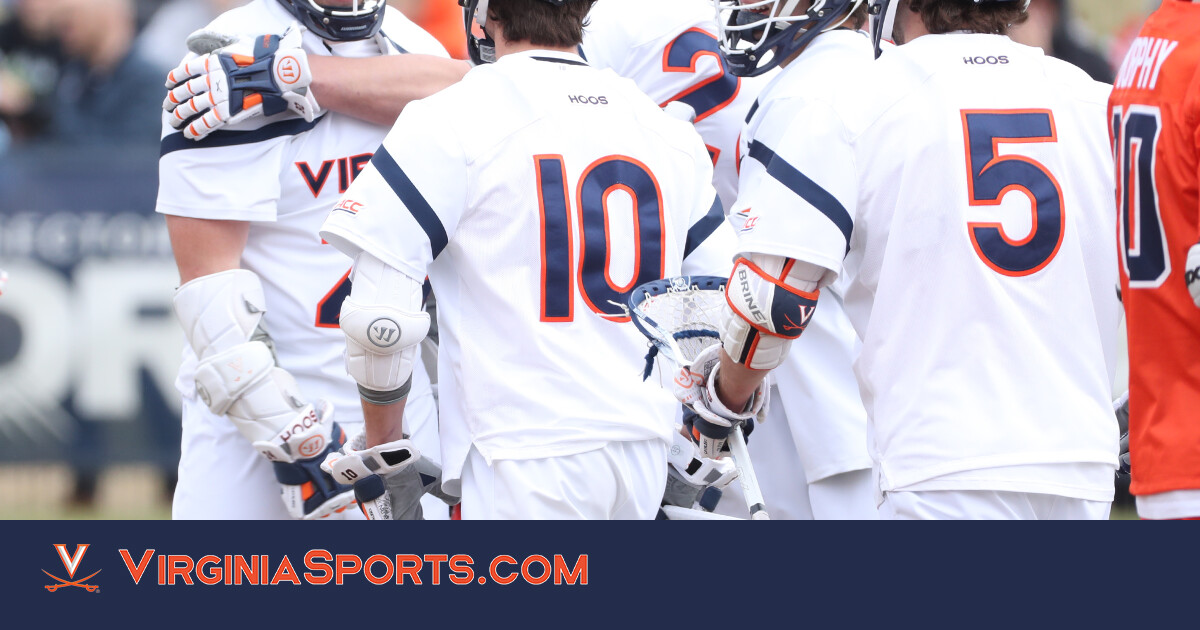 CHARLOTTESVILLE, Va. – No. 2 Virginia hosts Michigan at Klöckner Stadium in its 2023 opener on Saturday (Feb. 11) at 12 p.m. Anish Shroff (play-by-play) and Paul Carcaterra (analyst) will have to call on ACC Network.
Single-game tickets are available for purchase via UVATix.com.
PARKING INFORMATION
Fans planning to attend Saturday's men's lacrosse game are permitted to park in the JPJ South Lot free of charge. Due to Saturday's home men's basketball game against Duke (4 p.m.), vehicles must vacate the JPJ South Lot immediately following the conclusion of the men's lacrosse game.
Fans may also park in the Emmet/Ivy Garage ($5.00) using the ParkMobile app. Access to the Emmet/Ivy Garage is from Ivy Road only.
SEASON OVERVIEW
The 2023 season marks the 95th season for the Virginia men's lacrosse program, which boasts an all-time record of 680-378-5.
This season, the Cavaliers will host eight regular season games at Klöckner Stadium, including three ACC contests and a rematch of the 2021 NCAA Championship game against Maryland
Virginia returns nine starters from its 2022 roster, including Tewaaraton Award finalist Connor Shellenberger, 2022 ACC Defensive Player of the Year Cole Kastner and 2022 ACC Freshman of the Year Matthew Nunes.
THE SERIES VS. MICHIGAN
Saturday's contest marks the first-ever meeting between Virginia and Michigan, which started its men's lacrosse program at the Division-I level in 2012.
During his tenure as head coach at Brown University, Lars Tiffany defeated Michigan twice by scores of 22-9 and 22-8 in 2015 and 2016, respectively.
In addition to the Wolverines, UVA will also challenge Big Ten foes, Ohio State (Feb. 25), Johns Hopkins (March 7) and Maryland (March 18) this season.
THE CAVALIERS AT KLÖCKNER STADIUM
Virginia will open its 2023 season on a nine-game win streak in games held at Klöckner Stadium.
Virginia owns a 166-43 (.794) all-time record at Klöckner Stadium, including an 8-0 record in 2022, and has won 21 of its last 25 games played at the historic edifice.
The Cavaliers' average margin of victory in their last 25 games at Klöckner Stadium is 5.36.
Virginia is 40-11 (.784) all-time at Klöckner Stadium under head coach Lars Tiffany.
UVA is also 13-3 all-time at Klöckner Stadium in the NCAA Tournament.
Lacrosse debuted in Klöckner Stadium in 1993.
VIRGINIA IN THE POLLS
2 Virginia has been ranked in the top 5 of the USILA Coaches poll in 312 weeks all-time.
UVA has been ranked in the top 10 in 466 polls all-time, including in the most recent edition of the poll.
UVA has been ranked No. 1 in the nation in 71 all-time polls.
The USILA Poll began in 1973.
CONNOR SHELLENBERGER IS ELITE
Connor Shellenberger, who returns for his third season at UVA in 2023, was crowned a first-team preseason All-American by USILA, Inside Lacrosse and USA Lacrosse Magazine.
He was also tabbed Inside Lacrosse's No. 1 overall player returning in 2023.
This offseason, Shellenberger tried out for a spot on the U.S. National Team for the 2023 World Championships.
He led UVA in points (76) and assists (44) and finished second in goals (32).
Shellenberger is a two-time, first-team USILA All-American was named the Most Outstanding Player of the 2021 NCAA Tournament.
He finished the 2022 season fifth in the nation in assists (2.75/gm) and 11th in points (4.75/gm).
In UVA's NCAA Tournament first round game at eighth-seeded Brown last season, Shellenberger tied his career of eight points (4g, 4a).
In 34 career appearances, Shellenberger has posted at least one point in 33 contests and has recorded multiple assists in 26 career games.
Shellenberger had a streak of at least five points in 12 consecutive games, over the course of 383 calendar days and ended on April 2, 2022 at Richmond.
VIRGINIA'S EIGHT PRESEASON ALL-AMERICANS
Eight Cavaliers in Connor Shellenberger (1st), Thomas McConvey (2nd), Cole Kastner (2nd), Payton Cormier (3rd), Jeff Conner (HM), Petey LaSalla (HM), Grayson Sallade (HM) and Cade Saustad (HM) were named preseason All-Americans by Inside Lacrosse.
UVA's eight honorees led all Division-I programs nationally.
GOING STREAKING
Newcomer Thomas McConvey, a transfer in the midfield from the University of Vermont, comes to UVA on a 52-game point streak, which began Feb. 1, 2019.
His 52-game streak leads the nation among all active players.
McConvey has registered at least one point in every game he has participated in during his career.
During his tenure at Vermont, McConvey amassed 127 goals and 47 assists.
ON THE HORIZON
The Cavaliers return to Klöckner Stadium on Saturday (Feb. 18) to host Harvard (0-0).
Opening faceoff is set for 4 p.m. on ACC Network Extra (ACCNX).
It's still February, but @VirginiaSports' spring teams are hard at work, and this is a big weekend for @UVAMensLax attack man @cshellenberger_ and @UVAWomensTennis head coach Sara O'Leary. https://t.co/Gax1EK8jsP

— Jeff White (@JeffWhiteUVa) February 9, 2023