Johns Hopkins is BACK: Week 0 Lacrosse Wall Ball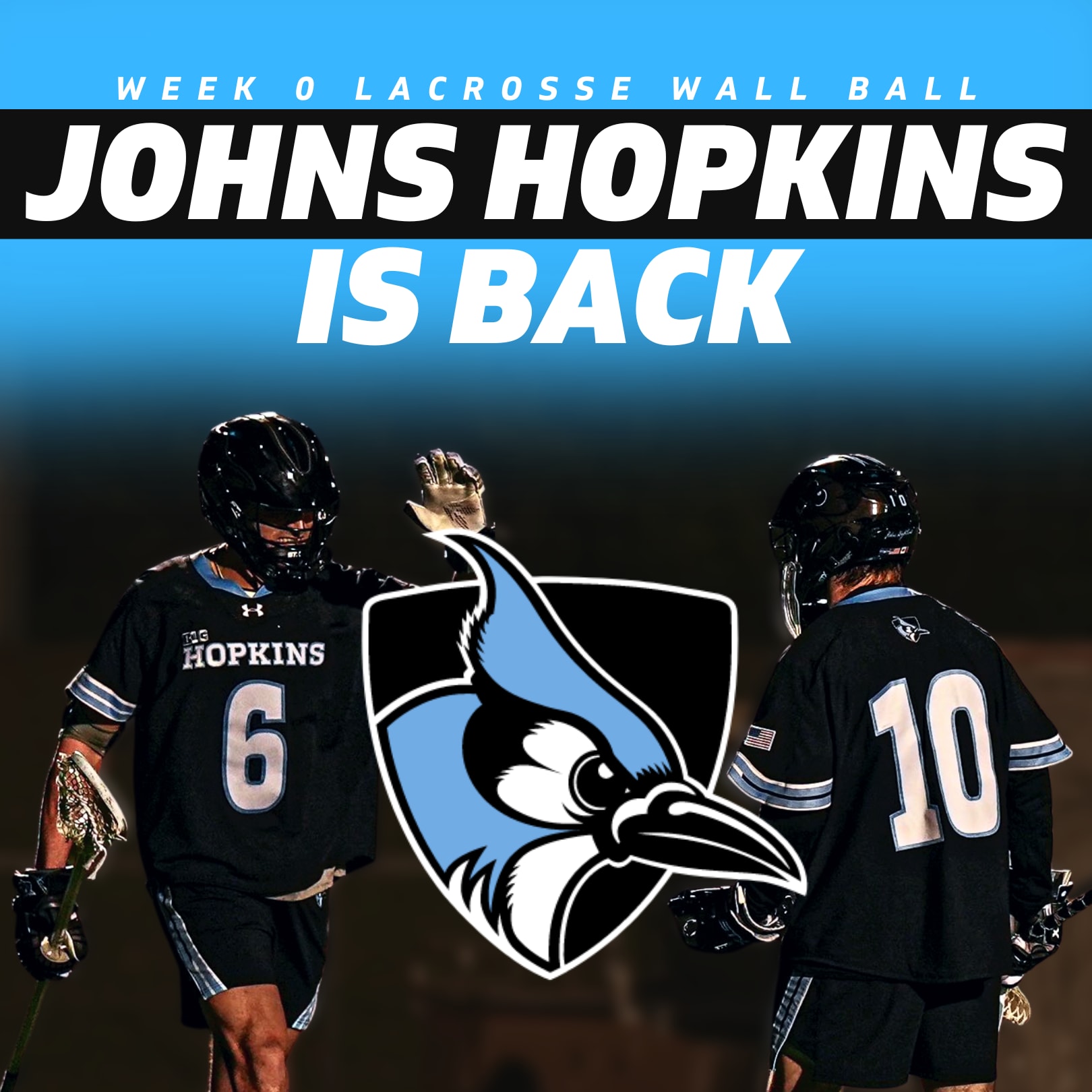 Wall ball is a great way to improve your lacrosse skills. Each week, Lacrosse All Stars will hit the wall with the five biggest stories, headlines, wins, and stats from the week. This will get you caught up on what you might have missed and prepare you for your Twitter and Discord debates.
Grab your stick, it's time to hit the wall!
B1G Statement
The Big Ten had a nice little Saturday winning each of their five games. Ohio State opened its brand new stadium with a 15-7 win over Air Force. Jack Myers and Scott White led the Buckeyes with four goals apiece. Myers added five assists to give him nine points on the day. Drew Blanchard won 85% of his faceoffs and the Buckeye defense did a good job of limiting Brandon Dodd to one goal on six shots. Ohio State welcomes Cleveland State next Saturday in Columbus.
Brian Brechtwon the 150th game of his career (85th at Rutgers) in the Scarlet Knight's 20-8 victory over Marist. Dante Kulas led Rutgers with eight points (5G/3A). Four Scarlett Knights notched at least three goals in the win. Rutgers will welcome Stony Brook next Saturday to Piscataway.
Maryland continued to #BeTheBest in their 15-4 win over Richmond. Ten Terps scored at least one goal. Owen Murphy (4G) and Daniel Maltz (2G/3A) led the Terps. Logan McNaney saved 80% of the shots he faced before giving way to Teddy Dolan. Maryland travels to Baltimore to take on Loyola next Saturday.
Johns Hopkins ruined Jacksonville's lacrosse beach party on Saturday night. The Jays outscored the Dolphins 6-2 in the second half to win 12-7. Strong performances in goal and at faceoff helped lead Johns Hopkins to this big early season lacrosse victory. Tim Marcille made 11 saves and Logan Callahan won 77% of his faceoffs. Nine Jays had at least one goal. Jacob Angelus and Dylan Bauer led the Jays with two goals apiece. Johns Hopkins willhost Georgetown next Saturday at Homewood which could the most exciting lacrosse game of the day.
New Faces lead Syracuse
All eyes were on the Dome as Syracuse opened their season against Vermont. Gary Gait brought in an impressive freshman class led by Joey Spallina and a host of transfers to look to build off a rough 2022. While many eyes were on Spallina, Finn Thompson stole the show from his freshman counterpart. The right-handed Canadian had a goal and two highlight-reel assists.
Transfer Will Mark (LIU) had a big day between the pipes for the Orange. He made a number of big saves early to keep Syracuse in the game. Spallina tied the game at five with under a minute to play in the third quarter. While many may look at his 1 of 15 shooting, Spallina showed he is ready to lead the Orange to better things in 2023. 
Bill Tierney began his final season for Denver on Saturday against Utah. Denver defeated the Utes 12-4 in front of their home crowd. Eight Pioneers scored at least one goal, with four of them scoring two goals. Jack Thompson made nine saves for the Pioneers and Alec Stathakis won 65% of his faceoffs. Denver travels to Air Force next Saturday to play the Falcons.
Navy Plays Two
The Midshipmen played back-to-back games this weekend against. They defeated Mount St. Mary's on Saturday 13-7 and welcomed Queens College to Division 1 lacrosse with a 19-5 victory on Sunday afternoon.Patrick Skalniak led the Midshipmen with six goals on the weekend. Xavier Airline had two goals and three assist on the weekend including this highlight reel goal on Saturday.
Dan Daly and Andrew Calabreseeach split time in goal this weekend, splitting each of the halves. Navy travels to Hempstead to take on Hofstra on Saturday afternoon.
By the Numbers
1: Bobby Benson notched his first victory in Providence's win over Holy Cross.
7: Points for Merrimack's Jack and Tommy Rooney. The pair led the Warriors to their opening win over Hofstra. Tommy was part of the play of the game (see below).
10: Dutch Furlong had 10 points in Bucknell's 20-6 win over Mercer.
16: Duke's new attack line of Brennan O'Neill, Dyson Williams, and Andrew McAdorey, accounted for 16 points in the Blue Devils win over Bellarmine. The trio had as many shots (29) as Bellarmine.
Play of the Weekend: Put 'Em on Skates