Questions Regarding the 2023 College Lacrosse Season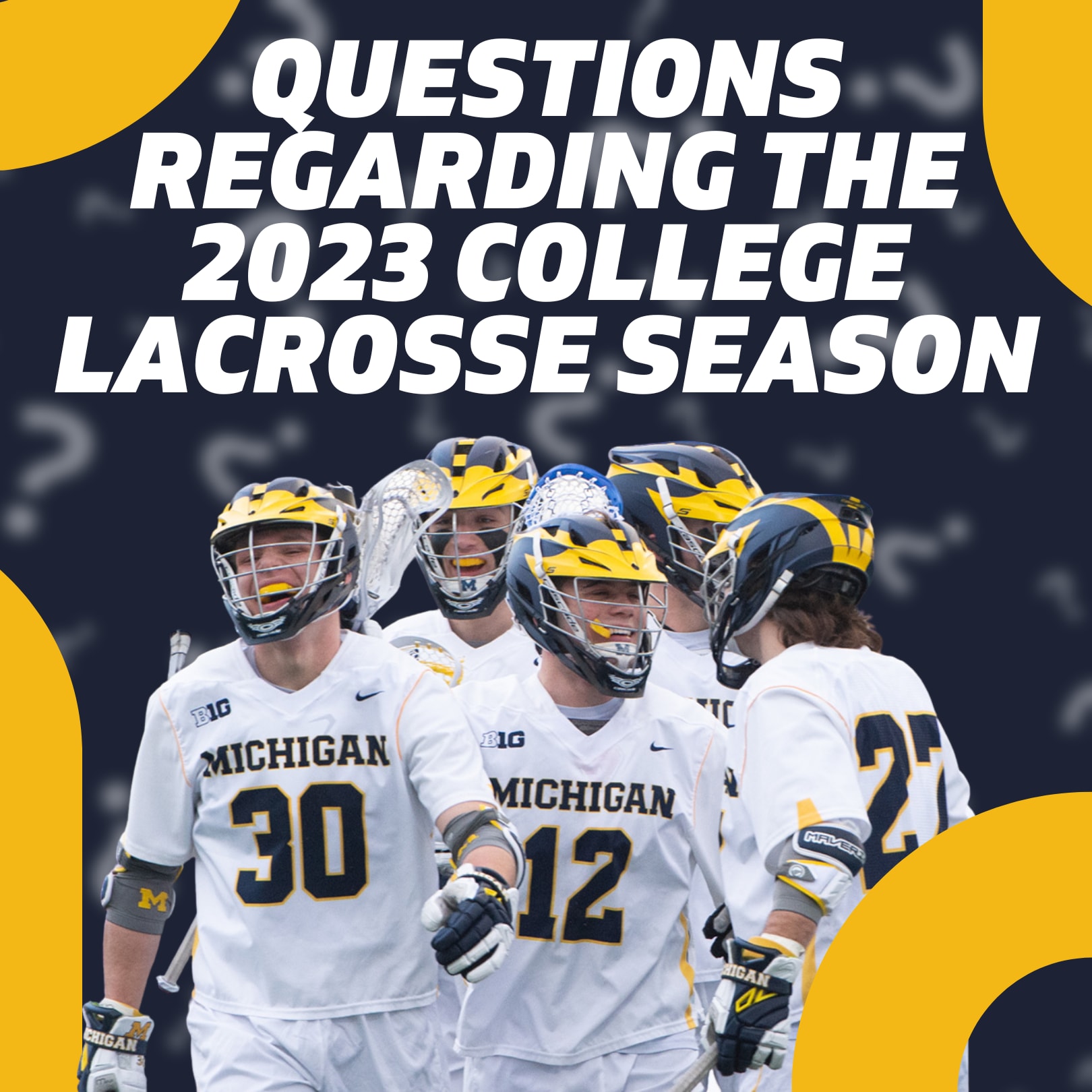 I have questions about the 2023 college lacrosse season. Right now, we wait for answers. Until we actually see what a team looks like in practice, in a scrimmage, or an actual game, we don't know. Paper based analysis never works and once we start seeing and evaluating teams, comparing is difficult and tricky along with factoring in improvement, development, and growth. 
Will 2023 be the year that Notre Dame finally wins a college lacrosse national title? Vegas has the Irish as one of the six top choices with Maryland, Virginia, Georgetown, Cornell, and Duke. Notre Dame has the personnel to challenge for the top spot, but what makes this spring different?
Will Hopkins and Syracuse return to their winning ways? For the first time in history, both were excluded from the pre-season top 20. 
Does Georgetown have the depth to make a playoff run? In 2022 they were overly reliant on 14 players. They'll need to go 20 or 21 deep to make a sustained push through the bracket in May. Transfers Brian Minicus and Tucker Dordevic will be productive in the Swamp. What type of second midfield do they rollout? How many capable shorties will they employ? Will the transition from defense to offense yield more odd-man rushes and scoring opportunities? The Hoyas scrimmage Maryland on January 28. 
Surprisingly, Hopkins is the underdog on February 4 at Jacksonville. So it begs the question, given the incredible strength of the Blue Jays schedule, where are the wins in 2023? The non-league portion of their schedule includes Georgetown, Virginia, North Carolina, Syracuse, Loyola, Utah, St Joe's, Delaware and Navy. 
Can Delaware and St Joe's take the next step to greatness? Both squads look loaded. 
Who battles for the Tewaraaton trophy? My top five begins with Connor Shellenberger, Brennan O'Neill, Tucker Dordevic, Pat Kavanagh, and Jack Myers. 
Will Maryland regress back to the pack? Graduating four SSDMs will have a major impact. All four SSDMs cashed checks last summer in the PLL, that's amazing. Remember Maryland scored more than 20 goals from its rope unit in 2022. They also lose their top 5 scorers to graduation or injury. The close defense will be elite. My overall expectations are not as grandiose as other media members, as the offense will be a work in progress during February. 
How will the Ivy League shake down? Feels like Cornell, Penn, Princeton and Yale all have rosters capable of championship weekend. Harvard's baby faced 2022 squad made the NCAA playoffs, returns nearly intact and has upward mobility. Will the ancient eight continue to win critical non-conference games in February and March? The league struck gold from winning a handful of one goal games in 2022. Margin of victory is not an analytic used by the NCAA selection committee, a group that leans heavily on RPI. 
Cornell made remarkable progress after a 2022 mid-season speed bump. They bring back defenders Gavin Adler and Jack Follows and a core of offensive stars with CJ Kirst, Hugh Kelleher, Aidan Blake and Michael Long. 
Will Michigan finally turn the corner? They've added Virginia to the non-league schedule. The stars are aligned for the Wolverines to make a push into the Big Ten upper-tier. 
What impact will first year coaches make at Mercer, Providence, Bryant, Manhattan, St John's, LIU, Umass-Lowell and NJIT?
Will Queens or Lindenwood win a D1 game in their inaugural season?
Will Duke hold serve in early non-conference play and put themselves in a more enviable position for a tournament bid? Their defense played well in a January 21 scrimmage against Maryland. 
What will Bill Tierney's victory lap look like in his 39th and final season as a head coach? Denver will scrimmage at Johns Hopkins on Saturday January 28 at noon. 
What seniors will rise up and be selected in the PLL draft? 
Can Ohio State's defense of Jacob Snyder, Bobby Van Buren, and Marcus Hudgins along with a handful of very talented SSDMs dethrone Maryland for Big Ten supremacy? 
What impact will Atlantic 10 and ASUN realignment have on the national picture? Automatic bids will be earned in the America East, Atlantic Sun, Atlantic 10, Big East, Big Ten, CAA, Ivy, MAAC and Patriot. The ACC remains a five team league, unwilling to add affiliate lacrosse members, and without an automatic qualifier.  The addition of men's lacrosse at Boston College, Wake Forest, NC State, Miami or Florida State would remedy the issue. 
Is Jacksonville ready to take the next step to greatness? Losing to Lynchburg in a January 21 scrimmage is unsettling. 
Will Hampton be improved? Can the Pirates win a game? Coach Chazz Woodson and assistant JT Giles-Harris have made steady progress which should correlate to a stronger product on the field. 
Who will be the Cinderella story of the 2023 college lacrosse season? Utah? Siena? Marist?
What will the ESPN network lacrosse television schedule look like? The slate will be released soon.
Is Navy really a top 20 caliber team?
Carc is accumulating penny stocks, purchasing at a discounted level before the season begins: Russell Melendez (JHU), Brian Minicus (GT), Chris Kavanagh (ND), Aidan Blake (Cornell), Richie Lacalandra (OSU) and Logan McGovern (UNC). 
Was Rutgers a flash in the pan? Was a Championship Weekend appearance a perfect storm of accumulated transfers, or do the Scarlet Knights have a program built for sustained success? Bada Bing, bada bang, bada boom. Rutgers looked talented and athletic in a January 21 scrimmage against BU. 
How many hot dogs can stat man Russ Dlin consume during Championship Weekend at the Linc in Philly?
Quint Kessenich cover lacrosse for the ESPN Networks.