MCLA 2023 Season SELC D2 Preview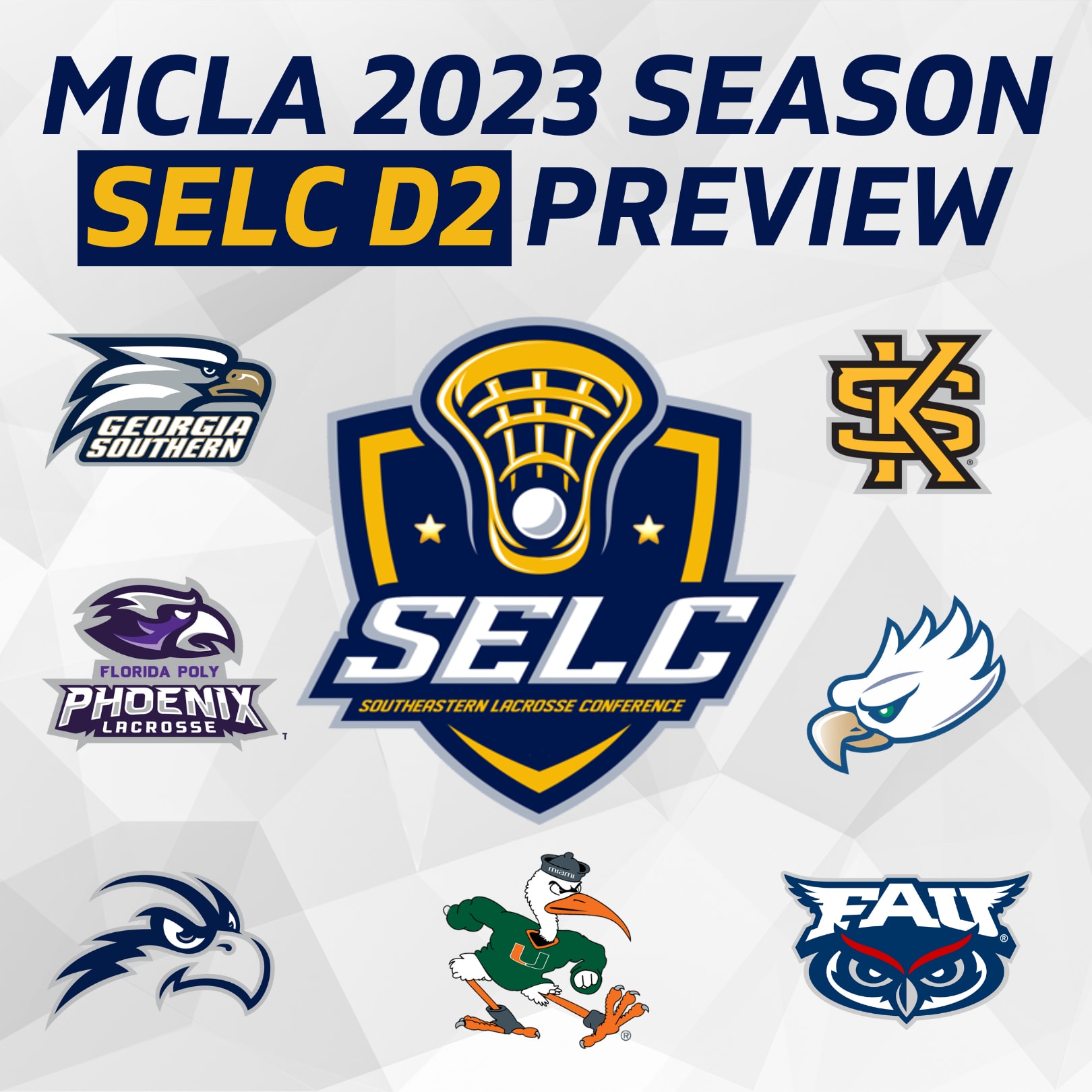 2023 SELC Division II Preseason Coaches Poll
Kennesaw State (4)
Florida Gulf Coast (1)
Florida Atlantic (2)
Miami
Georgia Southern
North Florida
Florida Poly
Kennesaw State
Overall Record: 10-1
Conference Record: 2-0
Result of 2022 Season: SELC DII Champs, 1st Round of Nationals
Head Coach: Connor Murphy (2nd Season)
The Owls dominated last year only losing to Georgia in the preseason before going undefeated in the regular season and winning the SELC DII title. They scored 20+ points four different times including a 28-4 win over NAIA Point University. After getting the No.3 seed in the tournament they were upset in the first round by Cal State San Marcos. They play three DI games against Vanderbilt, Mizzou, and Georgia Tech. They lose leading scorers Dylan Polanski and Dylan Stanhope, but return 2nd Team SELC Attack and 3rd Team Midfield Chasen Champbell and Clayton Hamby. They also retained the 1st Team duo of LSM Scott Rzasa and FOS Adam Piejak as well as 2nd Team Goalie Joe Shaub. 
Florida Gulf Coast 
Overall Record: 10-4
Conference Record: 3-0
Result of 2022 Season: 1st Round of Nationals
Head Coach: Vinny Valentine (4th Season)
Last season the Eagles only lost to Division I Florida and Kennesaw State before losing to Kennesaw State in the conference tourney and Montana at Nationals. This year they have an out-of-conference schedule that include Minnesota Duluth, Bridgewater State, and UNC Charlotte, all tournament teams. Their biggest loss is 3rd Team Attackman Carter Ayers, but other than that they didn't lose many players. They return four 1st Team players in Jayson Andino (A), William Watson (D), Grant Shafer (G), and Max Perez (M) as well as a 50+ point scorer in Christian Cucinotta. 
Florida Atlantic 
Overall Record: 9-5
Conference Record: 2-1
Result of 2022 Season: 1st Round of Nationals
Head Coach: Stavros Neocleous (4th Season)
Out in Boca Raton, the Owls had a great season only losing to national runner-up Rhode Island, Division I South Florida, and FGCU before losing to Kennesaw State at the conference tournament then to No.1 seed St. Thomas at nationals. This year they have a tough road trip to Springfield, MO, to play Missouri State, North Dakota State, and Dayton. Leading scorer and SELC DII OPOTY Kyle Romano (46G/29A) graduated, however the next five leading scorers including 1st Team Midfield Colin Hunter, 2nd team Attack Drake Summers, and 60 point scorer Ryan Thomas are back. Gabriel Cirillo (1st Team Defense), Umberto Zammataro (2nd Team LSM), and Brandon Huff (2nd Team FO) all return as well giving FAU plenty of experience.
️2023 SPRING SCHEDULE ️

Mark your calendars because our official 2023 spring schedule has been released! Stay up to day as with your FAU Owls Lacrosse team as we make our way to Spring…We can't wait to see you out there! #TTK #rollowls 🦉 pic.twitter.com/Eqahc2vr9r

— FAU Men's Lacrosse (@faumenslax) December 26, 2022
Miami 
Overall Record: 5-3
Conference Record: 1-2
Head Coach: Bryan Walsh (6th Season)
Miami did pretty well considering they were sort of in a rebuilding year and hadn't played a full season since 2018. They beat Georgia Southern, North Florida, and Division I UCF and only lost to FAU and FGCU by a combined three goals. This year they have Rhode Island and Duluth as well as back-to-back Division I games against FSU and UCF. Their own loss is LSM Billy Bice, and they return a roster of about 40+ kids. They return leading scorer and 3rd Team Attack Robert Westwater III and 3rd Team Defense Hunter Smith.
Georgia Southern 
Overall Record: 2-7
Conference Record: 1-1
Result of 2022 Season: 1st Round of SELC DII Tournament
Head Coach: Chris Hendricks (2nd Season)
The Eagles had huge wins against Florida Poly and North Florida and made the SELC DII Tournament. Unfortunately they lost in the 1st round to Florida Gulf Coast. Luckily they get back leading scorer Henry Layman and starting goalie Ben Demchak as well as 2nd Team Defense Wesley Sowders and 3rd Team FO Andrew Mallard.
North Florida
Overall Record: 0-8
Conference Record: 0-2
Head Coach: Stan Williams (2nd Season)
Last season did not go how the Ospreys wanted, however this season they return most of the team and bring in some new guys as well. They return leading scorers Will Stanley and Ethan Schenck as well as 2nd Team Midfield Brian Baumann and 3rd Team Defense Sean Bennett. They play Dallas Baptist and East Texas Baptist and Division I UCF for out-of-conference games.
Florida Poly 
Overall Record: 0-8
Conference Record: 0-3
Head Coach: Steven Jeune (2nd Season)
It's always tough being a first year team, especially when your school only has 1,200 students and was only founded 10 years ago. Despite these obstacles, Florida Poly still played a full season. This year they look to grow in numbers and get more competitive.
Florida Poly is the newest team to join the MCLA. The school itself was only founded in 2012 and the team was started in February. They have only had inter-squad scrimmages, which have brought in over a 100 students. They are one of the school's first competitive teams ever pic.twitter.com/FLXg3WiLYo

— Varsity Club Lacrosse (@VarsityLacrosse) September 27, 2021