MCLA 2023 Season SELC D1 Preview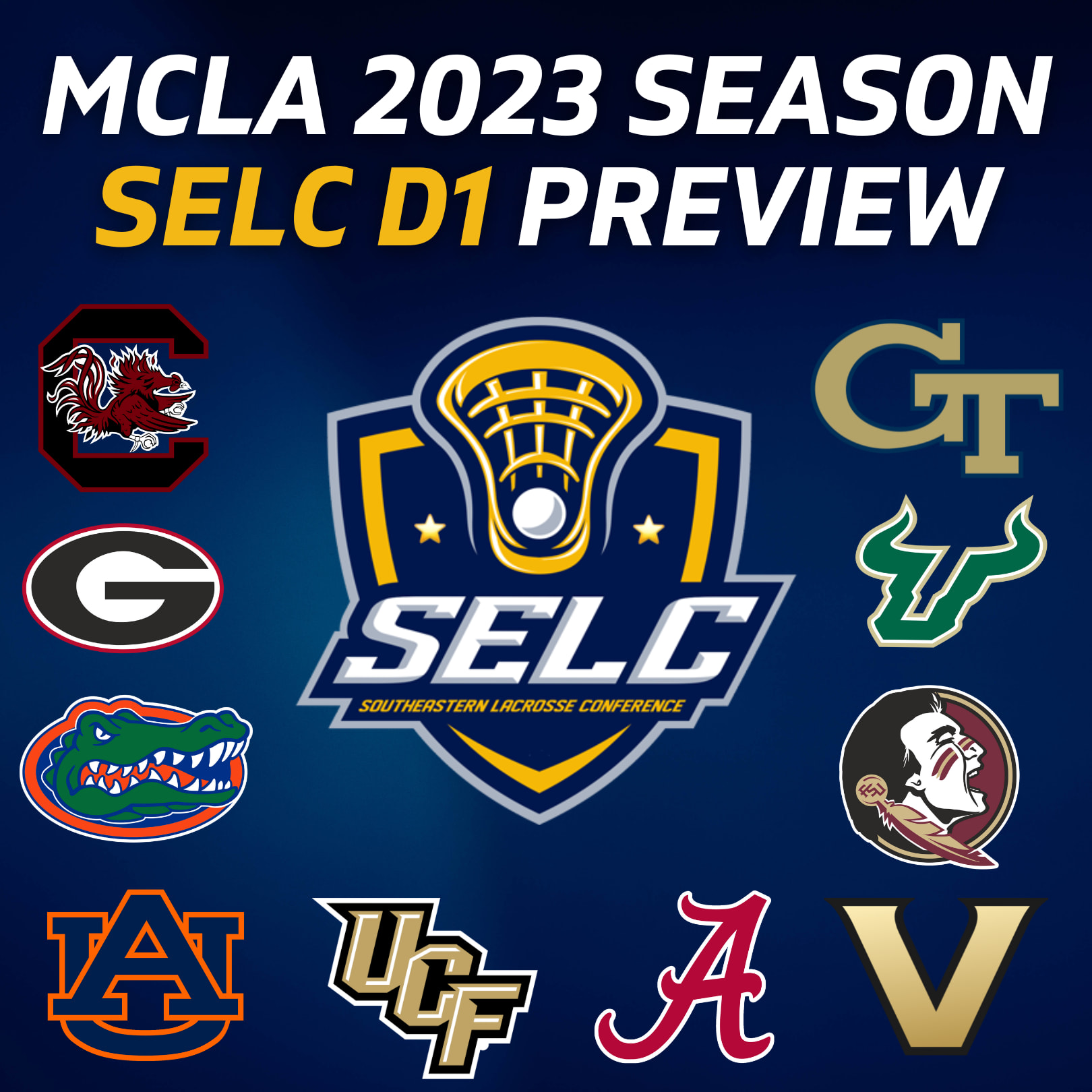 2023 SELC Division I Preseason Coaches Poll
South Carolina (7)
Georgia Tech (3)
Florida
Auburn
Georgia
Florida State
South Florida
Alabama
Vanderbilt
Central Florida    
South Carolina 
Overall Record: 17-3
Conference Record: 3-1
Result of 2022 Season: National Champions
Head Coach: Peter Candela (2nd Season)
The Gamecocks only lost three games last season, all within the first six games of the season, en route to their 2nd straight MCLA National Championship after winning the last full season tournament before COVID in 2019. For the 2023 season, they have one of the toughest schedules in the league which includes 11 games against teams ranked in the final poll of the season. They take a trip to California to play Chapman, Cal Poly, and Concordia Irvine, but also get to play eight home games and three away games relatively close by. On offense they return 2nd Team All-SELC attackman Johnny Stanton, 2nd Team midfielder Gunnar Wilson, and 3rd Team attackman Pat Reilly. On defense All-SELC poles Thatcher Knox and Teddy Russell are back. They also return 1st Team FOS Will Frith and SSDM Will Lohoff-Gaida as well as bring in some NCAA transfers. 
Georgia Tech 
Overall Record: 16-4
Conference Record: 4-0
Result of 2022 Season: National Championship Runner-Up
Head Coach: Ken Lovic (15th Season)
After coming into the tournament as an at-large bid and a #8 seed, the Yellow Jackets managed to make a run to the National Championship game where they lost to USC by two. During the season they only lost two to Florida and Clemson early before losing to South Carolina in the SELC Championship. This season they open up with defending NAIA Champs Reinhardt and also play Clemson, Virginia Tech, Liberty, and Cal for out of conference games. They end the season with a trip to Utah to play BYU and Utah Valley. On offense 2nd Team SELC middies Sam Eck and Brooks Baro are back and 3rd Team attackman Devin Raun is back for a fifth year. The biggest loss is 1st Team SELC goalie, Gino Pagliaro. They also return two 40 point scorers in Nick Eliacin and Asher Wagnon as well as 2nd Team FOS Aaron Piszczek. 
Florida
Overall Record: 13-3
Conference Record: 4-0
Result of 2022 Season: 1st Round of Nationals
Head Coach: Garrett Hanrahan (7th Season)
The Gators are looking very deep this year with a roster of almost 60 kids. Last year they made the Nationals but lost in the 1st Round to Minnesota. They only have to leave the state three times to go to Alabama, Georgia, and South Carolina, but still play a tough schedule which includes BC, TCU, Clemson, Colorado State, and Colorado for out of conference games. Their defense took a huge hit with the loss of 1st Team poles Parker Beeson (DPOY) and Tyler Schafter, and 2nd Team goalie Matt Corazon, however they returned 1st Team SSDM Stefan Mostovych and 2nd Team poles Kenny Geremia and Cole Fox. On offense, top scorers James Dugan, Nolan Testra, and Michael Fox return to Gainesville. 
Auburn
Overall Record: 9-4
Conference Record: 2-2
Result of 2022 Season: 1st Round of SELC
Head Coach: JJ Arminio (6th Season)
The Tigers had a very good regular season which included a win over LSA Champs TCU, but ultimately lost in the 1st Round of the conference tournament to South Carolina. This season, they only have to travel three weekends to Clemson/UGA, Texas, and Tallahassee. For out of conference games they face Virginia Tech, Clemson, TCU, and Northeastern. They get back two 30 point scorers in Matt Oswald and Zach Jones. 
Georgia
Overall Record: 5-8
Conference Record: 2-2
Result of 2022 Season: 1st Round of SELC 
Head Coach: Holin Axley (3rd Season)
Georgia finished 5-8, but had some good wins including Florida State and Colorado both on the road. They start the season at Vanderbilt and then play mostly at home and close to home. They take on New Hampshire, Pittsburgh, and James Madison for out of conference games. They get back good players on all areas including 2nd Team SELC attackman Riley Walker, 3rd team pole Austin Trimble and 3rd team goalie Reed McCall.
Florida State 
Overall Record: 6-8
Conference Record: 3-1
Result of 2022 Season: 2nd Round of SELC
Head Coach: Patrick Dickson (1st Season) 
1st Season for Head Coach Parick Dickson, although they do return a lot of assistants from last year. Had good wins against New Hampshire and Colorado last year. The Noles stay in Tallahassee except for trips to Nashville/Knoxville and Athens. Out of conference schedule includes BC, Colorado State, and Tennessee. Leading scorers Alexander Gerdak and Andrew Zeman both return as well as 3rd Team SELC FOS and Varsity Club Lacrosse athlete, Vinny Mercadante.
And that's a wrap on fall for the Noles! FSU takes down FAU and UCF today in a double header in Orlando. Big shoutout to our D-mids for a combined 6 points today. Many players scored their first collegiate goals! Huge day for all of the goalies! See you guys in the spring! pic.twitter.com/0v81WWeLn4

— FSU Men's Lacrosse Club (@FSULacrosse) November 21, 2022
South Florida
Overall Record: 4-9
Conference Record: 0-4
Head Coach: Joey Galuppi (4th Season)
Two 1st Team SELC players are back for the Bulls in Ryan Kerr at attack and Raymond Raefski at LSM. Besides trips to North Carolina and Auburn, they stay in Florida and have big out of conference games against East Carolina, Tennessee, FGCU, and FAU. 
Alabama
Overall Record: 1-11
Conference Record: 0-4
Head Coach: Shane Ryan (4th Season)
Pretty tough schedule for The Crimson Tide as they have to face South Carolina, Georgia Tech, and Virginia Tech. They also play Kentucky and Mississippi State which are both NCLL teams. They finish their season with two rivalry games against LSU and Auburn. They only lost a couple seniors last year so they should have plenty of depth. 
Vanderbilt
Overall Record: 4-6
Conference Record: 1-3
Head Coach: Tim Semisch (2nd Season)
Former NFL tight end Tim Semisch returns for his second season in Nashville. The Commodores play a solid out of conference schedule of Iowa State, Middle Tennessee (NCLL), Alabama Birmingham (NCLL), Tennessee, and Missouri. 
Central Florida
Overall Record: 2-8
Conference Record: 0-4
Head Coach: Austin Ricci (5th Season)
The Knights had a tough season last year, but came out with wins against Illinois and rival South Florida. This year they play LSU and NC State along with an always tough SELC schedule. Most of their roster returns including leading scorer Kyle Hasenfus.